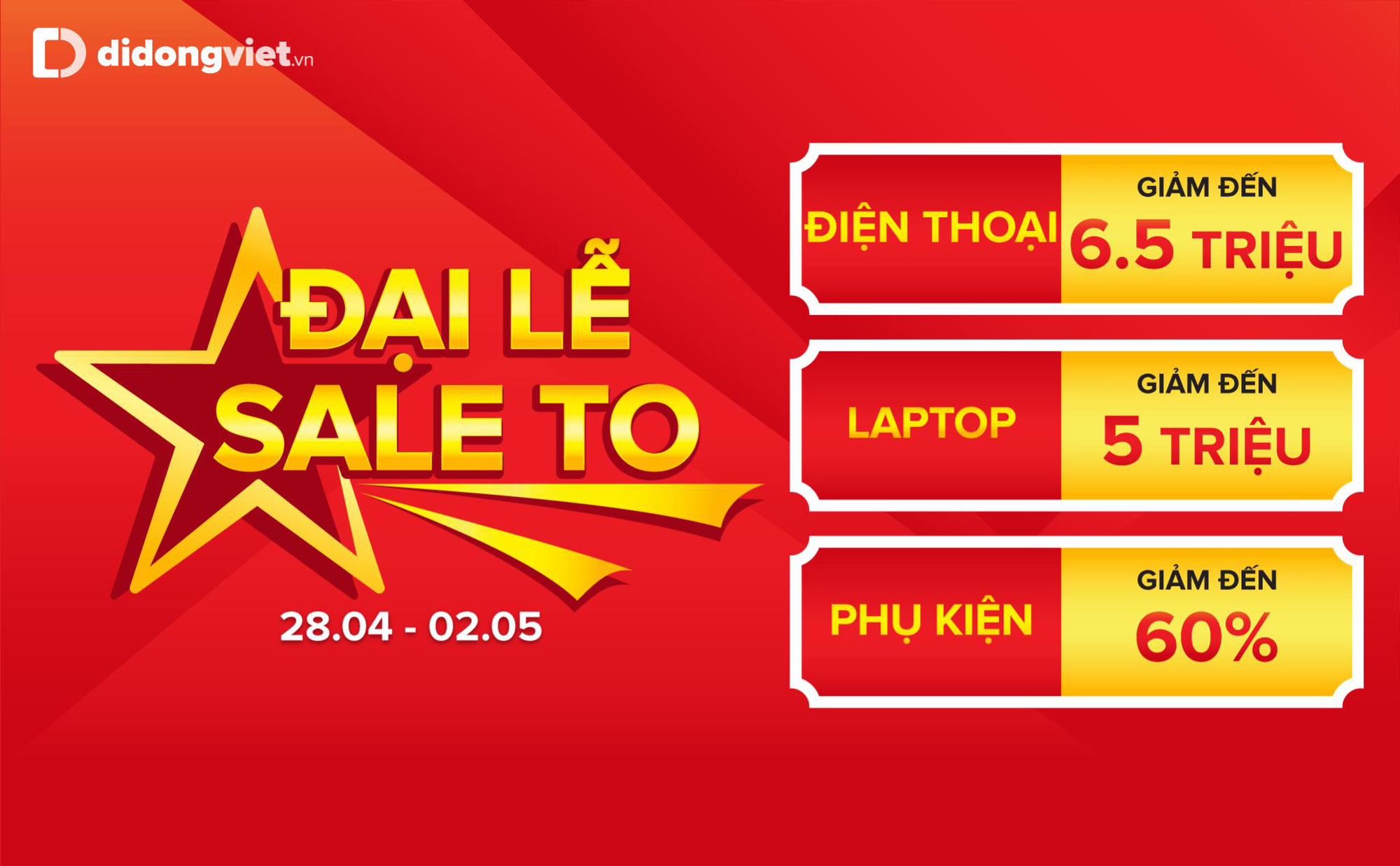 According to information from Vietnam Mobile system – Apple's Official Authorized Dealer in Vietnam (AAR), an all-electric partner of Samsung, OPPO, Xiaomi,… in the last week, sales increased by 15 %, only 3 weekends (April 21 – 23) sales are 51% higher than weekdays. In which, iPhone sales accounted for 57%, Samsung accounted for 20% of phone sales.
To stimulate shopping demand, Mobile Viet integrates a promotion program "Big sale" with a series of products with "touching the floor" price, phones down to 6.5 million VND, accessories up to 50%+ +. With this program, purchasing power will continue to increase strongly in the coming days, especially in 3 days from April 26 to 28, expected to increase by 20-25%.
Phone reduced to 6.5 million dong, record low price
During the promotion period, a series of phones were sold at record low prices. For example, iPhone 11 VN/A costs only VND 11.69 million, iPhone 13 and 13 Pro Max costs only VND 20.79 million and VND 28.79 million, iPhone 8 costs only from VND 4.29 million, iPhone 7 Plus selling price is only 4.59 million.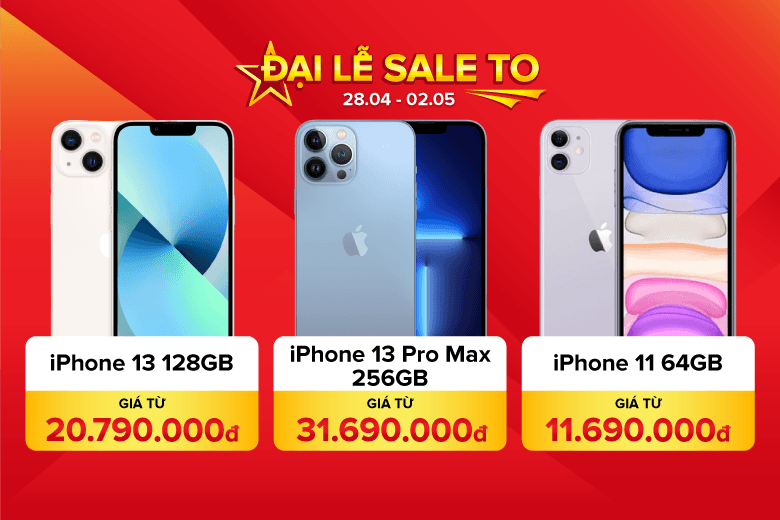 Many iPhone models have the best selling prices ever.
Particularly, models from the Samsung brand also have record low prices during the holiday season. Samsung A series phones like A33 and A13 are priced at VND 6.99 million and VND 3.99 million, respectively. The first Samsung Z Flip 3 flagship model has a record low selling price of only VND 17.99 million.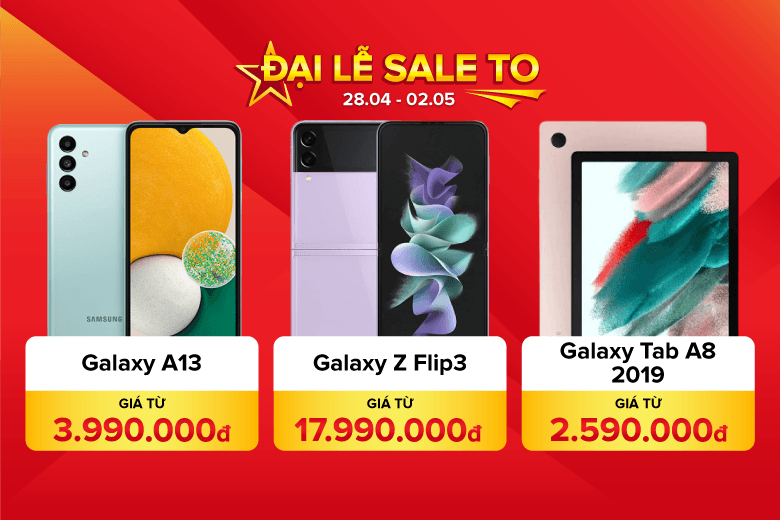 The price of Samsung phones dropped sharply during the holiday season.
In addition, OPPO and Xiaomi also participate in the "Great sale" program with models that are stable in quality, priced at a reasonable price in the mid-range customer segment. Typically, OPPO A5 costs only 3.89 million VND, OPPO Reno7 Z costs only from 9.19 million VND, Xiaomi Redmi Note 11 4G costs only from 3.89 million VND, Xiaomi Redmi Note 11 Pro 5G has a selling price of only 7 ,59 million dong.
Laptop reduced to 5 million
The holiday of April 30 is an appropriate opportunity to buy a laptop, prepare for work and study in the near future. Currently, MacBook and laptop models are being sold at preferential prices, down to 5 million VND in many models. For example, the MacBook Air M1 reduced to 23.49 million VND. In addition, iMac M1 also has an attractive price of only 30.49 million VND.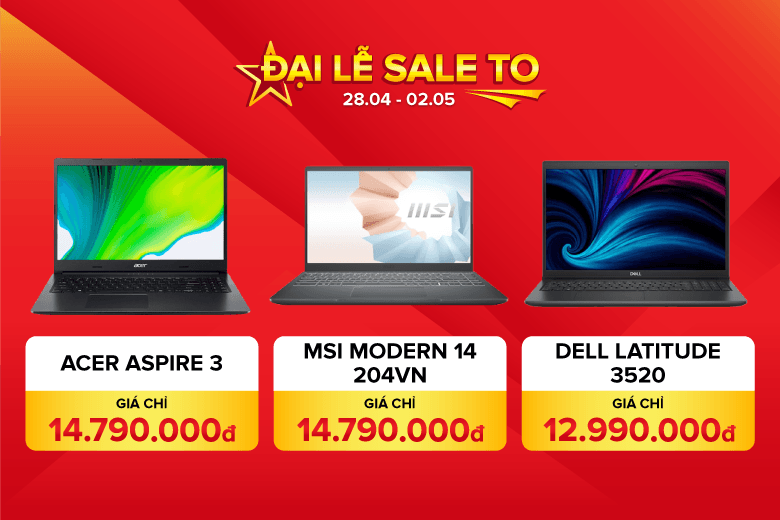 Other laptop models also have preferential prices such as Acer Aspire 3 priced from only VND 14.79 million, MSI Modern 14 priced from only VND 14.79 million, Dell Latitude 3520 laptop priced at only VND 12.99 million, Lenovo Laptop IdeaPad 3 has a record low price of only 11.99 million VND. Not only that, laptop models for gamers are only priced from 18.49 million VND.
Accessories up to 60% off
Not only phones, laptops, but also genuine accessories are sold at attractive prices. One of the products that can't be missed during the sale on April 30 is the AirPods 2 headset with the price of only 2.75 million VND, the AirPod 3 is also only 4.49 million VND, the Apple Watch series 7 4G is also only 4G. priced from 11.79 million dong.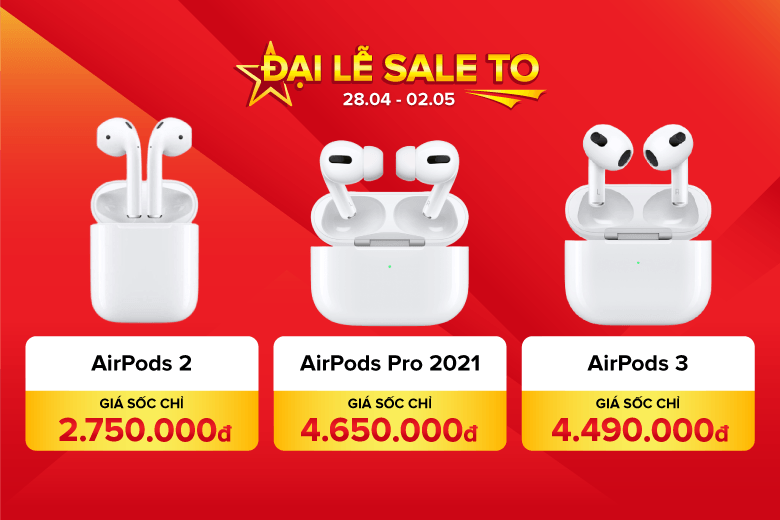 Genuine AirPods headset with shocking price.
Audio devices including bluetooth speakers and headphones are on sale at a shocking price, up to 60% off. Specifically, the JBL CHARGE 4 Bluetooth speaker costs only 2.49 million VND, the LG XBOOMGO PL5 Bluetooth portable speaker costs 1.39 million VND, and the JBL Live300 wireless headset costs only 1.99 million VND.
In addition to audio devices such as headphones, speakers, other accessory products such as chargers, cases, and charging cables have the best prices ever. Most of the products have a selling price lower than 500,000 VND, suitable for the needs and conditions of users.
Customers who are interested in the program, product, price and accompanying incentives can refer to it at: https://didongviet.vn/khuyen-mai/sale-gio-to
Mobile Viet is a mobile retail system and an official authorized dealer of Apple in Vietnam (AAR), a comprehensive partner of Samsung, Asus, JBL,… with more than 15 years of age, 36 stores , including 25 independent stores in Ho Chi Minh City, Hanoi, Dong Nai, Binh Duong and Da Nang, 11 shops in shop in shop MobiFone – Mobile Viet. With good product quality, outstanding after-sales policy, many attractive incentives, Mobile Viet is the choice of more than 500 celebrities and millions of customers. Readers can refer to the website for more information didongviet.vn or call toll free 1800.6018.

https://genk.vn/gia-dien-thoai-dip-30-4-giam-manh-nhieu-model-gia-thap-chua-tung-co-20220428150643789.chn