Huawei has launched a Year-End Festival promotion program of up to 50% at all retail chains such as Mobile World, CellphoneS, Hoang Ha, Huawei Experience Store, and on e-commerce platforms such as Lazada, Shopee, Tiki.
After the sales success in the year-end shopping season, Huawei Vietnam is proud to receive many more great awards voted by technology sites such as Digital World, Vietnam Audiovisual, and Consumer Electronics. Most categories from Huawei's computer monitors, wearables, tablets, and headphones will have winners in 2021. This confirms the superiority of the technology ecosystem that Huawei has strived for. research and development in recent years.
The list of products honored this year includes:
– Huawei MateView computer monitor: "Top best technology products in 2021" voted by Digital World Magazine and "Style computer monitor of the year" voted by Vietnam Audiovisual Magazine.
– Huawei MatePad 11 tablet: "Best multitasking tablet" voted by Digital World Magazine.
– Smartwatch Huawei Watch GT 3 Series: "Smart Watch of the Year" voted by Vietnam Audiovisual Magazine and "Best Smart Watch" voted by Consumer Electronics Magazine.
– Huawei FreeBuds 4i headset: "The ideal True Wireless headset for young people" voted by Digital World Magazine.
Kelvin Yang – Director of Huawei Vietnam Consumer Business Group affirmed: "The recognition of the Vietnamese press and users shows that Huawei's products have met the majority's expectations in terms of quality and technology. This is also the driving force for Huawei to constantly develop and bring even more great technology solutions in the future."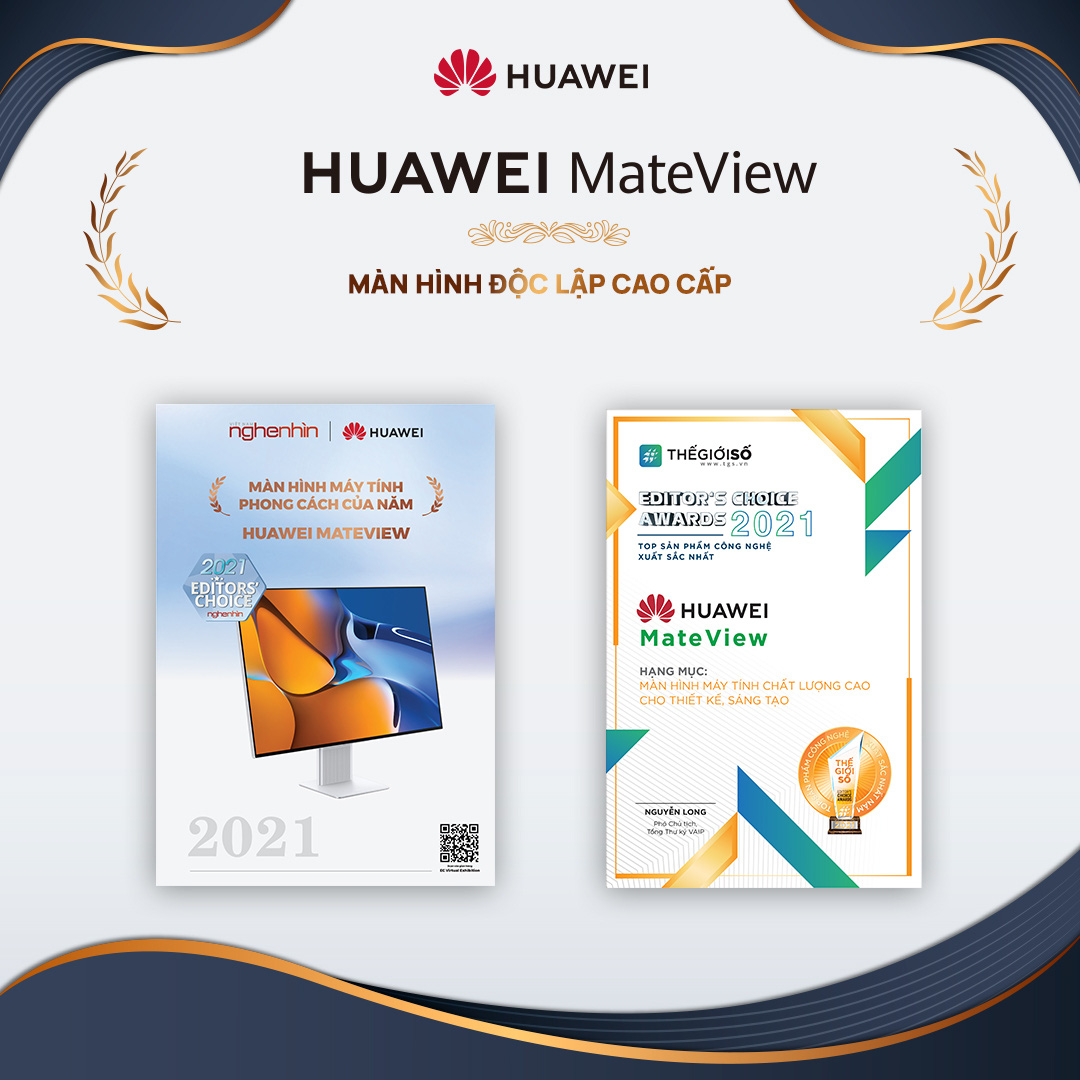 Among the products honored this time, the MateView computer screen made a strong impression when simultaneously receiving awards from many different websites. This is a completely deserved result because MateView is a rare computer monitor that possesses Ultra-HD 4K + resolution, pixel density of up to 1.5 million pixels, a huge size of 28.2 inches and a screen border. Super thin shape. Huawei MateView can wirelessly present with other devices such as laptops, phones with high transmission speed. In particular, the screen also owns a unique Smart Bar action, allowing users to control through swiping, touching the bottom edge without any buttons.
The Watch GT 3 Series smartwatch, built on the HarmonyOS platform, is also Huawei's breakthrough 2021 device. The product has a classic, luxurious round face design, and comes with a battery life of up to 14 days. A special feature of Watch GT 3 Series is the presence of an AI Running Trainer, capable of synthesizing performance parameters (distance, running steps), fitness, and frequency to make plans. professional practice. The watch is also capable of measuring Blood Oxygen Index (SpO2) and heart rate 24/7 in real time.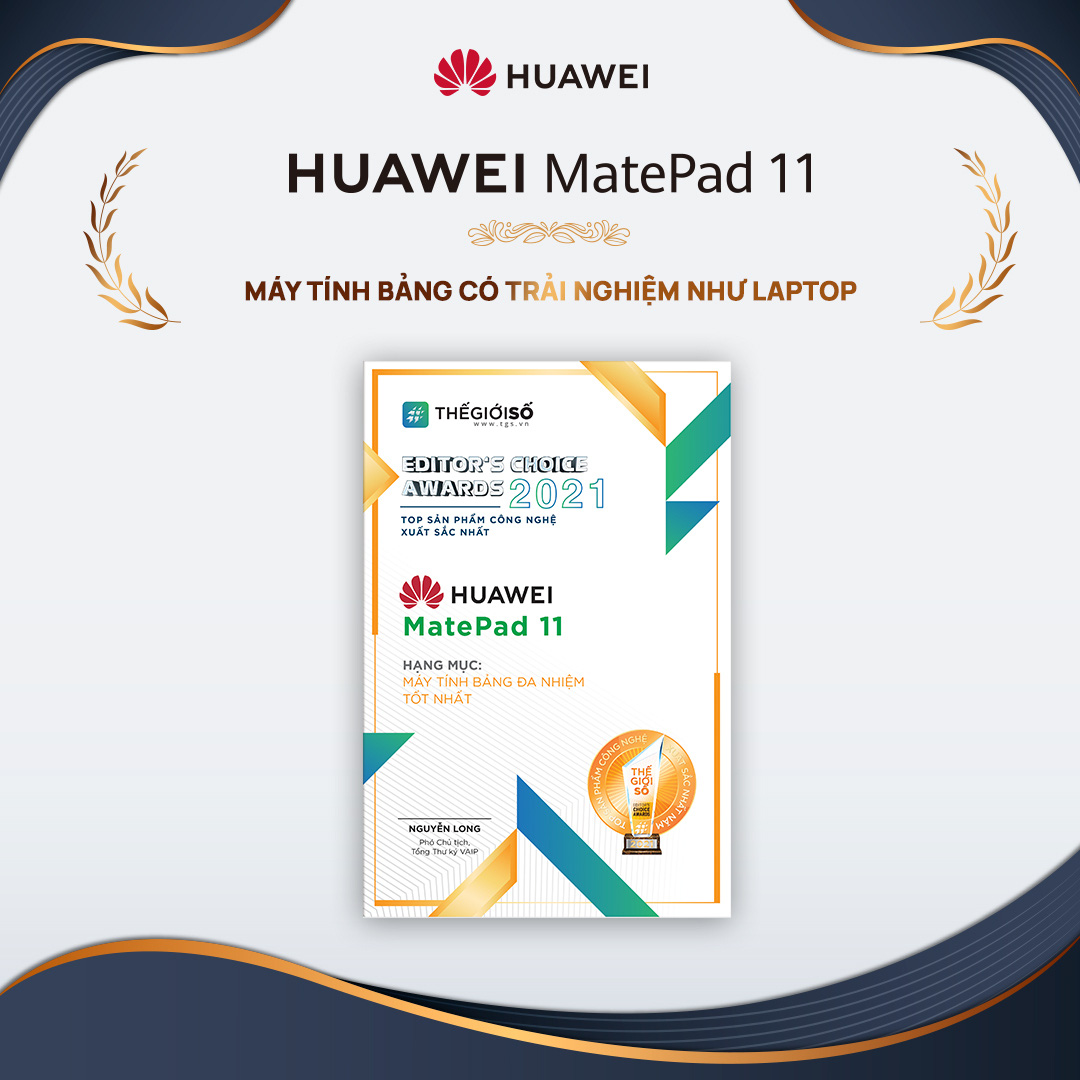 The title "Best multitasking tablet" is a well-deserved result for Huawei MatePad 11. The device is considered to be the perfect replacement for a desktop computer in both work and play. Not only capable of connecting to the keyboard, M-Pencil 2 and mouse, MatePad 11 also owns a 120Hz refresh rate screen, for responsiveness and smooth visual experience. The machine is also equipped with Multi-window feature, optimizing multitasking on a single screen.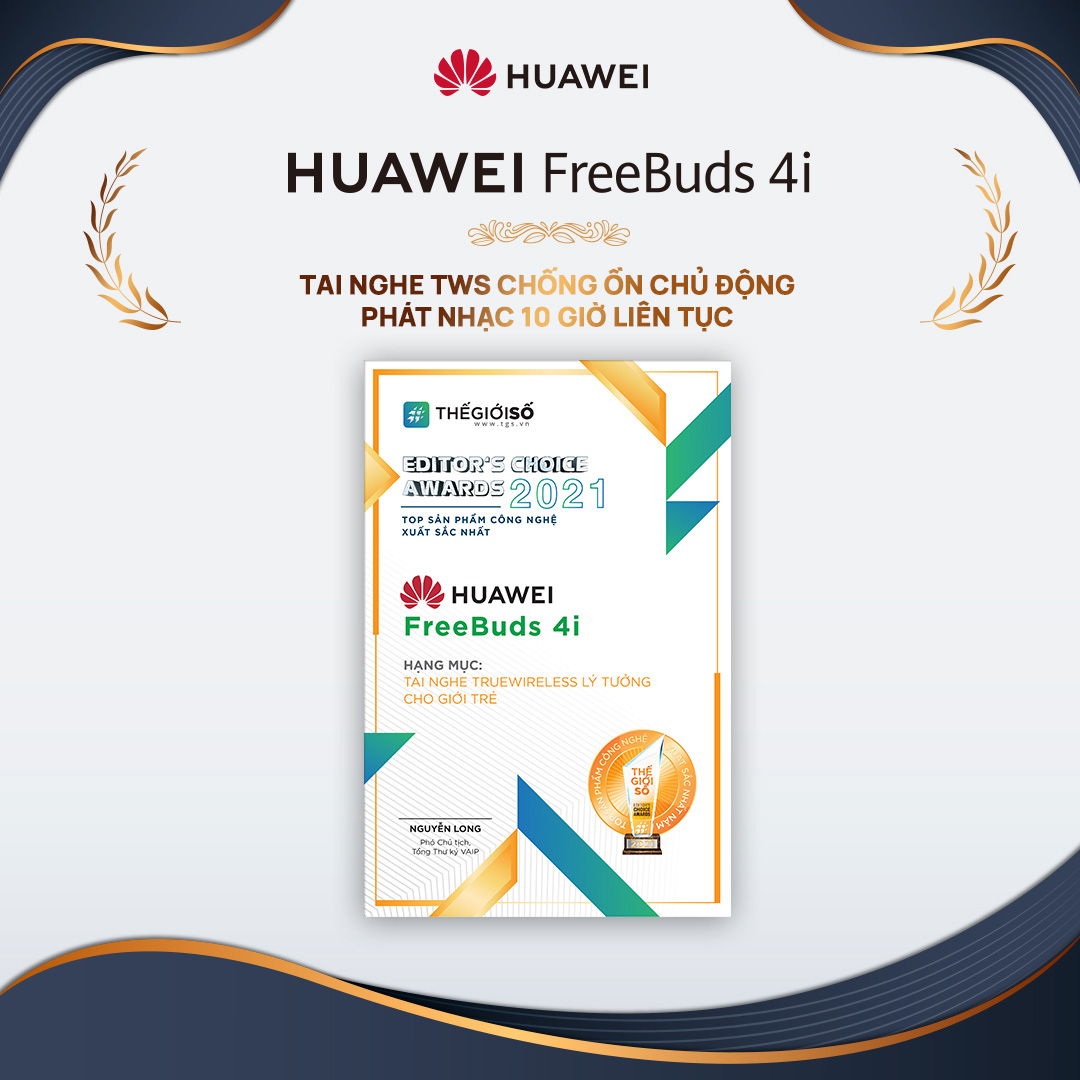 Despite being a youth-oriented headset, Huawei FreeBuds 4i still owns an expensive Active Noise Canceling feature, with up to 10 hours of use. The sound quality of this headset is appreciated thanks to the 10mm dynamic driver and super-sensitive polymer diaphragm, which reproduces a wide range and rich sound quality. The above factors combined with modern and fashionable design, contribute to bringing FreeBuds 4i to the "throne" in the hearts of young Vietnamese.
The recognition of journalists and technology experts from leading magazines is a worthy reward for Huawei's relentless innovation and creativity efforts. To celebrate this memorable milestone, and at the same time to be grateful for the trust, support and companionship of Vietnamese users throughout 2021, from now until the end of December 31, 2021, Huawei will launch a preferential program Exclusive deals for the Year-end Festive Season up to 50% at all retail chains such as Mobile World, CellphoneS, Hoang Ha, Huawei Experience Store, and on e-commerce platforms such as Lazada, Shopee, Tiki.
– At Mobile World: Matepad 11 buys with keyboard for only 10k, immediately gives app gift sets up to 1tr1. The Matepad T10S and T10 troops are priced from 4 million,990, give away a 450k app gift set and 0% installment payment.
– Offer 500k when buying Band 6 smart bracelet and Watch GT 3 series smart watch
– Freebuds 4i wireless headset red version has a special price of 990k, Freedbus 4 has a special price of 2tr990
– MateView independent smart screen offers 1 million dong and gives away a computer mouse
– MateBook D14 laptop offers 1 million VND immediately
For details of promotions and application period of each product, please visit:
– Mobile World: https://www.thegioididong.com/may-tinh-bang-huawei
– CellphoneS: https://cellphones.com.vn/khuyen-mai-huawei
– Huawei: https://consumer.huawei.com/vn/campaign/online-to-offline/?toCampaign
– Shopee: https://shopee.vn/huawei_flagship_store
– Lazada: https://www.lazada.vn/shop/huawei
– Tiki: https://tiki.vn/cua-hang/huawei-flagship-store
.