Just a few days after OPPO introduced the Find X5 series with 80W SuperVOOC charging capacity, OPPO recently introduced super fast charging technology with a capacity of up to 150W at MWC 2022.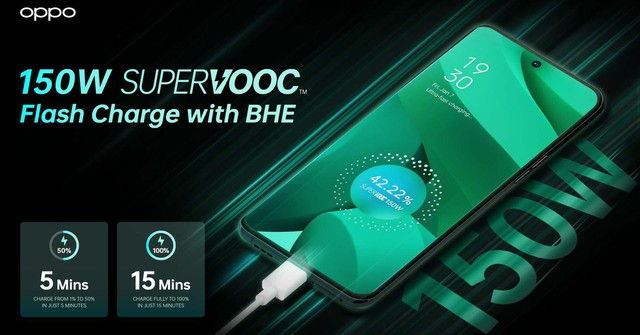 According to OPPO, in a test environment, 150W SuperVOOC technology can charge from 1% to 50% of a smartphone's battery in just 5 minutes and fully charge the battery to 100% in just 15 minutes. The device under test is a smartphone prototype with a 4500mAh battery, powered on but in an inactive state with airplane mode activated.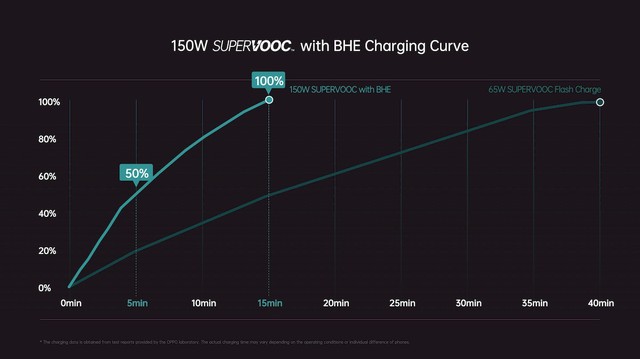 OPPO says 150W SuperVOOC technology will also come with a 150W fast charger using GaN technology. The size of the charger is 58 x 57 x 30mm, and the weight is only 172 grams. With this size, the new 150W charger will only be slightly larger than OPPO's old 65W charger, and much smaller than Apple's 61W charger for MacBook models.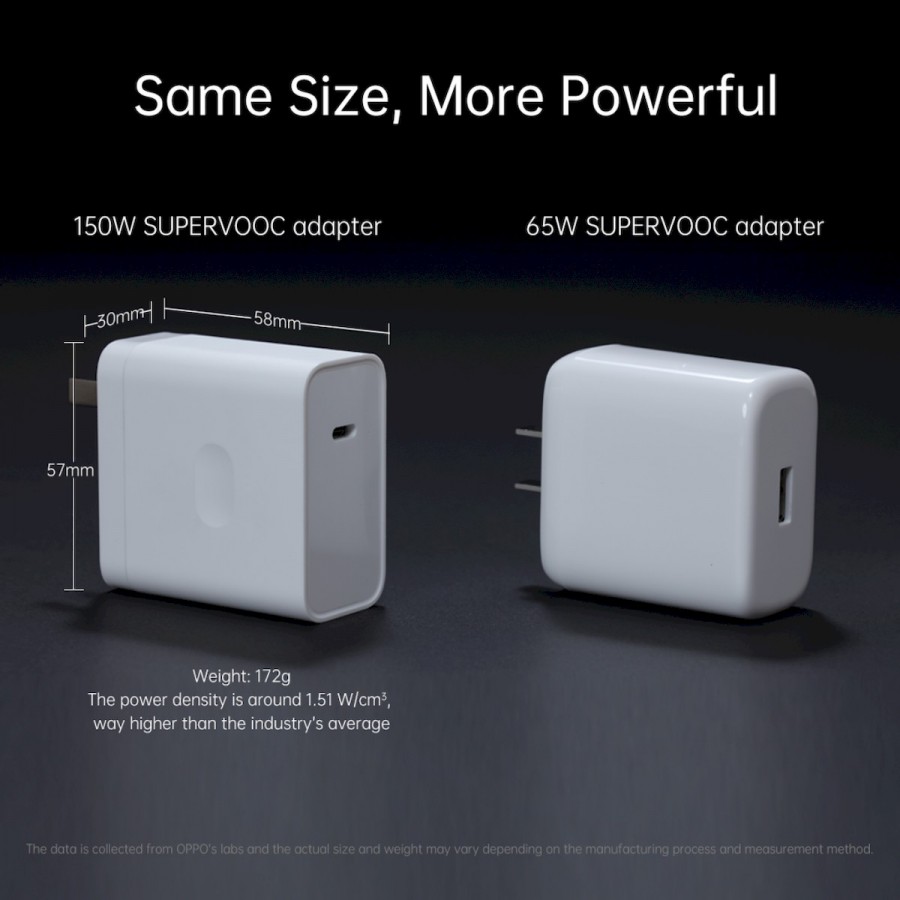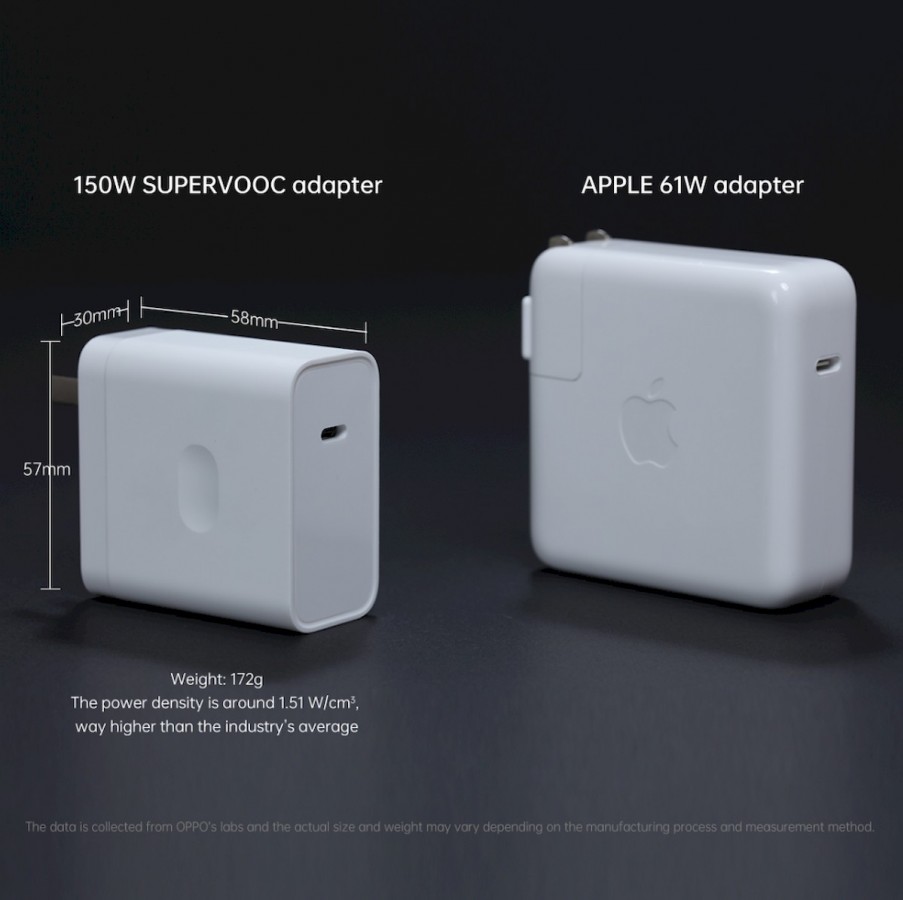 Compare OPPO's new 150W fast charger with other chargers
In addition, besides OPPO's exclusive SuperVOOC technology, OPPO's new 150W charger will also support both Power Delivery (PD) and PPS standards, two widely used charging standards on many electronic devices today. including smartphones, tablets and laptops.
150W charger provides 7.5A current at 20V voltage. According to OPPO, there will be 2 cells inside the supported smartphone, each battery cell will be independently charged at an input of 5V/15A.
Besides, OPPO also announced Battery Health Engine technology. This technology uses a separate controller chip to manage and monitor battery life. In the lab, OPPO said that a battery after 1600 charge cycles will still retain 80% of its original battery capacity. This is double the 800 cycles in current battery technologies.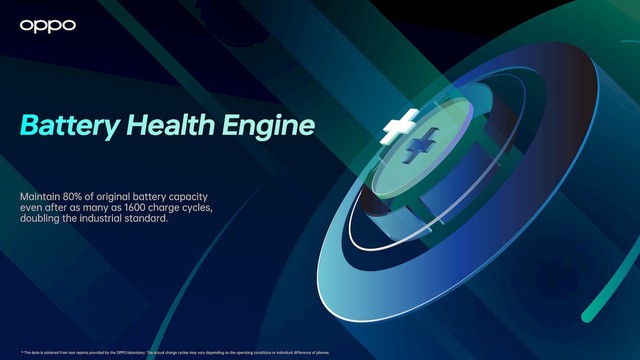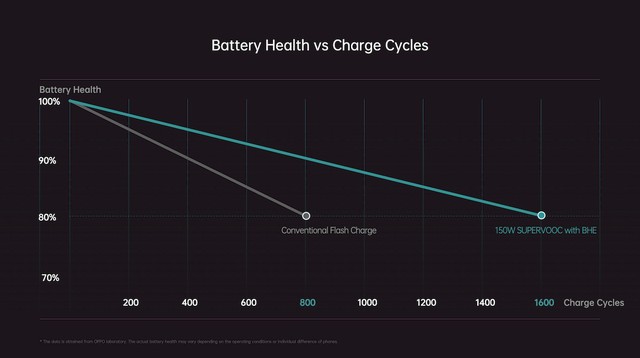 To do this, OPPO applies the Smart Battery Health algorithm, which continuously monitors the negative electrode to minimize the appearance of uncharged lithium ions (loss of these lithium will reduce the capacity of the battery). the battery). Currently, OPPO Find X5 series has been applied Battery Health Engine technology.
As for SuperVOOC 150W technology, the first device to apply this technology will be a smartphone from OnePlus, launched in the next 2 or 3 quarters. In addition, OPPO also showed off 240W charging technology on smartphones, allowing to fully charge the 4500mAh battery in just 9 minutes. However, this technology may take a long time to commercialize.
240W SUPERVOOC Flash Charge – OPPO MWC 2022

https://genk.vn/oppo-ra-mat-cong-nghe-sac-nhanh-supervooc-150w-sac-1600-lan-moi-chai-con-80-20220228230111295.chn