After Do Kwon said he would spend more than $300 million on reserves to help pay 20% of the profits on the Luna coin, one Twitter user asked him where that money would come from. Kwon answered very succinctly: "Obviously your mother."
Now, the 30-year-old South Korean man, with a rather rude way of talking, often criticizing those who call himself "poor", is having to explain the collapse of $ 40 billion this month.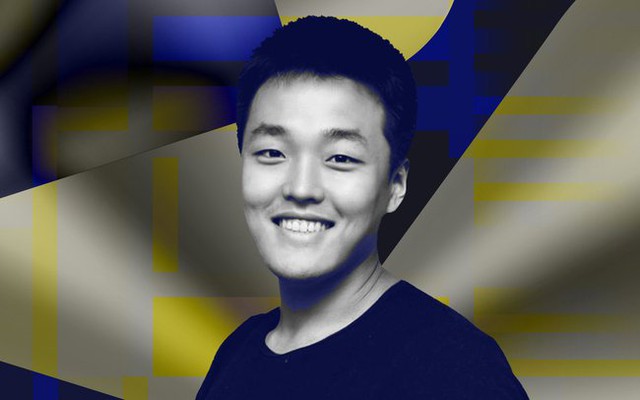 As the losses grew, the Korean press reported on the collapse, along with a spike in online searches for Mapo Bridge, where suicides often occur. Local police have increased patrols in the area around the bridge to promptly respond.
On Friday, South Korean prosecutors opened an investigation with Terraform Labs after five cryptocurrency investors in the country who lost 1.4 billion won ($1.1 million) filed complaints. They accused Terraform Labs of fraud and financial regulation violations.
Donghwan Kim from Blitz Labs – a Seoul-based cryptocurrency consulting firm, said, "Do Kwon is like a successful cult leader. But now, he is the most hated man in Korea. ."

Kwon attended an elite international high school in Seoul and later studied computer science at Stanford University. In 2018, he and Daniel Shin – the founder of the famous e-commerce platform Ticket Monster, created Terraform Labs in Singapore.
These 2 people launched the stablecoin terraUSD in 2020. Terra has always maintained a stable price of 1 USD. The pegged rate to USD is made by an algorithm closely related to the Luna coin. Simply put, to buy Terra, users need to buy Luna and vice versa. This link is made to keep the price anchor stable.
However, at the beginning of May, a sudden flight occurred. When the supply of Luna was exhausted, the value of this digital currency plummeted to 0. Accordingly, the balance of the fragile algorithm in this ecosystem weakened, breaking Terra's price anchor with USD.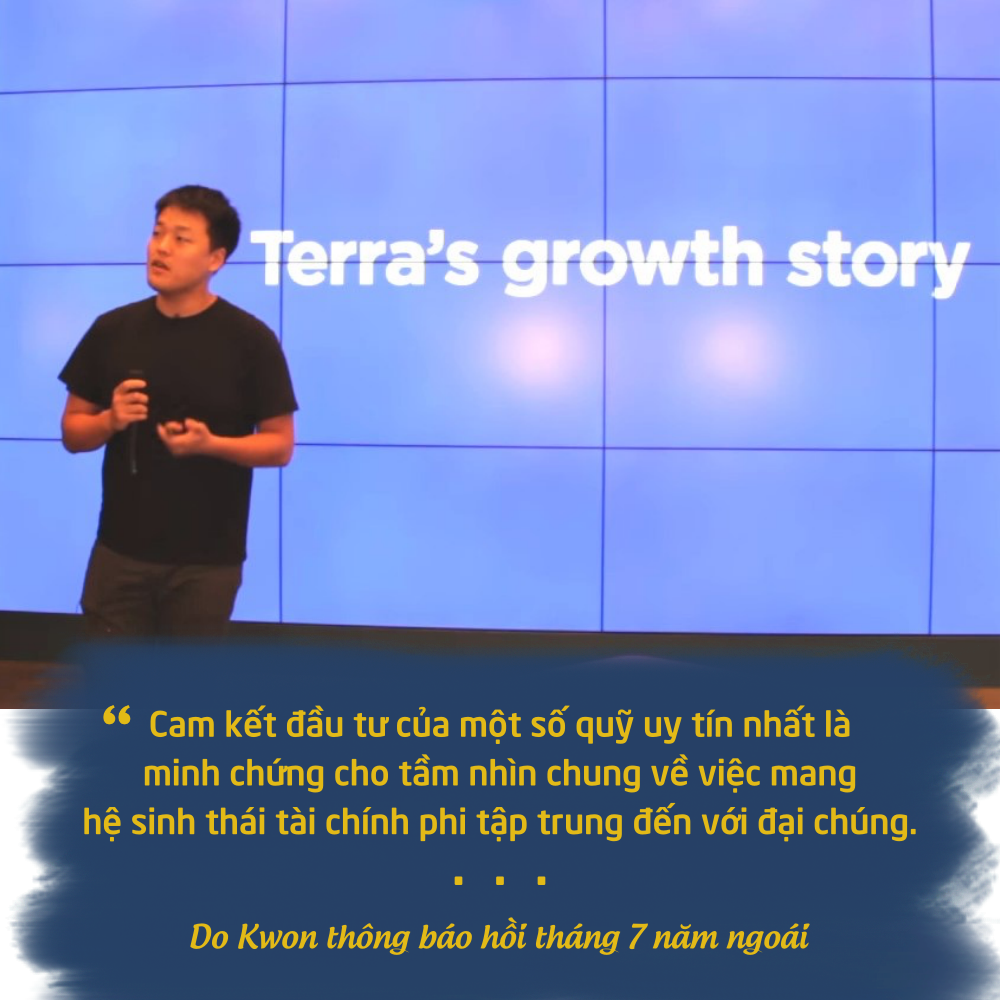 The Luna Foundation Guard, a non-profit organization that supports the Terra ecosystem, did not raise enough Bitcoin reserves to keep Terra stable. And faith in this model has disappeared.
A former colleague close to Kwon said, "The capitalization of this digital currency is growing too fast, while its reserves and value protection tools are not ready yet. They have already started preparing provisions. That's buying $3.5 billion in Bitcoin, but it's too late."
Retail investors were attracted to a Terra "loan" scheme with an interest rate of 20%. However, hundreds of millions of dollars invested in Terraform Labs come from venture capital funds like Galaxy Digital.
Kwon announced in July last year: "The investment commitment of some of the most prestigious funds is a testament to the shared vision of bringing the decentralized finance ecosystem to the masses."
Do's former colleague at Terraform Labs said that the decision to bring back 20% of the annual return to investors was the time when Terra/Luna started to grow too fast.
This person added, "About 14-15 trillion won was deposited in just 1 year after Do claimed to pay 20% interest. Retail investors were attracted by attractive returns, while investors Venture capitalists are interested in the fast growth rate of this coin."
Another colleague – former Terraform Labs engineer, Kang Hyung-suk, said: "The company's engineers are well aware of the risks associated with a 20% return. They all think the growth rate is high. Growth won't be sustainable because we don't have enough capital to support it. But no one shares that view with Do, who often ignores his opposing opinions."

The former colleague has a different explanation Kwon: "Many investors have been fascinated by his ideals. Famous investors attracted by Do agree with his philosophy and slogan. about the need for decentralized finance and DeFi coins."
This person added: "They find this algorithmic model new and attractive because of the increasing demand for stablecoins. These currencies have no connection to the real economy, just support each other and equals equals. Bitcoins."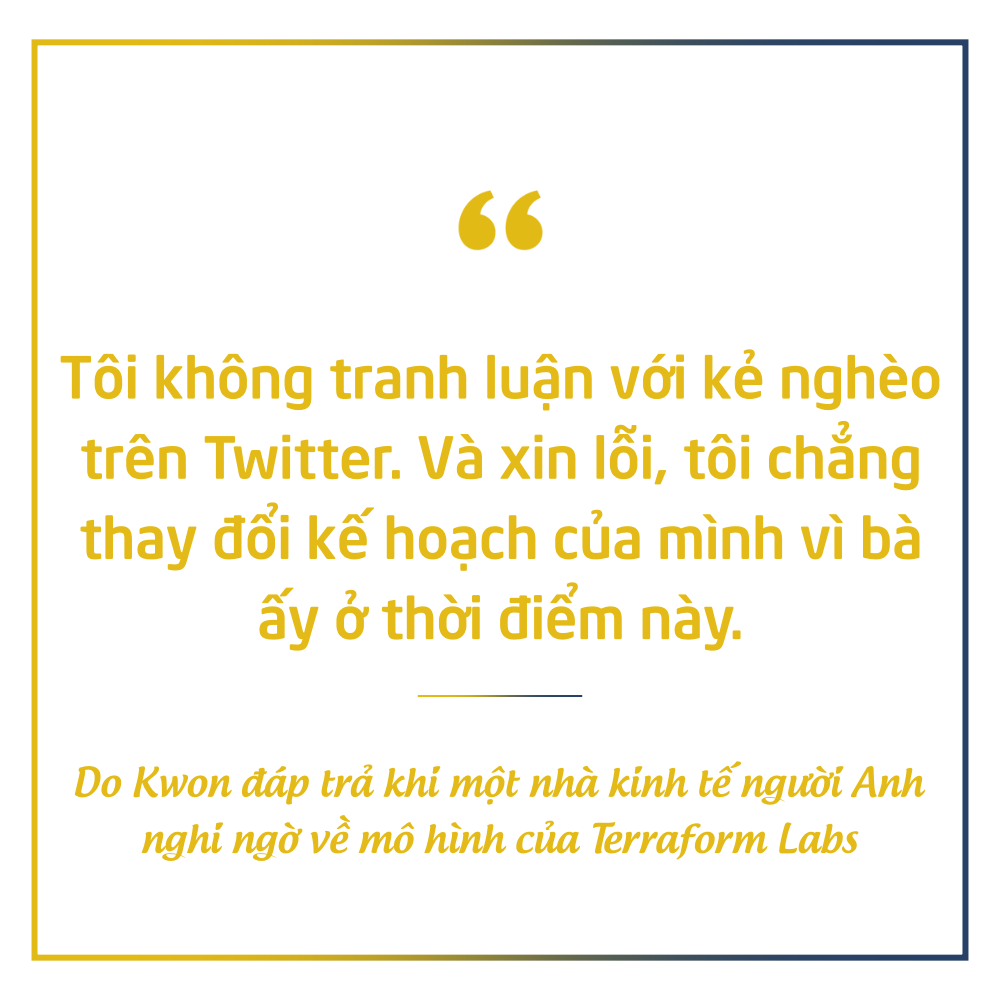 Kwon's supporters all have huge "profiles", global marketing strategies and personality statements on social networks that have helped attract attention. Some retail investors have even formed an "army" of supporters called "Lunatic".
People who have a pessimistic view of Terra/Luna are often criticized by Do. The founder wrote on Twitter last year when a British economist cast doubt on Terraform Labs' model: "I don't argue with the poor on Twitter. And sorry, I didn't change my plan because she's at this point."
Kim from Blitz Labs said: "The Lunatics believed that his rude behavior was the way to protect their money. As a result, Do's arrogant attitude received enthusiastic support from the community. that coin and such statements become his 'brand'."
Kim Hyoung-joong, director of the Center for Cryptocurrency Research at Korea University, said, "Do praised the development of centralized finance, but he made the decision alone. It's ridiculous that the company's decision-making is focused on just one person."

And of course, the "death spiral" named Luna has left big losses for investors.
"Poor again," Changpeng Zhao, founder of Binance exchange, replied to a tweet about the value of his investment in Luna falling from $1.6 billion to less than $2,500.
Hashed, the Seoul-based venture capital firm that backs Do and Terraform Labs, is estimated by Coindesk to have lost more than $3.5 billion from Luna's crash.
However, the most terrible losses are borne by retail investors.
Ji-hye – an office worker in Korea, mother of 3 children under 5 years old, shared that she invested all her savings in cryptocurrencies, after being promised 20% interest and seeing Daniel Shin present. in the project.
She said: "I tried my best to accumulate savings, but bank interest rates are too low in this high inflation period. I find ways to save money for my 3 children."
Ji-hye said: "I watched my savings increase day by day with 20% interest. So I also borrowed more from the bank and poured more into Terra. It was all my fault for not I did a little more research before investing. But I was so desperate that I lost all my savings."
After Luna plummeted, Do shared on Twitter: "I am heartbroken when my invention brings pain to you."
However, when this model collapsed, Do still struggled to find support from developers to get a second chance. Terra's failure, he argued, was "an opportunity to rise from the ashes."
https://cafef.vn/tung-duoc-tung-ho-vi-hua-tra-lai-20-nha-sang-lap-luna-dang-tro-thanh-nguoi-dan-ong-bi-ghet- Nhat-han-quoc-20220524231826557.chn
https://cafef.vn/tung-duoc-tung-ho-vi-hua-tra-lai-20-nha-sang-lap-luna-dang-tro-thanh-nguoi-dan-ong-bi-ghet- nhat-han-quoc-20220524231826557.chn?fbclid=IwAR18qhB9zHn8T56rNuZ20NJuqAul2RZs8PphByEwa1y1NbZRhFb0BLkwZGw