Recently, billionaire Bill Gates said he canceled most of his holiday plans due to the influence of the Omicron variant.
"When life looks like it's going to return to normal, we may be entering the worst phase of the pandemic. Omicron will come to us. Many of my close friends have this variant. So that's why. , I canceled most of my holiday plans," the billionaire wrote in a Twitter post on December 21.
Even so, Gates said he believes the current wave of the epidemic will end by next March because the Omicron variant spreads so quickly. According to him, when Omicron "sweeps" the world's population, we will have a chance to recover from the spike this winter.
"The next few months could be pretty bad, but I still believe that if we take the right steps, the pandemic could be over by 2022," Gates said.
The 66-year-old billionaire predicts that Omicron will soon be "available in every country in the world" if it continues to spread at its current rate. According to a tally up to December 21, this variant accounted for 73% of all COVID-19 cases in the US.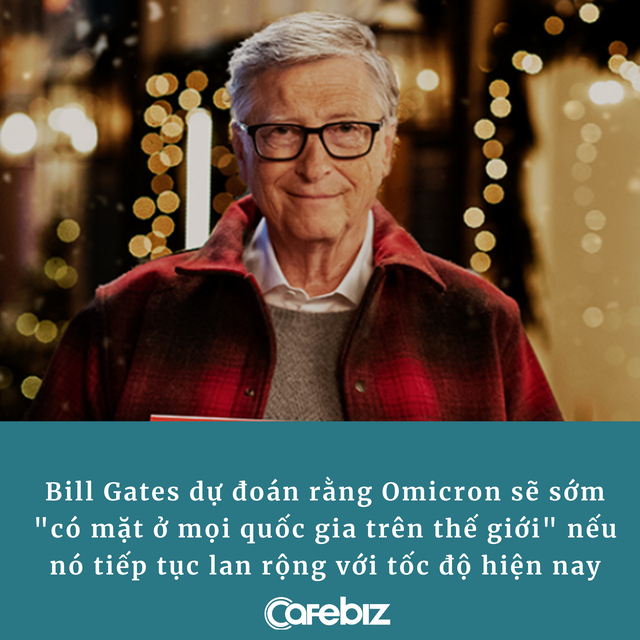 Meanwhile, other public health experts have predicted that Omicron will peak in January 2022. Dr Anthony Fauci said the variant was spreading at an "unprecedented" speed, but that rapidity could eventually turn the tide.
"When something goes up quickly, you usually see it go down immediately. What's going to happen is that almost everyone is going to get sick, especially the unvaccinated. Even the unvaccinated. People who are fully vaccinated can still get the disease," he said.
Gates cautions that we shouldn't take Omicron lightly, especially since we still don't know how potentially serious this variant is.
"We need to take Omicron seriously until we have a fuller understanding of it. Even if Omicron is half as severe as Delta, it's still causing the biggest spike in cases we've seen yet. seen to date because of its contagious nature," Gates wrote.
He encouraged people to pay more attention to epidemic prevention measures such as wearing masks, avoiding large gatherings indoors and outdoors, and getting vaccinated, including an additional shot.
"One day, the pandemic will end. The better we do the above, the sooner that time will come," Gates emphasized.
On December 20, the World Health Organization (WHO) said Omicron is spreading faster than Delta. Tedros Adhanom Ghebreyesus – Director General of WHO said at a press conference: "There is now evidence that Omicron has spread significantly faster than Delta. And it is more likely that those who have been vaccinated or recovered. It is possible to be infected or re-infected after recovering from infection.
Mr. Tedro said that in the short term, festive activities will lead to an increase in the number of cases, overloading the health system and more deaths. Therefore, he urged people to postpone year-end gatherings to minimize infection rates.
"Better an event ruined than a life ruined," he said.
https://cafebiz.vn/huy-gan-het-cac-buoi-tu-tap-cuoi-nam-vi-nhieu-ban-than-thanh-f0-bill-gates-du-doan-omicron-se- som-co-mat-o-moi-quoc-gia-20211222101843847.chn
first
.