Nitecore, a Chinese third-party battery manufacturer and also a manufacturer specializing in smart camera battery solutions, has just launched a new Sony camera battery. The difference of this battery from other original or third-party batteries is that it supports charging via the USB-C port.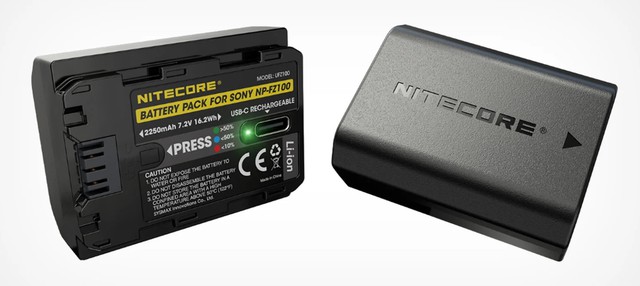 This is an extremely convenient feature because users will no longer need separate chargers or carry around messy chargers like before.
The new Nitecore UFZ100 rechargeable battery product has eliminated the usual charging pins and bulky bundled chargers. Instead, the battery will charge via a USB-C port located directly on the battery allowing users to charge easily with a USB-C cable and standard charger.
Since it is no longer connected to an individual charger, Nitcore has integrated an LED for the purpose of indicating the capacity on the battery. Specifically, the red light indicates that the charge level is below 10%, the blue light indicates that the charging capacity is below 50%, and the green light indicates that the battery has been charged above 50%.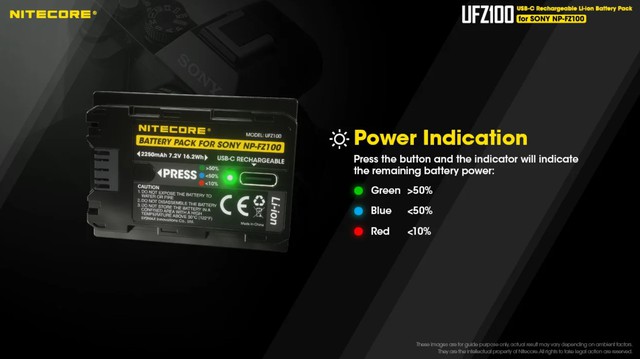 The company says the 7.2v UFZ100 li-ion rechargeable battery has a capacity of 2250mAh (only about 30mAh less than Sony's official battery, the Sony NP-FZ100).
Nitecore said the battery when fully charged provides power for the camera to take about 500 photos. The battery is packed with safety technologies such as over-charge, over-current, and short-circuit protection and is compatible with a wide range of Sony cameras including Alpha 7 III, Alpha 7R III, Alpha 7R Ⅳ, Alpha 7S III , Alpha 9, Alpha 9 II, Alpha 6600, Alpha 7C, Alpha 1, FX3, and Alpha 7 Ⅳ.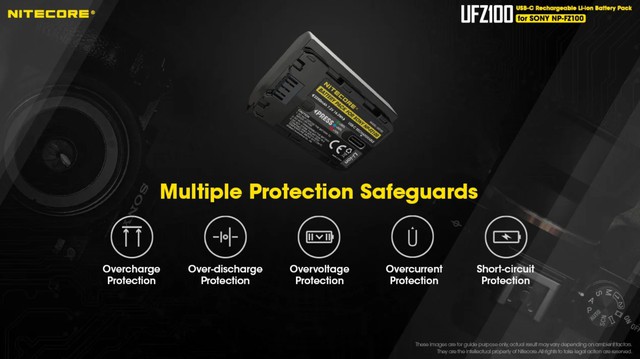 One drawback of this type of battery is probably the charging time. Nitecore says that charging time via the USB-C port will last for 4 hours. The company did not specify whether the battery will support charging when mounted on Sony chargers.
The Nitecore UFZ100 will be available in the market in early May through Nitecore's store for $71.59 (about 1.6 million VND).
Refer to Petapixel

https://genk.vn/khong-con-noi-lo-phien-toai-vien-pin-may-anh-sony-nay-co-the-sac-qua-cong-usb-c-de-dang- 20220427015056991.chn