With rich experience and dynamic staff, MeKo promises to bring top-notch distribution, customer care and warranty services for MSI products.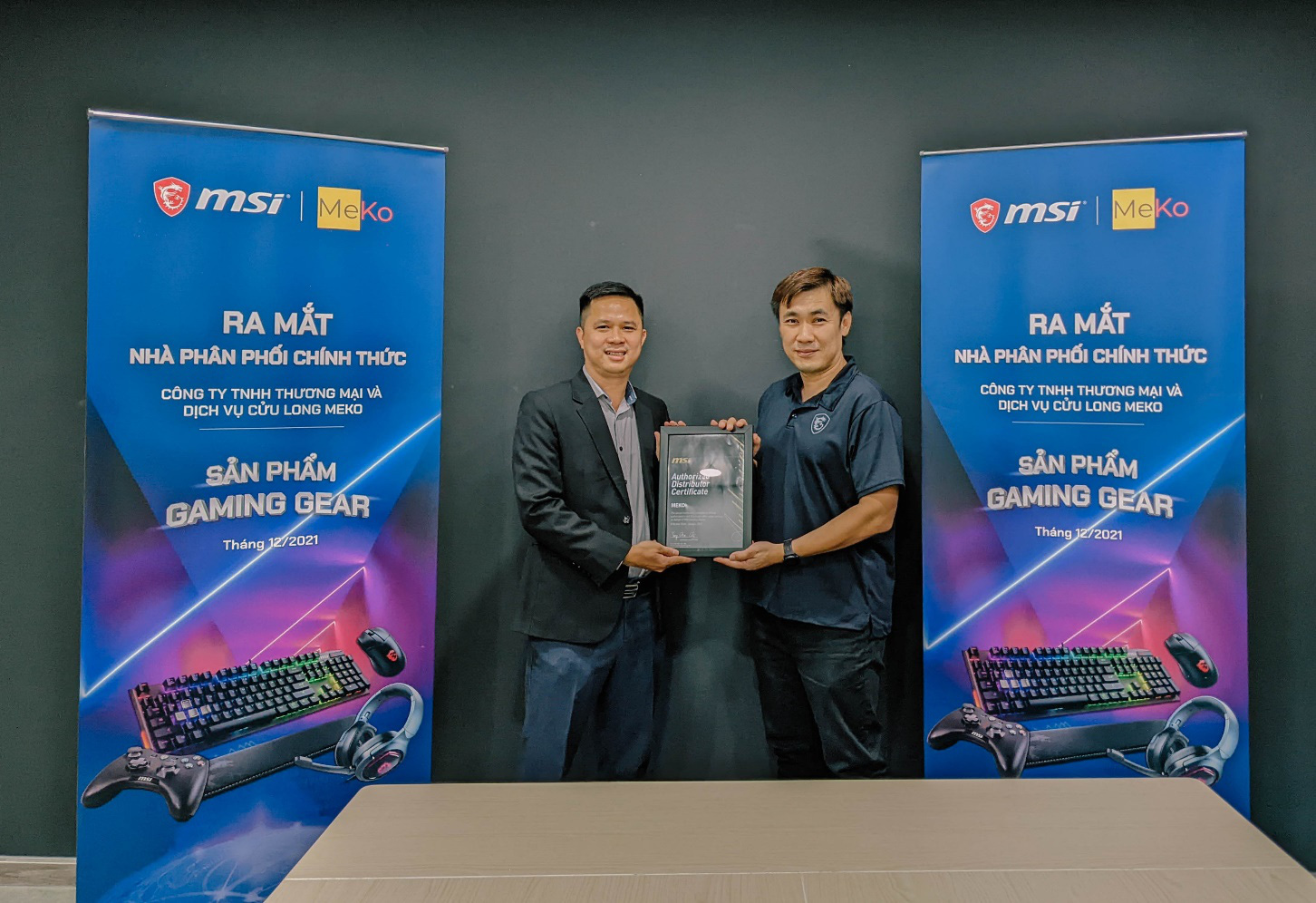 Mr. Dinh Quang Trong, Director of MeKo Company received the distributor certificate from Mr. Andy Yang, Director of Computer Components Division of MSI Vietnam
"We believe that MeKo's experience and market insight and MSI's leading products will bring success to both companies in bringing leading technology solutions to users in Vietnam." – Mr. Andy Yang, Director of Computer Components segment of MSI shared. He expected the cooperation relationship to develop better and grow stronger in the future. This is also a strategic move of the company in expanding business activities in Vietnam.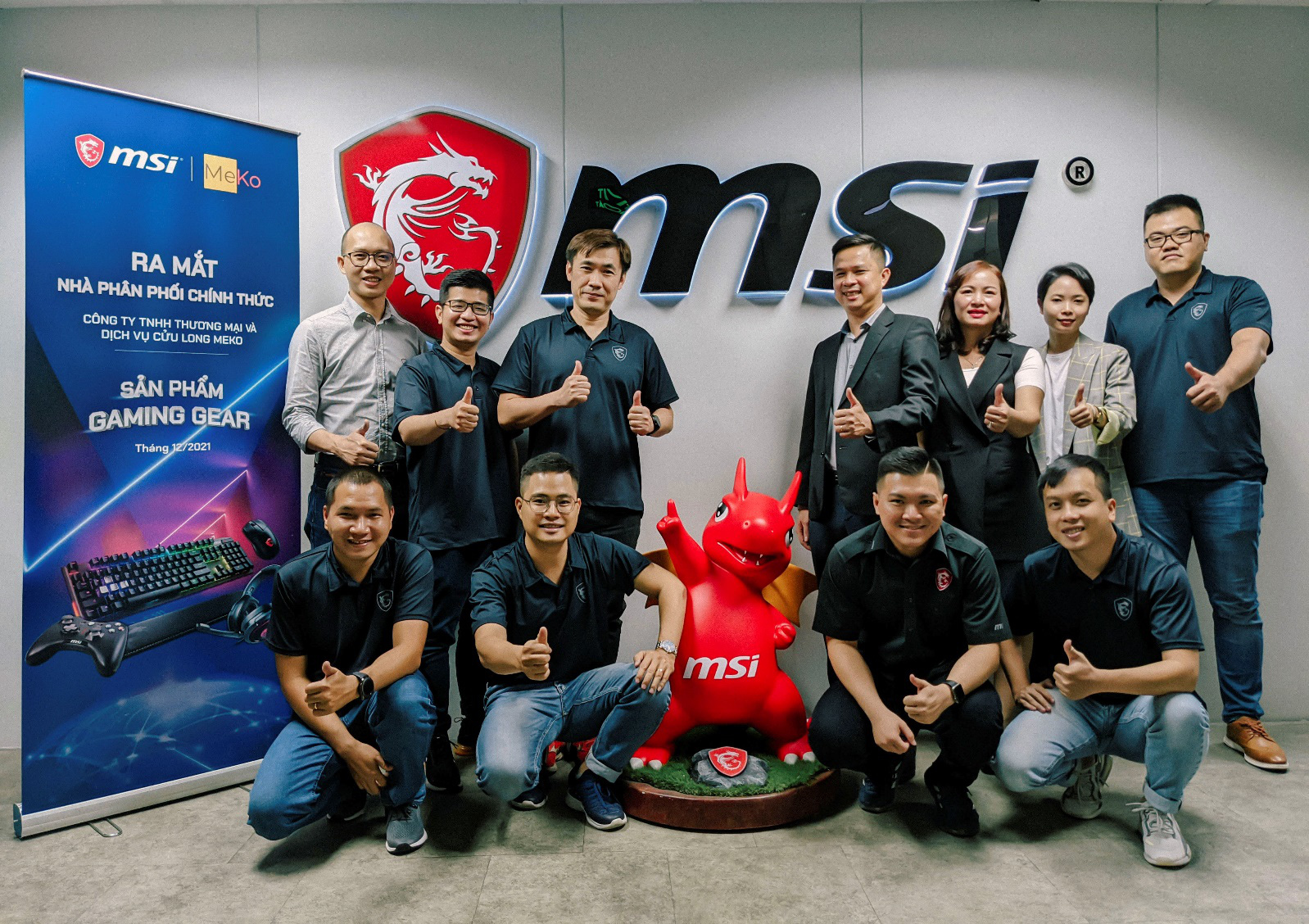 The cooperation between MSI and MeKo brings MSI products to more consumers in the near future
MSI's main product lines will be distributed at MeKo including peripherals (gaming gear) keyboards, mice, touchpads, headsets, etc. High-end products will bring an extremely gaming experience. fun for gamers.

MSI product range distributed in Vietnam by MeKo
Through the cooperation with MeKo – with its vision and experience in the field of distribution and network coverage throughout the country, it will help MSI continue to expand and dominate the market in Vietnam. Besides, with the after-sales, warranty and customer care policies combined from both sides, it will ensure the most dedicated and attentive to customers. "MeKo is pleased to become the official distributor of the world's leading MSI brand for gaming and eSports in Vietnam market. We will do our best to bring MSI products to more consumers in the near future. coming" – said Mr. Dinh Quang Trong, director of MeKo company.
Currently, MSI product codes are focused on promoting by MeKo in the near future:
– Keyboard MSI Vigor GK50, GK30, GK20 versions.
– MSI Clutch GM50, GM41, GM30, GM20, GM08 gaming mouse versions.
– Gaming headset Immerse GH61, GH30 V2, GH20, DS502, DS501 versions.
– MSI Force GC30 V2 gamepad.
– Mouse pad, headset holder….versions.
About MSI
Micro-Star International Co., Ltd – is a multinational company headquartered in Taiwan. In Vietnam, users know this company under the name MSI, the symbol is a powerful dragon. This is a company that designs, develops and provides computer hardware, related products and services including: motherboards, graphics cards, monitors, laptops, peripherals,… so far. , MSI has always been a well-known name in the worldwide market for manufacturing computers and computer components for end-users.
To learn more about MSI company please visit:
MSI Website: https://vn.msi.com/
MSI Facebook: https://www.facebook.com/MSIGamingVietnam/
About MeKo
MeKo Company is a leading distributor of technology accessories in Vietnam. With a founding team with more than 20 years of experience and a clear vision and mission, MeKo believes in bringing the best values ​​to partners and customers. Committed to accompanying, developing and adding value over time.
Website: https://mekogroup.vn/
.