Since the beginning of the COVID-19 pandemic, we have seen that the SARS-CoV-2 virus seems to prefer heavier people. A study in the journal Obesity Reviews found that obese people were 113% more likely to contract COVID-19 with severe symptoms than the general population. They also had a 74% higher ICU admission rate and a 48% higher mortality rate.
Although obese people also often have many comorbidities, scientists are finding more and more evidence that their risk of contracting and dying from COVID-19 is directly related to weight.
Even young people who are overweight and have not developed any underlying medical conditions can die from COVID-19.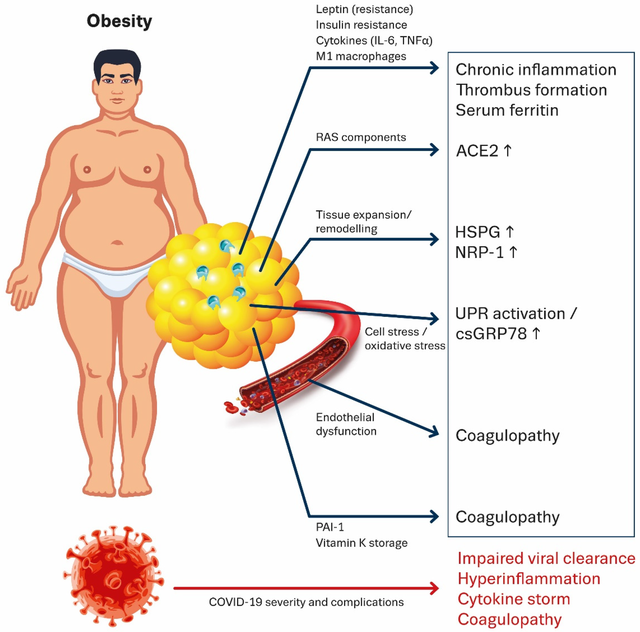 To explain this, a study posted on the online platform BioRxiv recently showed the presence of the SARS-CoV-2 virus in fat cells and some immune cells found in body fat.
Catherine Blish, a professor at Stanford University Medical Center said:Infection of the corona virus into adipose tissue can contribute to severe illness. We found inflammatory cytokines, similar to those found in the blood of patients with COVID-19. They may have been produced in response to the corona virus infection in fatty tissues."
The relationship between adipose tissue and the immune system
Body fat was once considered an inert substance, a form of storage. When you eat too much food, especially sugar, the unused energy is converted into body fat.
But now, scientists know fat is more than simply storage tissue. It also participates in biological reactions in the body, produces hormones and proteins of the immune system, and indirectly affects cells and many organ systems.
Adipose tissue has been observed to prolong a low-grade inflammatory response. Inflammation is the body's response to an invader, and sometimes it can be so powerful that it does more harm than good. Here, adipose tissue can trigger chronic inflammation even when the body shows no signs of infection.
To see why this is so, we have to look at the makeup of adipose tissue. It is formed mainly by fat cells or adipocytes. However, adipose tissue also contains pro-adipocytes, which when mature can become adipocytes or certain types of immune cells including macrophages.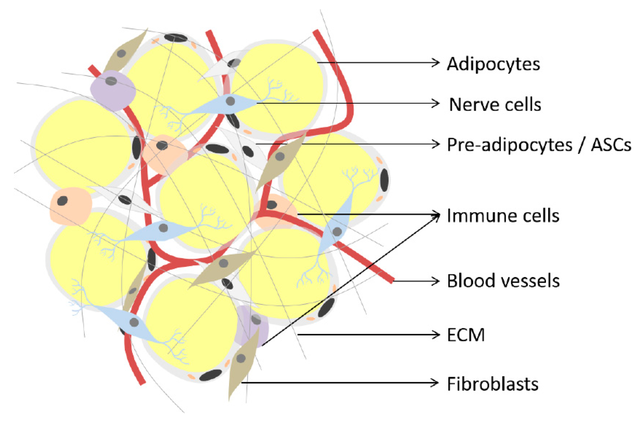 It is possible that viral infection of the adipocytes triggered the harmful inflammatory effect of the immune system. To test this hypothesis, Dr. Blish and colleagues at Stanford University performed experiments to see if adipose tissue obtained from obese surgery patients could be infected with the SARS-CoV-2 virus. Are not? If they did, they would monitor the response of different cell types to that effect.
"The bottom line is that the virus can directly infect fat cells. And whatever happens to the adipose tissue won't stay in the adipose tissue. It also affects nearby tissues.", says Dr. Philipp Scherer, a fat cell scientist at UT Southwestern Medical Center in Dallas.
SARS-CoV-2 virus can nest in fat cells
Indeed, in the new study, scientists found that fat cells themselves can become infected with viruses. However, they are not severely inflamed. Instead, some of the macrophages in the adipose tissue are then infected, and they are the ones that develop a strong inflammatory response.
Strangely enough, the adipocytes were not infected with the virus, but they did contribute to the inflammatory response. To further find out why, the researchers took fatty tissue from the bodies of European patients who died of COVID-19 and tested it. They found that the SARS-CoV-2 virus had infected visceral fat in various organs of these patients.
That could be a sign that adipose tissue is acting as a reservoir for pathogens, said Dr. Vishwa Deep Dixit, a professor of comparative medicine and immunology at Yalecho School of Medicine. And this is nothing new.
In the past, fatty tissue has been known to be a hiding place for influenza and HIV viruses. Hiding in these tissues, the virus can evade the human immune system and even therapeutic measures such as antiviral drugs.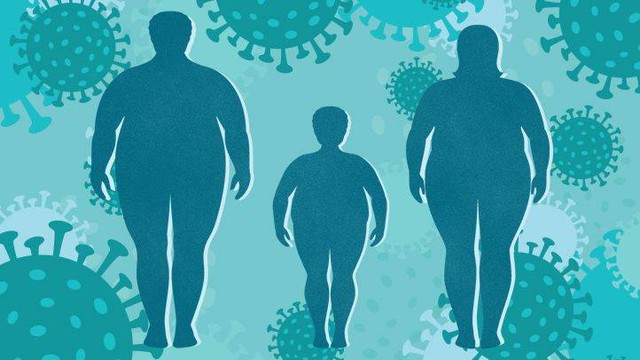 Now, new research shows that the SARS-CoV-2 virus also seems to be able to evade the defenses of obese people. That's because fat people have a lot of fat as a hiding place for the virus.
Dr David Kass, a professor of cardiology at the Johns Hopkins Institute said:If you are truly obese, the fat becomes the single largest organ in your body. The corona virus can infect and nest in that organ.
Whether they hurt, kill fat tissue or in the best case just take fat tissue as a place to multiply – it doesn't matter. Importantly, the adipose tissue became a kind of reservoir for the virus."
Therefore, when the inflammatory response occurs, the cytokines trigger even more inflammation and release additional cytokines. "It's like a perfect storm," Dr. Kass said.
For the same reason, Dr. Blish and colleagues speculate that body fat is partly to blame.protracted COVID", causing patients who have recovered from COVID to remain fatigued for weeks, or even months.
Losing weight, you will reduce the risk of severe symptoms of COVID-19
From data from the new study, scientists suggest that overweight and obese people should have a weight loss plan while the pandemic is still raging. This not only helps them prevent severe symptoms when infected with the SARS-CoV-2 virus, but also improves their overall health.
Research shows that losing just 5-10% of body weight can help lower blood pressure, reduce sleep apnea, reduce inflammation, lower cholesterol'bad' causes cardiovascular disease, reduces the risk of diabetes and also cancer. In addition, excess weight also puts a lot of pressure on the joints, so losing weight can also reduce the risk of arthritis.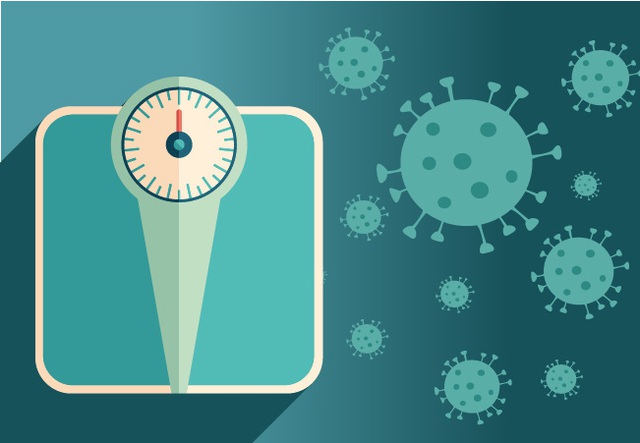 Barry Popkin, a professor of nutrition at the University of North Carolina at Chapel Hill who has studied the risk of COVID-19 in obese people adds:This article is a wake-up call to the health and public health professions, urging them to take a deeper look at the problems of overweight and obese people, and the treatments and vaccines we can provide. We're injecting them."
According to Professor Popkin, because the SARS-CoV-2 virus is now proven to be able to hide in adipose tissue, we need to study COVID-19 on overweight and obese people in particular to get doses of vaccines and medications tailored specifically for them.
Agreeing with this idea, Dr. Dixit said scientists could try to develop a COVID-19 treatment that targets fat cells in the body:It could be the Achilles' heel that the virus uses to evade our body's immune responses".
Refer to Nytimes
.