Here, visitors will be able to participate in a series of popular music events with V-biz names that will converge in the west of the city such as Duc Phuc, Justatee, Phuong Ly, My Anh, GDucky, DJ Tripple DJs…
VMM Smart City will officially welcome the first guests on April 28, 2022. Let's take a look at the series of "quality" events that Vincom Mega Mall Smart City will entertain young people in Ha Thanh on the occasion of opening in the coming days!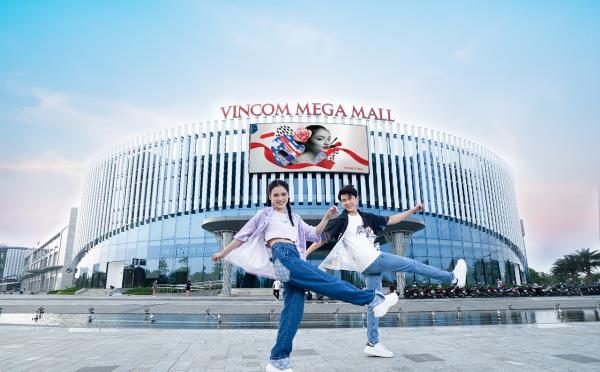 "Explosion" of experience on the opening day of April 28
The opening ceremony is also the beginning of a series of exciting events not to be missed – where many famous artists will be present. The first "landing" to VMM Smart City was Duc Phuc – a "new generation" love song prince with a sweet voice and a series of "stormy" hits such as The First Day, More than Love, His Sunshine, Oh, people do about…
Besides, as MC, the dynamic and multi-talented Khanh Vy will bring a new breeze, leading you to discover interesting things throughout the program. If you are a fan of these young artists, schedule an appointment now so you don't miss the opportunity to be "closer to" with your idol this holiday.
Not only can you "have eyes and ears" with exciting performances and interesting interactions on stage, when you come to "shopping and experiencing paradise" Vincom Mega Mall Smart City, you will be "lost" with nearly 130 famous brands. In it, don't forget to "live virtual" with the only real-life F1 car model in Vietnam or challenge the steering wheel at VS Racing – an indoor mini F1 racetrack. Or experience the new 4.0 generation Okara karaoke studio with many outstanding features. At Wolfoo City, not only for children but also for many young people, the first realistic version of Wolfoo's play area in Vietnam will be a "paradise" of unique experiences like never before. Particularly for shopaholics, Annam Gourmet (the largest high-end imported supermarket in the west of the capital) and Kohnan (Japan's leading consumer goods supermarket) will be the choices not to be missed.
"It's A Match" with Low G at Tinder Zone
A "super hot" event that young people must attend if they want to escape… FA is Tinder: It's A Match" organized by Tinder – the world's most popular dating app and available in over 190 countries The attractive event will take place in 4 days from April 28 to May 1 at Vincom Mega Mall Smart City.
If you're looking for that person, don't wait, let's "mix things" and go to Vincom right away, maybe you can "match" with the "fated person" who has been waiting for so long. Tinder has prepared hundreds of sweet gifts for everyone present at the new generation shopping mall in the west of the capital during leisurely holidays, and an area to watch the couple's tarot for free when installing the app. Tinder and was present at the event.
In particular, at 7:30 p.m. on April 29, at Tinder's event hall, Rapper Low G – a popular rapper with a unique deep voice, creative flow and million-viewed rap songs, will here to interact with young people.
Rapshow concert "Live every second" to a series of animated mini shows
The third day of the series of opening events, which is also the first day of the holiday from April 30 to May 1, will be the Rapshow Concert "Live every second", promising to be an "extremely burning" night. of young people. The Rapshow "party table" will present to you all kinds of musical "specialties" with the participation of the "hottest names today: Justatee, Phuong Ly, My Anh, G-Ducky, DJ Triple D.. .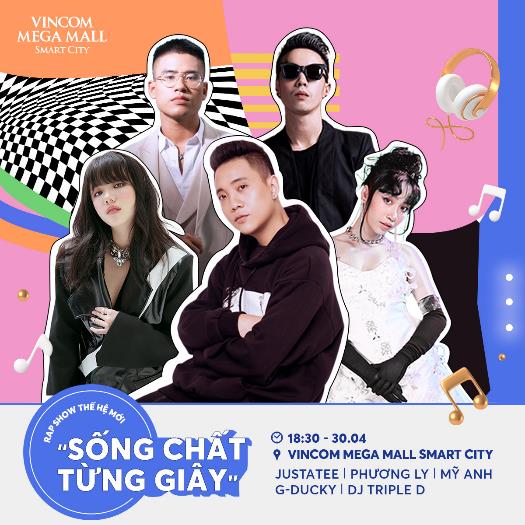 Not stopping there, music devotees will continue to be "treated" by a series of mini-show events "Life-Up Show" by young singers such as: Sweet (May 7) and Hoang Dung (May 14). /05), Da Lab (May 21). Has it been a long time that you haven't been "burnt out" in a live music show? Let's "dress up" coolly, prepare enough energy to have the power to "let loose" in the upcoming exciting days. Don't forget to come early because it is expected that thousands of young people will also flock to Vincom Mega Mall Smart City these days.
Experience smart AI cams at "Times Square" with Hot Tiktokers
For young people who love new technology, experience real-time appearance on a giant curved screen with FPT Camera IQ in the event of Multi-Style Connection – Realizing the Real on "Times Square" at VMM Smart City on April 29. In recent times, this interactive system is especially interesting with its ability to "read" passersby with funny, intelligent comments.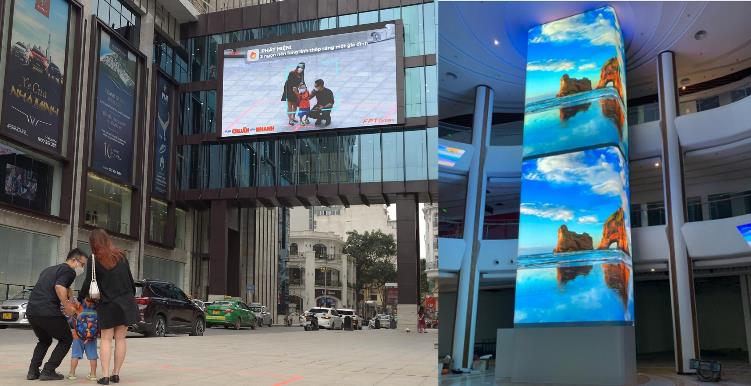 At VMM Smart City, anyone can participate in the creative race with the "Idea Maker Marathon" experiential event. All will be "live broadcast" on the giant LED screen of the entire VMM Smart City shopping mall. If you're a tiktoker looking for million-view clips, get ready, because the shine is about to… "hit" you!
Continually revealing information and images about a series of extreme experiences in recent days, Vincom Mega Mall Smart City is making Hanoi's young people "feverish". Everyone is eagerly waiting for the first days of summer to burn out at VMM Smart City.

https://genk.vn/don-cho-chuoi-su-kien-voi-sao-hot-va-cong-nghe-dinh-dip-khai-truong-vincom-mega-mall-smart-city-20220428104341293. chn