Football, the king sport inspired many people as well as many fields and became one of the most important sports in Vietnam. In order to fuel the passion of Vietnamese football fans and maintain the "competitive" atmosphere for the upcoming AFF Suzuki Cup 2020, coocaa has organized various online activities to cheer together with fans in advance. tournament this November.
Ever since the program "AFF CUP Champion Prediction – 100% Cashback on Your Coocaa TV" took place, the program has attracted attention and lively discussion in the online community. It is worth mentioning that this event has attracted more than 1.1 million interactions and received the support of famous stars and KOLs such as Tran Dinh Trong, Fabo Nguyen, Xoai Fam, Nguyen Tran Huyen My and Ngoc Thiep , at the same time, many fans followed their steps and posted UGC videos to show their interest. By accompanying the AFF Suzuki Cup 2020, coocaa hopes to bring the most explosive moments to football fans and work together to prepare for the most prestigious tournament in the region.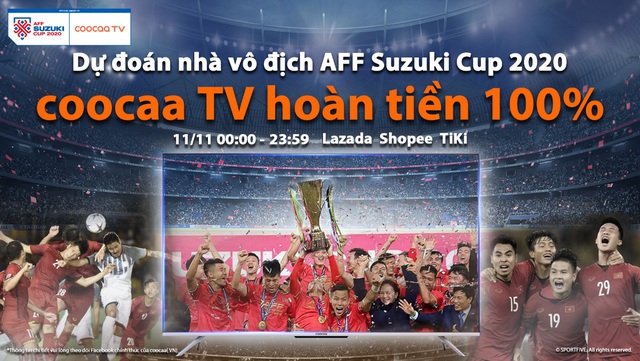 Through online activities, coocaa has contributed to spreading the king sport to fans around the world and bringing more experiences to customers. In the last 11.11 campaign, coocaa TV continued to hold the No. 1 position in the household appliances category at Lazada and brought in year-end revenue that exceeded expectations. Its sales increased 179% year-on-year in Vietnam, impressing many Vietnamese consumers.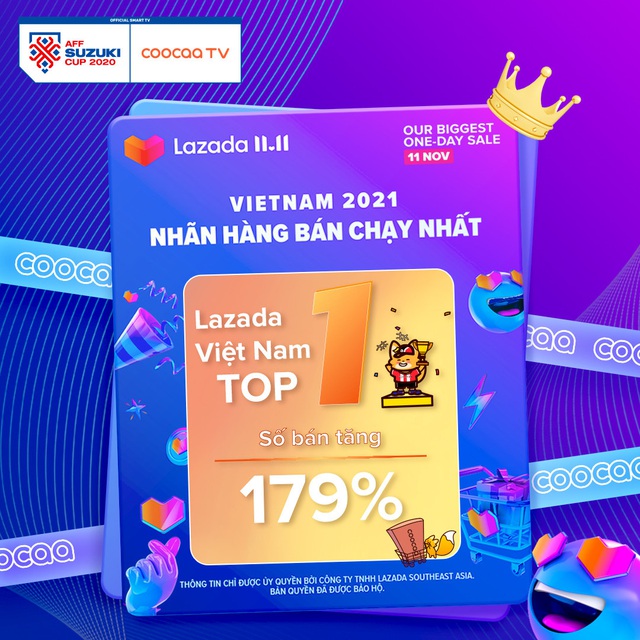 Most notably, the champion product line S6G Pro Max. This is the best selling product of coocaa coocaa on 11/11 campaign. Possessing a wide screen design, 4K resolution and HDR 10 decoding technology, equipped with the "Hands-free voice control" voice control function in Vietnamese, S6G Pro Max is well received. Warmed by football fans because of the extremely realistic viewing experience.
Learn more about coocaa products through: https://bit.ly/3DmtHms
Despite being a "rookie" just entering the Vietnamese market, coocaa TV continuously holds the top position in the list of best-selling products on the e-commerce platform, showing strong growth potential. As a brand that is always at the forefront of technology trends, coocaa is always loved by young people who are passionate about technology and pursue a quality life.
"Congratulations to coocaa for winning the No. 1 position on Lazada for home appliances in this year's 11.11 campaign. As a partner of Lazada, coocaa is committed to bringing Vietnamese consumers high-quality TV service with reasonable price, This is a well-deserved title for the quality of their products and services. We look forward to coocaa's more outstanding performance in the future" Mr. Thinh Pham – Head of TV & Video at Lazada To share.
Let's join coocaa in the rhythm of football with the upcoming AFF SUZUKI CUP 2020 and don't forget to follow coocaa's fanpage on social media platforms so you don't miss coocaa's thrilling activities in the future.
Facebook: https://www.facebook.com/coocaa.official/
Instagram: https://www.instagram.com/coocaavietnam/?hl=en
Information about cocoa
coocaa is a leading supplier of smart TVs, R&D systems and content operating systems. The brand always strives to help customers around the world "Discover, experience, create". Founded in 2006, coocaa has operations throughout Europe, India and Southeast Asia. With its mission to promote smart lifestyles through its innovative technology, coocaa is committed to developing smart products and sophisticated designs and to meet the needs of the younger generation.
COOCAA TV – AFF SUZUKI CUP 2020 Official Smart TV
#coocaaTVhoantien100% #coocaaTV #AFFSukiCup2020OfficialSmartTV
.