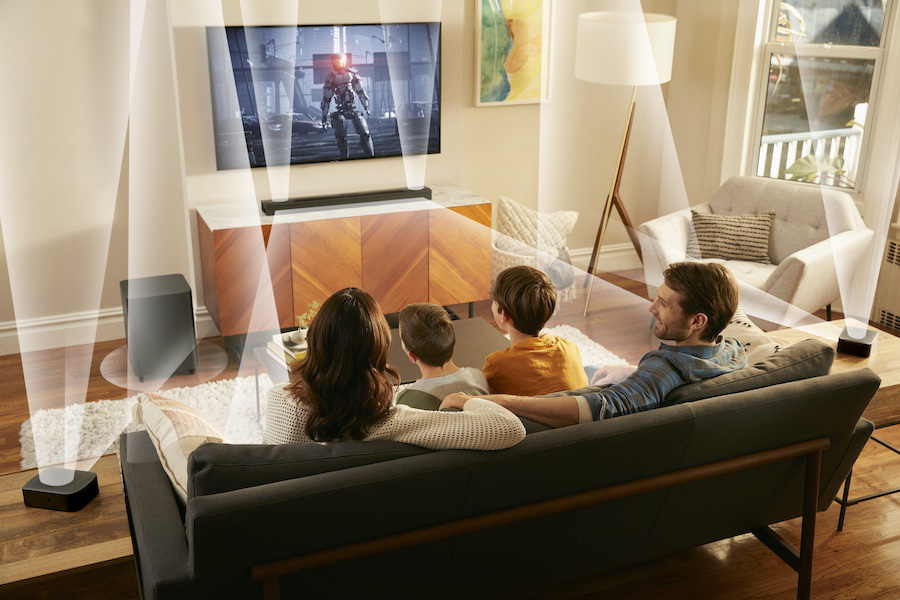 When choosing speakers to play Tet, brand reputation, capacity, and supporting technologies are always the first factors that must be considered, even before the price for real players. And with JBL, the American audio brand with a 75-year history, they not only bring powerful speaker systems that integrate a range of industry-leading technologies, but also launch many incentive programs to serve "God." ".
On this New Year's Eve 2022, the standout trio of soundbars JBL Bar 5.1, JBL Bar 9.1 and JBL Cinema SB 450 are being offered a "huge" discount or with valuable gifts.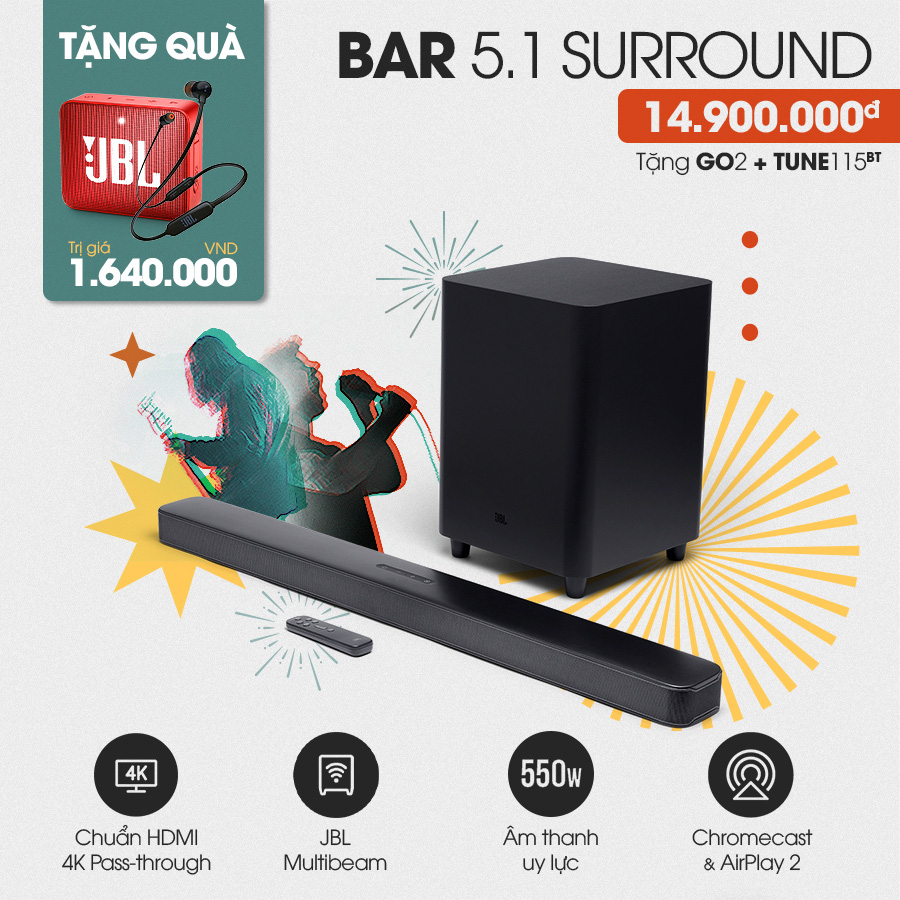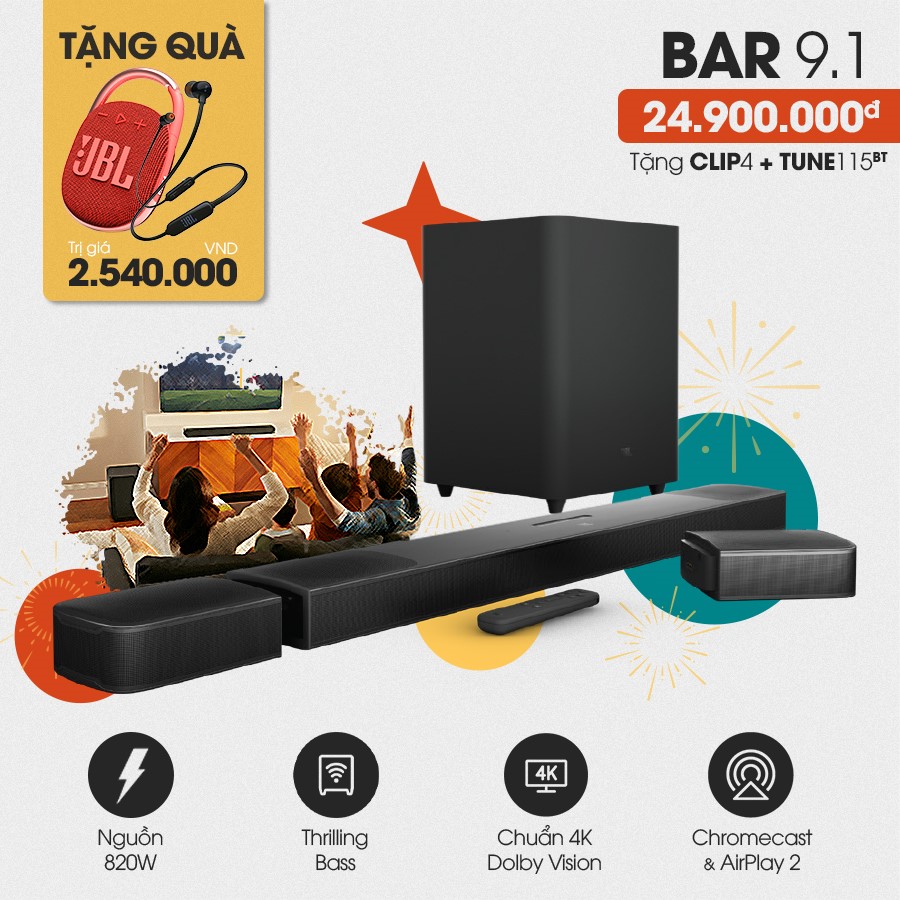 Accordingly, when buying JBL Bar 5.1 (priced at 14.9 million VND) or JBL Bar 9.1 (priced at 24.9 million VND), customers will receive a free JBL T115BT bluetooth headset (worth 950,000 VND). JBL 5.1 alone also comes with JBL Go 2 portable speaker (worth VND 690,000), and JBL 9.1 alone comes with JBL Clip 4 portable speaker (worth VND 1,490,000).
As for JBL Cinema SB 450, customers will receive a direct 45% discount on the selling price. Thus, anyone can bring this high-class soundbar system to decorate the house for Tet, for less than 7.7 million VND instead of the original price of 13.9 million VND.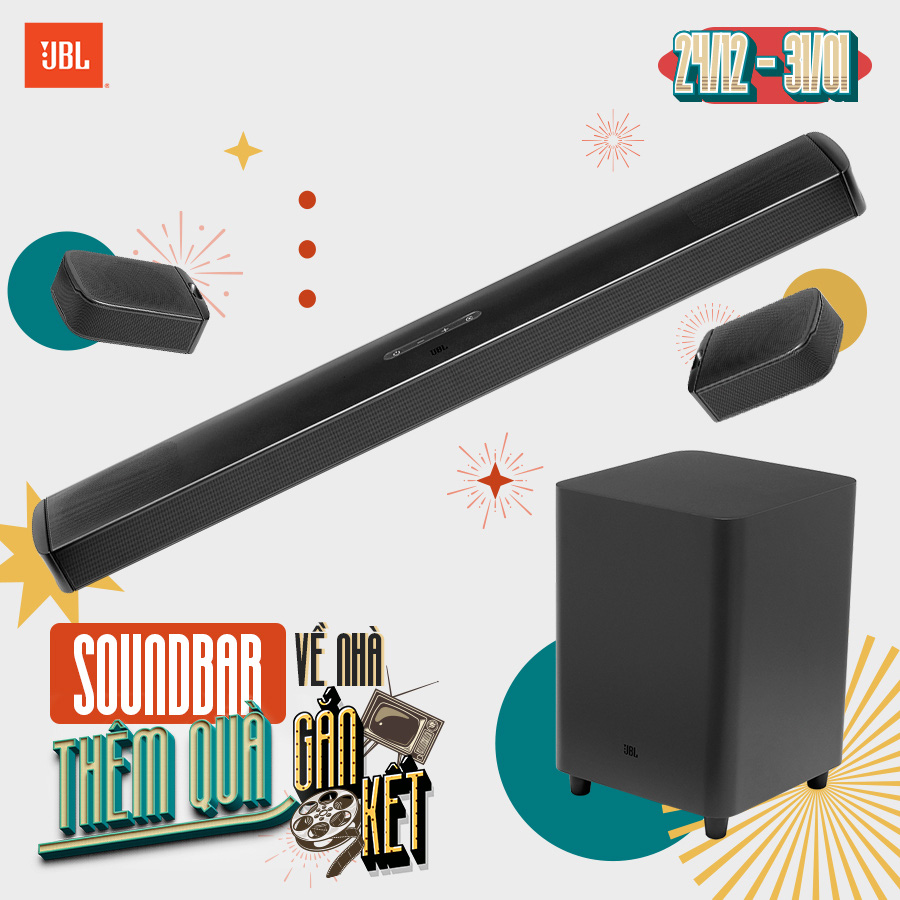 Cinema SB 450 is a 2.1-channel speaker that wirelessly connects to an 8-inches subwoofer (200mm, 200W), with a total capacity of up to 440W, providing powerful, vivid bass. Movie lovers can enjoy clear dialogue and voices of movie characters.
Meanwhile, JBL Bar 5.1 Surround has a total capacity of up to 550W. Whether used to watch movies or listen to music, every sentence, lyrics or musical note will sound vividly. The deep bass range from the 10-inch subwoofer system is like an extremely powerful "weapon" of this speaker system, it is no exaggeration to say that it will raise the bar for every breath of action or epic music.
JBL Bar 5.1 is already strong, JBL Bar 9.1 is even stronger. With a total system power of up to 820W, users can enjoy every Oscar-worthy performance through superb, detailed sound. When the 10-inch subwoofer is turned on, it sends bass reverberating throughout the room; and when turned off, users can relax in the melodious music background.
All three products support wired and wireless connection technologies. Specifically, JBL Cinema SB 450 supports up to 3 HDMI inputs and bluetooth. As for JBL Bar 5.1 and JBL Bar 9.1, in addition to the sound source from the TV via optical, HDMI, USB or smartphone, tablet via bluetooth, these soundbars also integrate ChromeCast, AirPlay and Alexa Multi-Room Music (MRM) multi-room audio. ) for users to easily stream – play music. The exclusive JBL MultiBeam technology on the JBL Bar duo is equally impressive, simplifying every step of installation and setup with unprecedented ease.
For details on nationwide product sales systems, please refer here.
.