Recently, Vox (USA) reported that the US is spending millions of dollars to discover an untapped energy source. It is known that although solar and wind energy are very important, they are too common and have certain limitations.
Accordingly, a pilot program recently presented by the US Department of Energy (DOE) has attracted special attention. If the program is effective, says the DOE, many problems can be solved at once, using an often overlooked source of energy: Geothermal energy.
Several European countries have directly used geothermal energy on a large scale. Iceland, famous for its volcanic activity, uses its vast geothermal reserves to heat 90% of homes across the country.
According to statistics of the Agency for New Energy Research (EER), currently around the world, there are about 50 countries using geothermal to produce electricity with a total capacity of more than 13.2 GW, accounting for 0.3% of the total energy production. global electricity production with an average growth rate of 3%/year. The countries with the largest installed capacity are the US, Philippines, Indonesia, Mexico and New Zealand.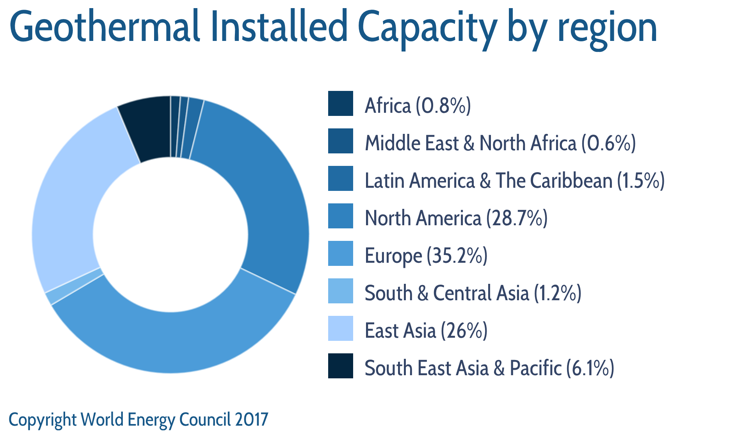 Indonesia is located on the Pacific Ring of Fire, accounting for nearly 40% of the world's geothermal potential. However, the country has only exploited 5-6% of its geothermal potential. The country's largest geothermal reserves are located in the west, where the most population and energy demand is highest, including Sumatra, Java and Bali.
Iceland – the country ranked 14th in the world in terms of geothermal potential, but has the highest per capita geothermal power production in the world. On this island, there are 5 geothermal plants with a total capacity of about 420 MW, equal to 26.5% of the total electricity capacity of the country. Currently, Iceland only uses about 20% of its geothermal potential. If the geothermal reserves are fully exploited, each year, Iceland will produce nearly 20 billion W / hour, equivalent to the output of 3 nuclear reactors.
So what is the geothermal source in Vietnam?
According to a survey and evaluation of scientists, Vietnam currently has about 264 hot springs and sources distributed relatively evenly across the country: such as Kim Boi hot springs-Hoa Binh, Thach Bich-Quang Ngai, and Binh Chau. -Ba Ria-Vung Tau,….with an average temperature of 70-100oC at a depth of 3km.
According to experts, the advantage of geothermal resources in Vietnam is that it is evenly distributed throughout the territory, allowing it to be widely used in many localities. With water sources over 200oC can be used as fuel for power generation stations, the temperature is from 80oC to below 200oC can be used directly for drying agricultural and aquatic products, heating apartments and factories, and temperatures below 80 degrees Celsius are used for medical treatment, tourism, etc.
Green energy organizations and scientists have learned about Vietnam's geothermal energy source. Since 2007, the German Institute of Geosciences and Resources has investigated and surveyed the geothermal power potential in six hot water points in Tu Bong (Khanh Hoa), Phu Sen (Phu Yen), and Hoi Van (Binh Dinh). , Nghia Thuan, Thach Tru (Quang Ngai) and Kon Du (Kon Tum) and study effective use options depending on the quality level of each water source.
From geothermal measurements in oil and gas exploration boreholes, high geothermal areas have been identified as the Southeast of the Red River Delta (the depth of 3,000m has a temperature of more than 140 meters).oC) and coastal Binh Thuan. In addition, some other areas such as Hue, Quang Ngai, Kon Tum also have high geothermal resources… have conditions to generate electricity with small capacity.
Meanwhile, the research results of the Institute of Geology (under VAST) in the Red River Delta show that the thermal neutral layer is stable 25oC – 26oC is distributed at a depth of less than 10-15m, which is favorable geological conditions for the application of soil heat pump technology (GSHP). Calculations simulating this technology with real conditions in Hanoi allows to save 37% of electrical energy consumption compared to the current air conditioning system (RAC). In addition to economic benefits and effective energy-saving solutions, land heat pumps also minimize the amount of gas released to pollute the environment.
In 2010, Chairman of Quang Tri Provincial People's Committee, Mr. Nguyen Duc Cuong officially signed the decision to grant Investment Certificate No. 30121000071 for SVA Feng Shui Thermal Power Joint Stock Company, a subsidiary of SVA Financial Group, to invest in the project. invested in building a Geothermal Power Plant in Dakrong with a capacity of 25 MW.
This is the first geothermal power plant in Vietnam licensed for investment and construction by SVA Financial Group on an expected land area of ​​10ha. The total capital invested by SVA Financial Group for the project is nearly 950 billion VND.