While laptops using Intel's 12th generation Alder Lake chips are not expected to launch until January Q1 2022, a few benchmark scores of chips like the Core i9-12900HK and Core i7-12800H have surfaced. But recently, the reporters of the Notebookcheck.net site had early access to the Cinebench R20 and R23 scores of the Core i7-12700H CPU, most likely belonging to an upcoming MSI laptop.
Although the screenshots only show the benchmark scores of the Core i7-12700H CPU, based on the BIOS version, the reporters of the Notebookcheck.net site realized that this could be the upcoming MSI GE76 Raider MSI introduced by MSI. next time.
As a high-end gaming laptop, it is not difficult to understand why this is likely to be a device equipped by the company with Intel's Alder Lake-P high-performance CPU line like Core i7-12700H.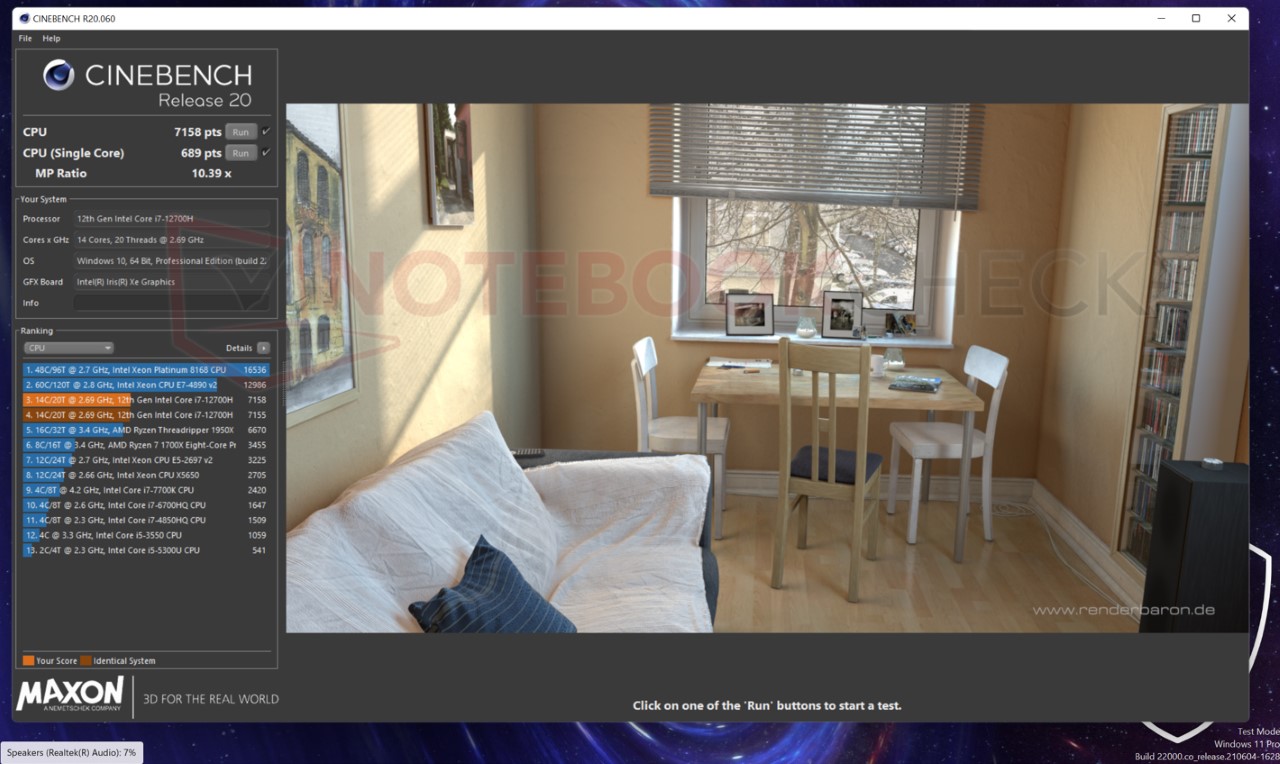 Core i7-12700H achieved 7158 multi-core points, 689 single-core points on Cinebench R20
According to Intel's introduction, Core i7-12700H is an H45-type processor of the Alder Lake-P series, with 6 Golden Cove (P) cores and 8 Gracemont cores – a total of 14 cores, 20 threads. With Alder Lake-P TDP levels ranging from 12W to 45W, this processor family is essentially a hybrid between the U series and the H series.
Normally, Intel always beats AMD in single-core performance while AMD holds the throne in multi-threaded performance, but from the 11th generation Intel chip line, this line has gradually blurred with Intel's Tiger Lake-H. and AMD's Zen 3 Cezanne series. Now with Alder Lake-P, Intel is clearly ahead of its competitors.
Looking at the single-core scores on Cinebench R20, the Core i7-12700H scored 689, about 12% faster than the Core i9-11950H and 21% faster than the Ryzen 9 5900H, AMD's flagship chip line.
Meanwhile, the multi-core score of Cinebench R20 also shows that the Core i7-12700H reached 7158, up to 47% faster than AMD's Ryzen 9 5900H. This number is in line with another Geekbench score showing that the Core i9-12900HK is 61.3% faster than AMD's Ryzen 9 5980HX.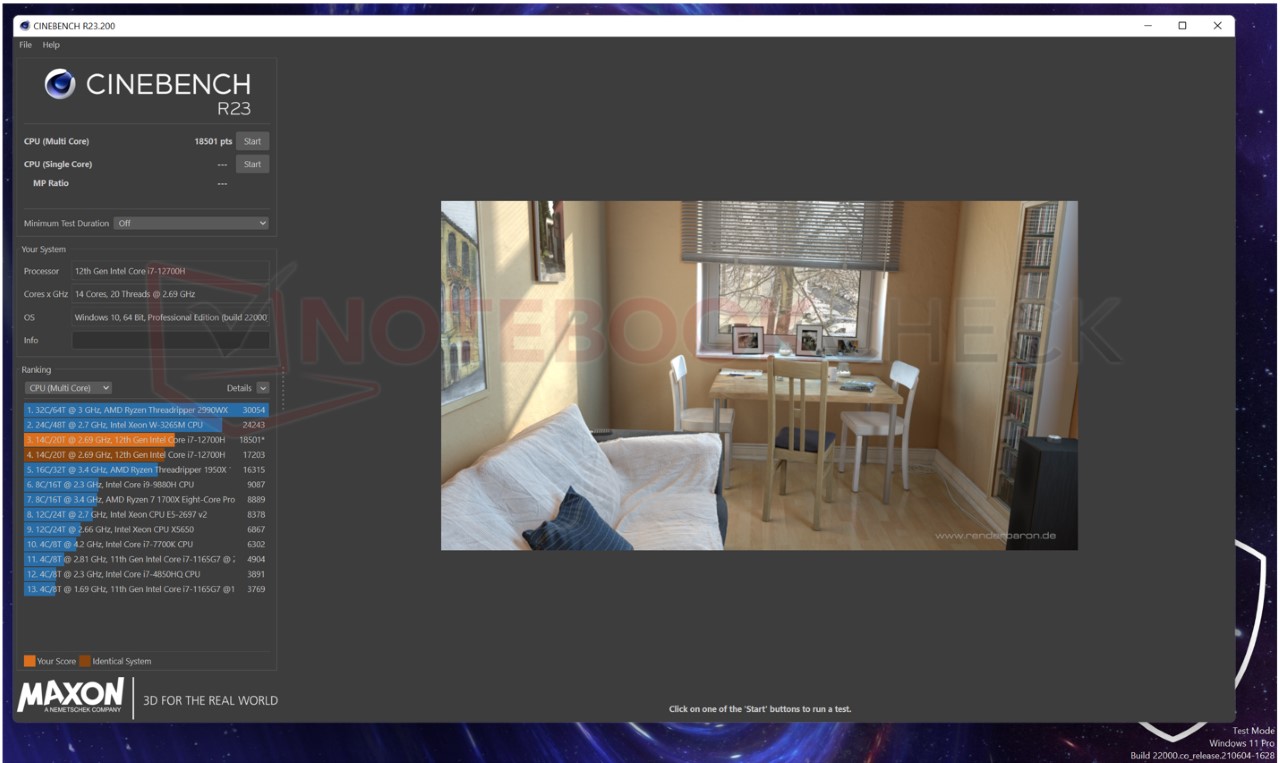 Core i7-12700H scored 18,501 multi-core on Cinebench R23
It's even more interesting to compare Intel's processor with Apple's M1 SoC, which is known for its super-powerful performance and energy efficiency. While there is no single-core performance score, the multi-core score on Cinebench R23 shows that the Core i7-12700H achieved a "huge" score of 18,501 points, not only 47% faster than the Ryzen 9 5900HX but also faster than the Ryzen 9 5900HX. 49% compared to M1 Max.
Anyway, there is no official information on the performance of these processors yet, so it is likely that we will have to wait for more information to get a more detailed view of the power of the new chips. by Intel.
Even so, these leaked parameters also show a big step forward for Intel in processor performance, after many years behind in both performance and technology ahead of rivals AMD and more recently Apple. However, this position may only be temporary as early 2022 will be the time to launch AMD's Ryzen 6000 Rembrandt series with a new architecture, which will bring more significant strides in performance.
Refer to Notebookcheck

.