Doctors in Spain recently reported a man's rare super infection in the New England Journal of Medicine.
The patient is 64 years old, works in wastewater management and was previously diagnosed with metastatic lung cancer. Three years ago, doctors noted times when he had increased eosinophils – white blood cells that specialize in fighting parasites and allergens – believed to have signs of a parasitic infection. .
By the time the larvae entered, the man was in the hospital because a cancerous mass had begun pressing on his spinal cord. Doctors treated him for several days with a high dose of glucocorticoids. Because this substance suppresses some immune responses, it created the main conditions for the parasitic worms in his body to thrive.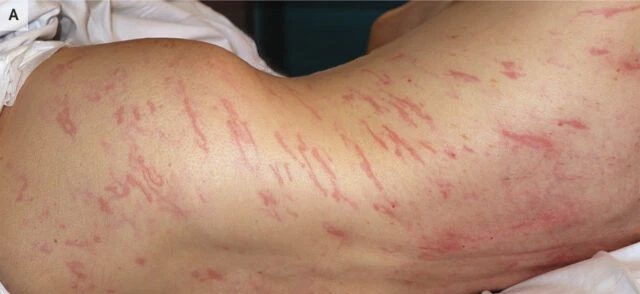 The worm in this case is Strongyloides stercoralis (the strongyloides), a roundworm or roundworm capable of infecting humans. Infection begins when a person comes into contact with contaminated soil or sewage. Worms can mature and reproduce there, and swarms of small larvae – about 600 micrometers in length – can emerge, burrow into a person's skin without anyone noticing, and then enter the intestines by many different paths.
In some cases, the larvae make their way to the lungs, cause coughing, and then are swallowed by the patient to reach their final destination, the intestines. Once in the intestines, the worms hide themselves in the lining of the small intestine and reproduce. Larvae that hatch there are shed in the feces to restart the process – or penetrate the skin in the perianal area, resulting in "auto-infection".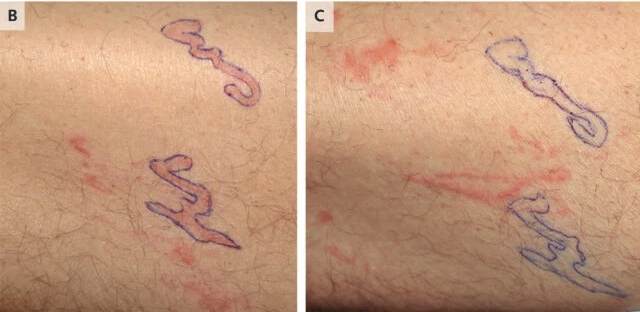 The second and most worrisome risk occurred in the above cancer patient. According to the doctors, the problem started with raised rashes, itching and mild diarrhea. The red, wavy skin lesions then originate in the perianal area, then migrate subcutaneously, spreading throughout the trunk and extremities. Doctors used a pen to sketch out each red rash on the patient's skin and found that after 24 hours, the red spots had moved.
Noticing that the rash had shifted, the doctors examined the stool and identified strongyloidiasis larvae, thereby helping to diagnose the disease accurately. The patient was then prescribed antiparasitic medication, and the rash and diarrhea subsequently improved.
Refer Arstechnica

https://genk.vn/nhiem-giun-benh-nhan-chung-kien-canh-mot-doi-quan-au-trung-quan-quai-va-luon-lach-duoi-da-minh-20220425171526025. chn