Marvel fans often call Spider-Man the "Spider" because this superhero often encounters the most bad luck in his life. It will not be an exaggeration to say that Peter Parker's personality and ideals are formed from the pain he has suffered over the past decades: Just discovered his superpower, his close uncle passed away. He keeps losing the girls he loves so much, and his life is turned upside down, not a peaceful day by the most evil and monstrous supervillains.
However, in the vast Marvel universe, there is an even worse superhero than Spider, with a fate that is also bleak and extremely pitiful. That is Benjamin Grimm, also known as The Thing, a veteran member of the Fantastic Four team, also the product of two comic book legends Stan Lee and Jack Kirby.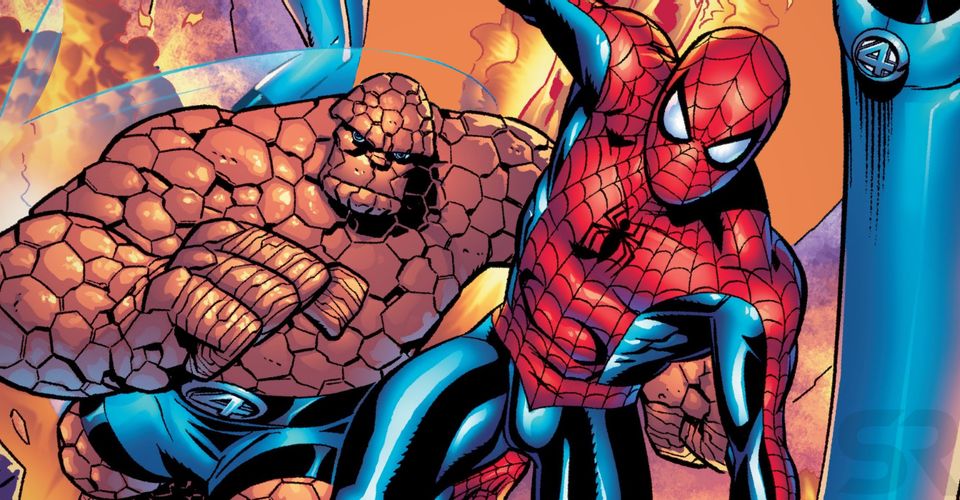 Spiders are really ugly, but compared to The Thing's fate, perhaps they are still lucky.
As a skinny, sickly teenager, often bullied and isolated at school, Peter Parker has had a lot of difficulties and trauma since he was a high school student. However, after the mutant spider's fateful bite, Peter's life becomes even more messy. Especially after Uncle Ben suddenly passed away because of a selfish decision of his own, Peter almost completely slipped.
Spider-Man's responsibilities make Peter often neglect his studies and ruin all his close relationships with his friends. Not only that, but he also accidentally put his loved ones around in danger, culminating in the death of Gwen Stacy, which left many regrets in the hearts of many readers and audiences when watching The Amazing. Spider-Man 2.
But when compared, Peter Parker's life is probably still a bit better than that of Benjamin Grimm. Before he became the Rock Man of the Fantastic Four, Benjamin had struggled with poverty, had struggled with difficulties on the streets of New York. His brother was killed in a gang war when Benjamin was only 8 years old. Next, after his parents died, he was adopted by his uncle and aunt, similar to Peter.
An unfortunate turn came to Benjamin when he had an accident on Reed Richards' experimental rocket, and thereby transformed into The Thing. However, out of the four members of the Fantastic Four, The Thing is the only superhero who cannot fully control his powers. He is forever trapped in the state of a tall, rugged, ugly and somewhat scary stone person.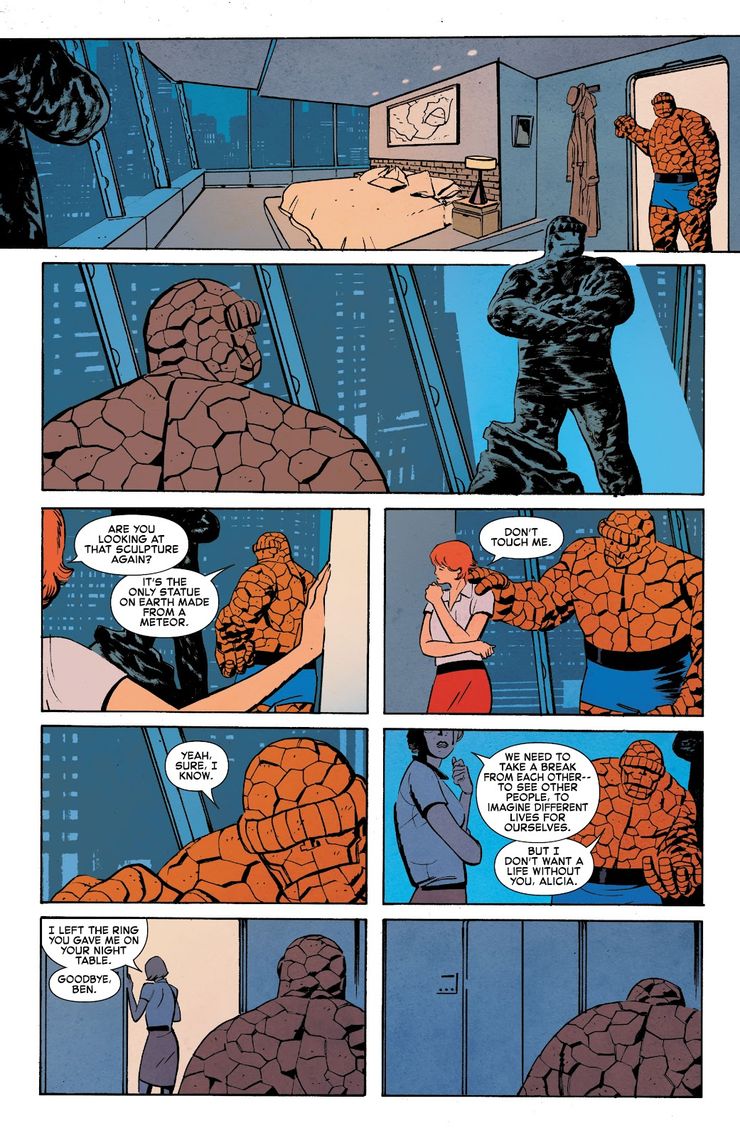 Alicia says goodbye to Benjamin in The Thing #1.
That has made Benjamin become extremely sensitive, self-deprecating, disgusted with life and easily angry with anyone he considers even the slightest threat. In the story chapter The Thing #1, he even had to say goodbye to his fiancée, Alicia Masters, a famous blind sculptor. Benjamin always feels guilty and can hardly maintain relationships in his life with the form of The Thing, even thinks that maybe he must be lucky, blindly lucky, an ugly guy. like I have the most sincere friendship and love.
On the other hand, Benjamin has also repeatedly tried to return to his original form, mainly using Reed Richard's devices. However, despite being called the world's first genius, Mr. Fantastic also had to give up many times before this situation. That caused Benjamin to have doubts about his close friend.
Spider-Man, if you feel too tired, just take off your mask and costume to enjoy a normal and ordinary day. But The Thing could never do the same.
According to ScreenRant
.