Of the 79 natural satellites orbiting Jupiter, Europa is the most notable. It is estimated that this celestial body is covered by a layer of ice 30km thick, underneath is a sea of ​​salt water with a depth of up to 150km.
As Jupiter's other moons, Io, Ganymede, and Callisto passed Europa, gravity caused the icy body to expand, generating heat from within and preventing seawater under the ice from freezing. In a few billion years, it's hard to say what kind of life form Europa's warm waters will produce.
NASA has yet to land a probe on Europa, but even when it sets foot on the surface, the instrument still has to break through 30km of ice to reach the water. However, new research published in Nature Communications shows that liquid water may exist in lakes and pools near Europa's surface, allowing the probe to easily sample.
But the discovery didn't come when scientists probed the moon Saturn, but came when the team analyzed the topography of a place with features close to Europa's surface. From the geography of Greenland, the team deduced the groundbreaking discovery.
Europa's surface is covered by a network of large ice gullies, flanked by ice cliffs hundreds of kilometers long. The top of the ice ramparts can be as high as 304 meters, and the distance between the two ice cliffs can be as wide as 800 meters.
Currently, NASA does not have a satellite to track Europa, but from regular flights over the Greenland ice shelf, the team of scientists has valuable research materials. During a flight, the survey team discovered ice troughs very similar to Europa's surface structure.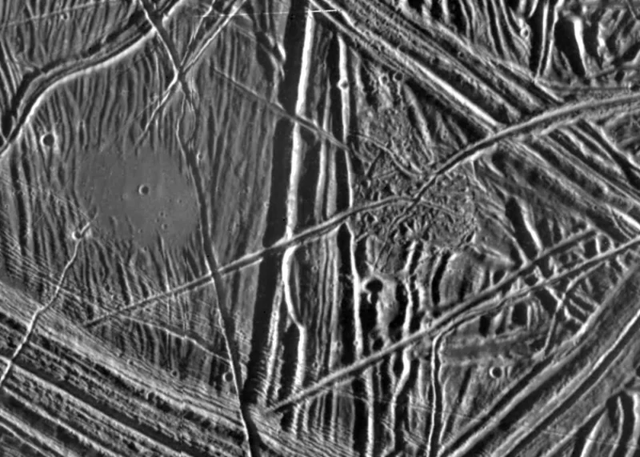 Radar data shows that the Greenland ice sheet has cracks caused by water seeping from below and freezing when exposed. Because the volume of water increases as it freezes, the ice cracks and then causes ice formations to form.
If the ice structure on Europa's surface also forms in this way, it means that water under Saturn's moon also leaks to the surface, freezing due to low temperatures and then forming long ice pillars. Water can exist only a few kilometers below the icy surface.
And yet, water below the surface can also react with chemicals available on Europa's surface. These include sulfur and oxygen that come from volcanoes on the moon Io, and methane, carbon, nitro and hydrogen that can come from meteorites that fall on Europa's surface. This combination could be a premise for life to take shape.
We will soon confirm the existence of these puddles near the surface. In 2024, NASA will send the Europa Clipper probe to probe the icy satellites, and with radar capable of penetrating thick ice, scientists will soon be able to locate the water pools, if they do. survival.
Once the results are available, NASA can consider sending a ground probe to Europa.
According to Time

https://genk.vn/bang-o-greenland-giup-cac-nha-nghien-cuu-tim-su-song-tren-europa-ve-tinh-linh-gia-cua-sao-tho-20220426174503503. chn