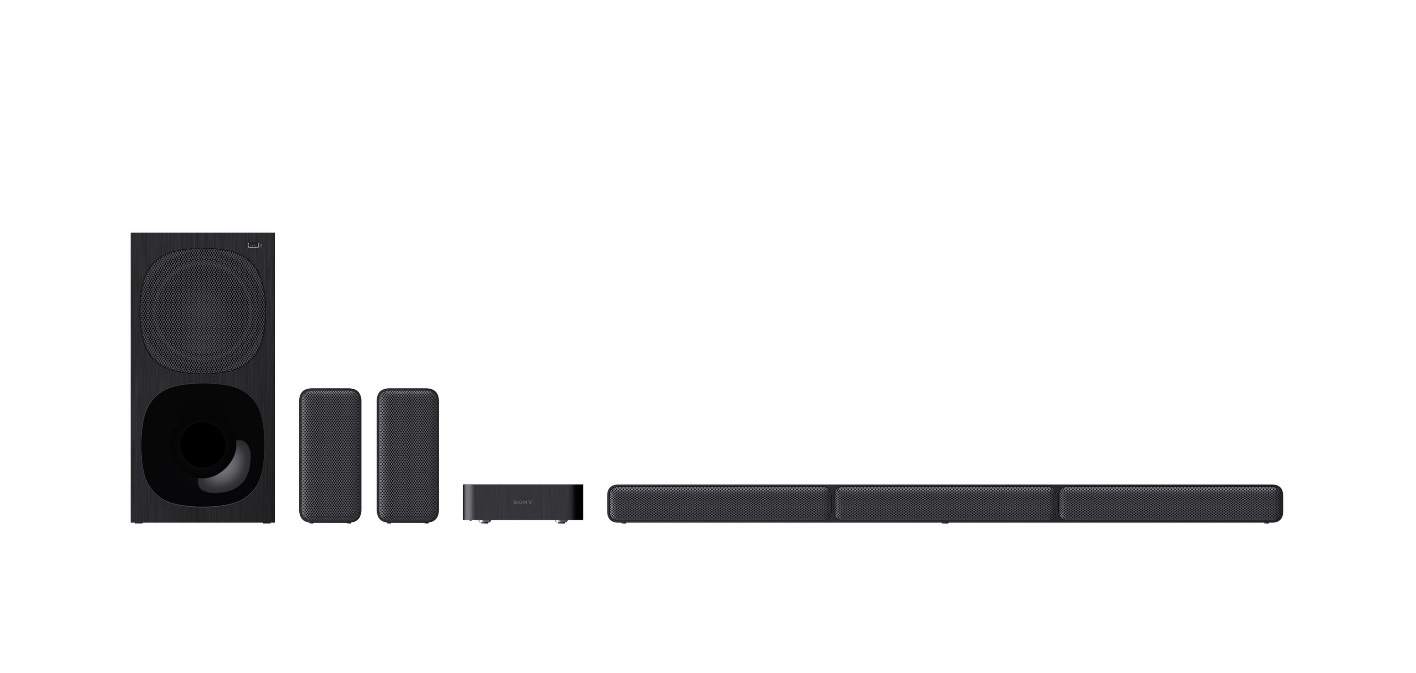 The soundbar is slim and elegant, featuring Dolby® Digital technology and a subwoofer and wireless satellite speakers, making it easy to create immersive, cinema-like surround sound.
5.1-channel soundbar with wireless satellite speakers
With the 5.1-channel HT-S40R soundbar, you can set up the home theater you want with minimal wires. Sony's new soundbar system includes a subwoofer and two wireless satellite speakers, delivering cinematic sound quality without complicated setup. All make it easy for you to immerse yourself in the world of entertainment without being hindered by the problem of traditional wires.
Immerse yourself in a world of immersive entertainment with 600W powerful sound and Dolby® Digital technology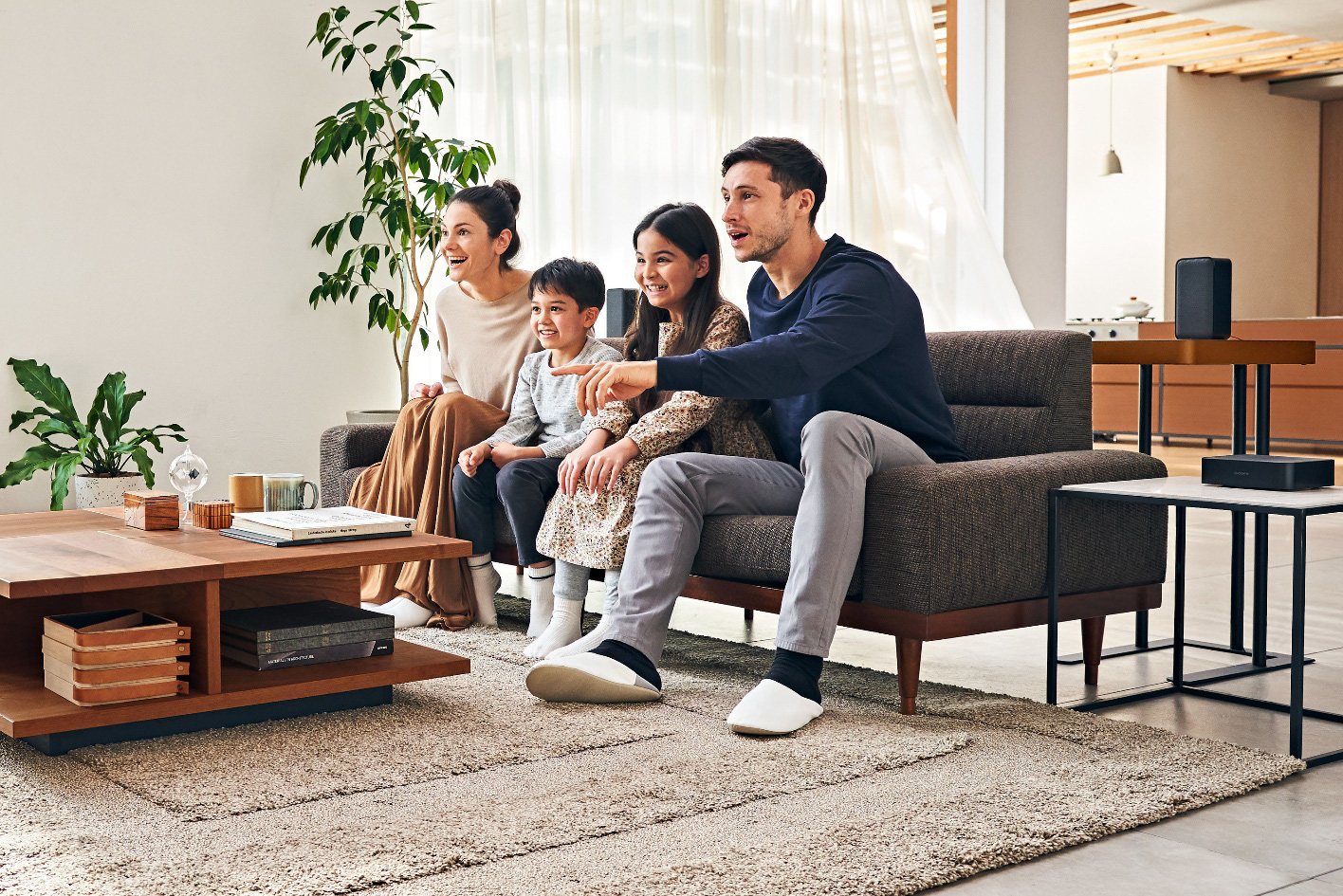 With 600W of total power, true 5.1-channel surround sound and Dolby® Digital technology put viewers at the heart of the immersive visual and audio experience. Movie lovers, football enthusiasts or gamers can hear all the sounds even the smallest, making every immersive moment more real than ever. Whether watching movies or listening to music, playing games or watching football, the S40R puts you at the heart of every action scene or every tune in powerful surround sound.
Experience emotional movies and matches with real 5.1 channel surround sound
The HT-S40R features a 3-channel soundbar, satellite speakers, and subwoofer that combine to deliver true 5.1-channel surround sound that envels the audience, creating a sense of immersion in the worlds of cinema and great music. Be passionate about sports matches from every angle.
Support wireless connection with BRAVIA TV
To minimize the need for wiring in the living room, you can send the signal wirelessly to your home cinema system with the BRAVIA TVs. This feature only applies to Sony BRAVIA TVs that support the A2DP Bluetooth connection standard.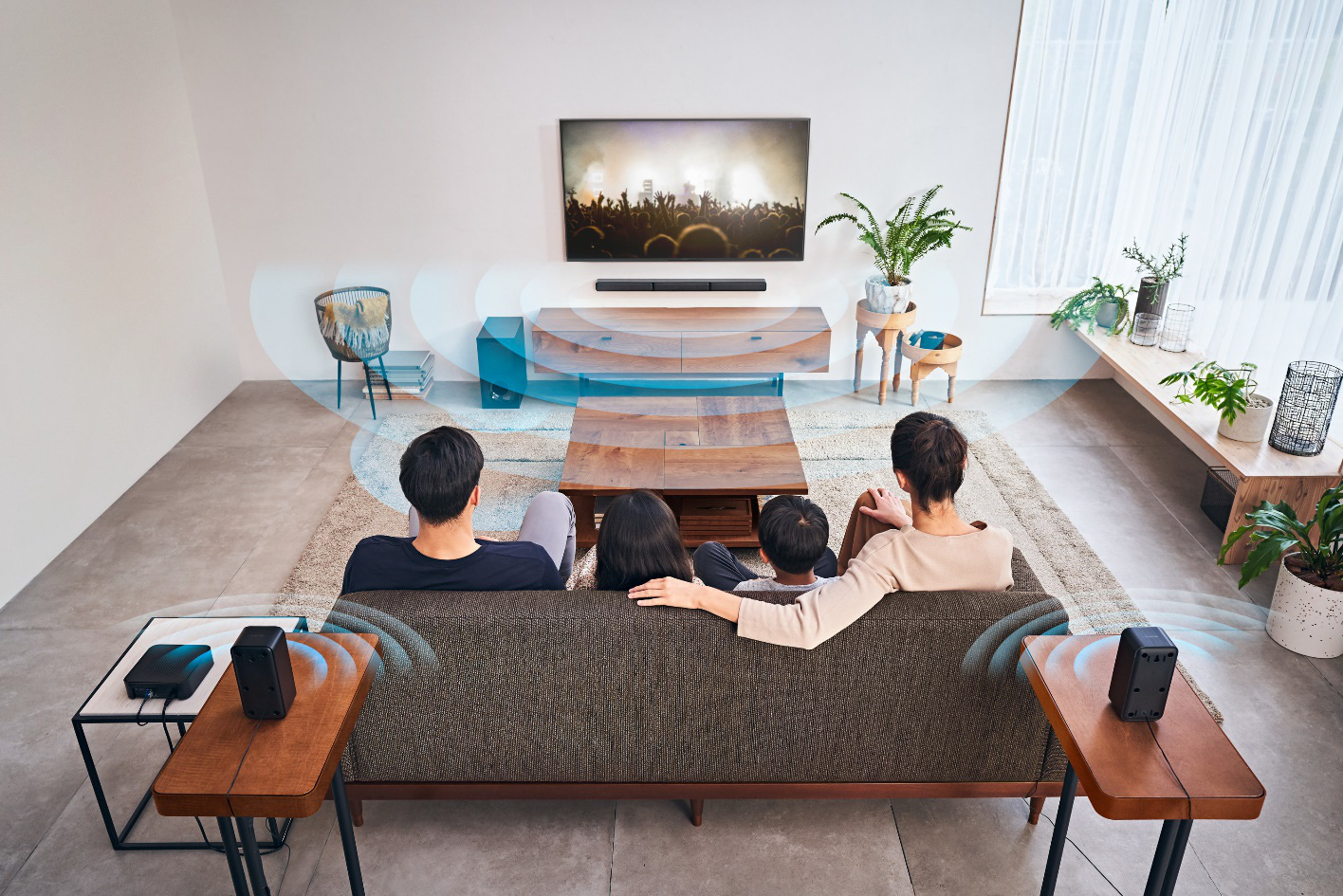 Slim and elegant design to become part of modern home interior
The HT-S40R was developed with a focus on design. A compact and elegant soundbar, unobtrusive subwoofer and wireless satellite speakers, designed to pair perfectly with your BRAVIA TV and elevate your living room. What's more, the compact soundbar and wall-mountable satellite speakers offer a variety of setup options to suit any space. The wireless amplifier can be placed on a shelf or mounted on a wall.
HDMI and optical ports make connection easier than ever
The HT-S40R is ready to use right out of the box. Simply connect to a compatible TV with an HDMI cable or optical cable (if the TV doesn't support HDMI) to enjoy true high-quality surround sound.
Easy Bluetooth® to quickly play music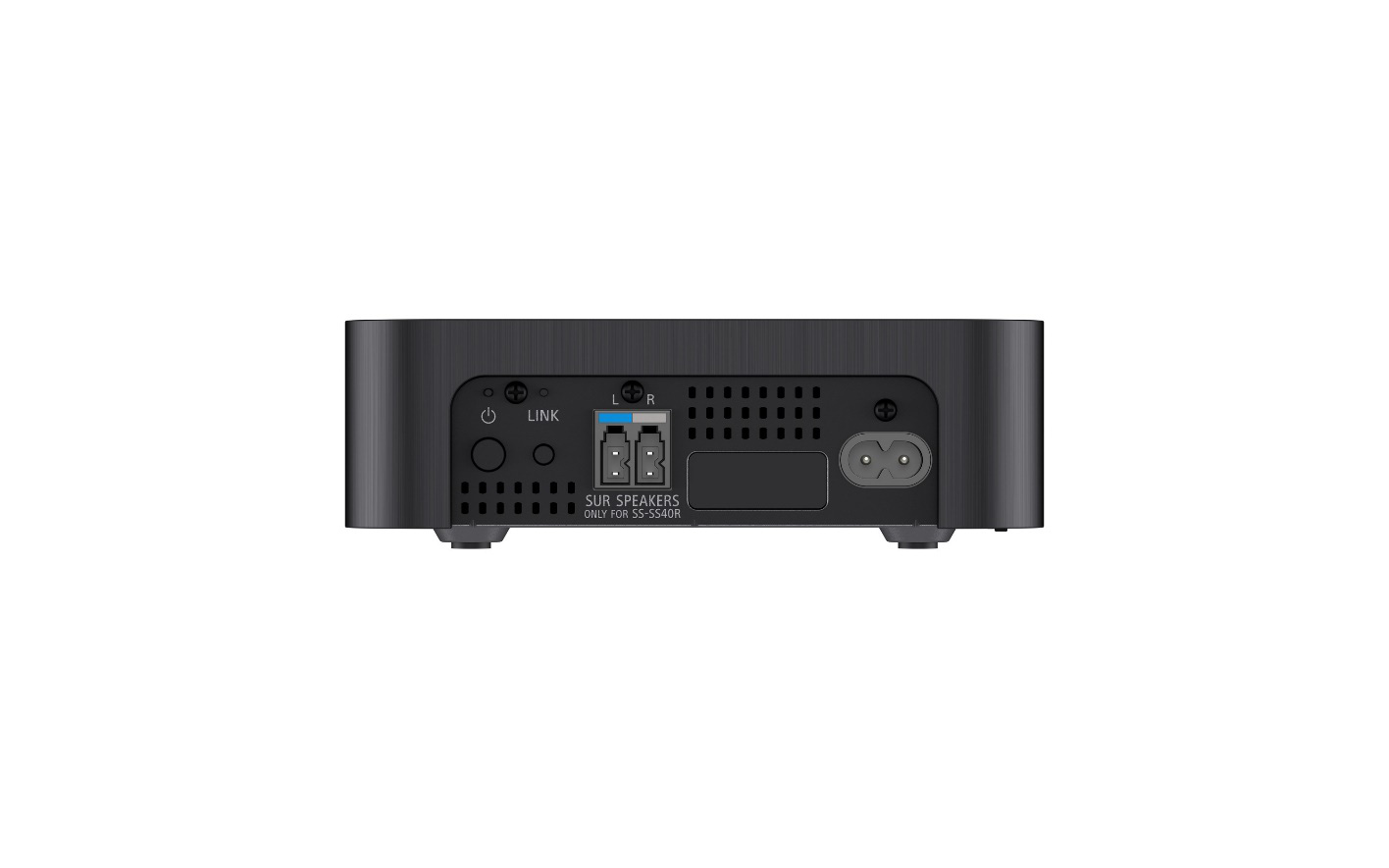 Not only impressive when watching movies, the HT-S40R is also designed to play music seamlessly. You can use the Easy Bluetooth connection to wirelessly play your favorite songs from a smartphone.
USB connection just plug and play
The Sony HT-S40R is equipped with a USB port, allowing you to play music directly from compatible storage devices. Just plug and play, no setup required.
Choose the perfect setting for every mood
The HT-S40R comes with 4 sound modes: Cinema (cinema), Music (music), Standard (standard) and Auto Sound (auto) so you can choose the perfect setting for what's playing. . In addition, the speaker also has Night (night) and Voice (voice) modes to use for some special situations. You can also use the volume control on the subwoofer to customize your listening experience.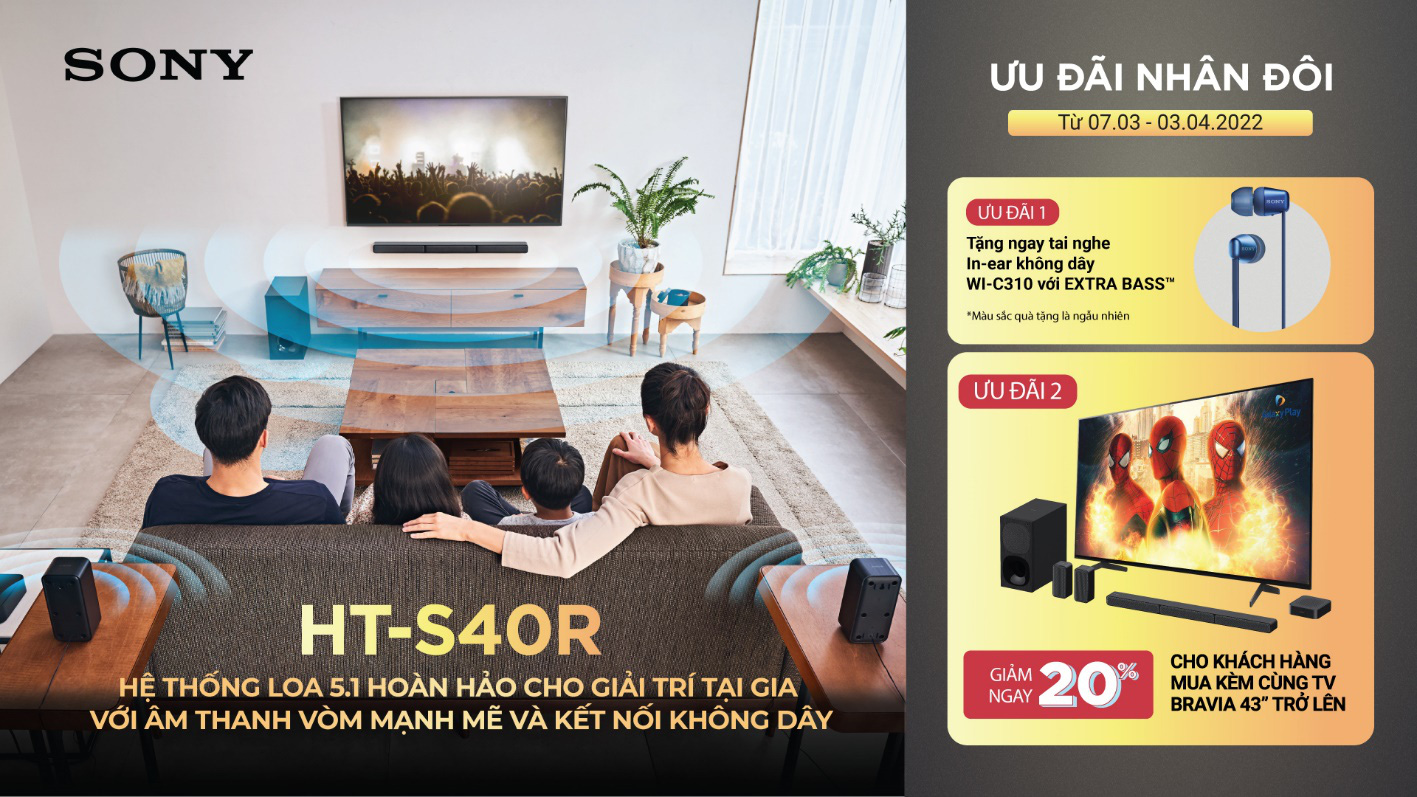 Hot promotion
Speaker Sony HT-S40R will be sold from February 28, 2022 for VND 8,490,000. Especially, from March 7 to April 3, 2022, customers who buy HT-S40R will get 01 WI-C310 wireless In-ear headset with EXTRA BASS right away, meanwhile, if purchased with TV BRAVIA from 43″ or more, customers will get 20% off immediately.
For details about the product, please see the link: https://promotion.sony.com.vn/ht-s40r?cid=cmp-apac-42326

https://genk.vn/ht-s40r-he-thong-loa-51-hoan-hao-cho-giai-tri-tai-gia-voi-am-thanh-vom-manh-me-va-ket- no-no-day-20220302121910913.chn