Currently, Google has changed and expanded a number of policies, allowing users to request that personal information be removed from the search engine.
Previously, Google allowed users to request removal of personally identifiable information, such as bank account numbers, credit card numbers, national identifiers, signature images, confidential medical records, etc. …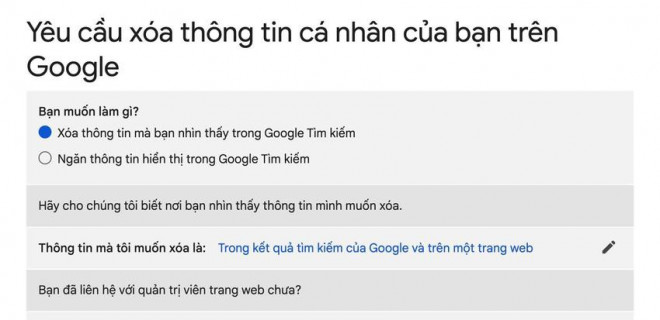 How to remove personal information from search engines.
Thanks to the extension of Google's policy, users can request to remove personal phone numbers, emails, addresses, login information, … in search results.
Google has provided complete instructions on submitting personally identifiable information removal requests. Once all steps are taken, a request to delete personal information may still be denied if the source site is a useful news article, or a government site.
In this case, if the user wishes to remove personal information from the search results, the user must contact the hosting or posting site directly.
In addition, users can also take advantage of Google's activity management tools to delete search history at a preset time to limit information leakage.
How to manage the public personal information Google collects
On the device in use, the user logs in to the Google Account page, selects Personal Information > Go to About Me page.
Here, users can review their personal information and change or delete their photo, name, date of birth, gender, password, other emails and phone number, see what information is public , the user can change some privacy information.
How to manage the online activity records that Google records
Select Data and personalization > Web & App Activity.
Here, review a list of all the activity that Google has logged, Google searches, location history, YouTube viewing history, commands the user has requested to the Google assistant, and other interactions the user has had. use with Google apps and services.
+ Activity management: User can view and delete past activities.
+ Automatic deletion: User can perform auto-delete of saved activity after a specified time.
https://cafef.vn/cach-xoa-bot-thong-tin-tren-google-de-han-che-bi-ro-ri-thong-tin-ca-nhan-20220501141449962.chn
https://cafef.vn/cach-xoa-bot-thong-tin-tren-google-de-han-che-bi-ro-ri-thong-tin-ca-nhan-20220501141449962.chn