The current folding screen smartphone is still a fairly new concept for some people. From the early days of their appearance, they have not yet attracted users because of the many limitations surrounding it. It wasn't until the following years when Samsung launched a foldable smartphone that went straight to the high-end segment that really caught everyone's attention and I was one of them.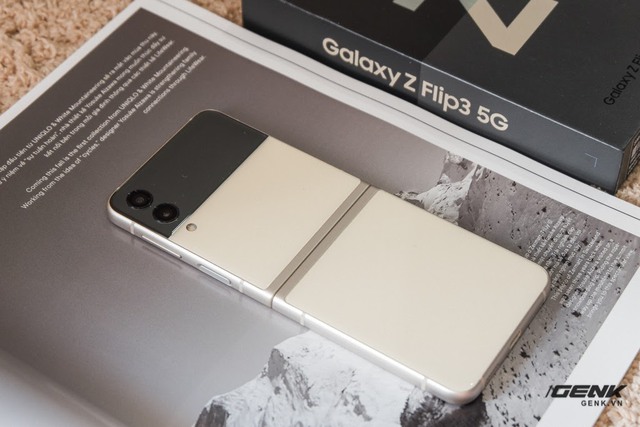 The Galaxy Z series is increasingly being significantly upgraded by Samsung in both hardware and appearance, and most recently, the 3rd generation brings many design differences, but besides that, there are still mixed opinions because of the ability to Folding or poor battery causes limitations for the smartphone called 'flagship', making users wonder, is it really worth withdrawing with numbers up to tens of millions?
The first impressions of folding smartphones are very different, if the Galaxy Z Fold3 exalts the professionalism and 'expensive' for users, the Galaxy Z Flip3 creates a youthful and dynamic feature that is somewhat more suitable for the age. 'happy' like me.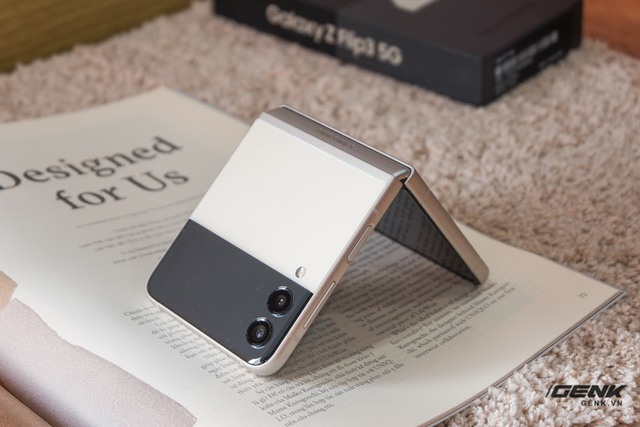 Basically, I'm not Samfans and I'm not even an Android player, but after experiencing the Galaxy Z Flip3 I have been somewhat conquered by the utility of this phone, not because of the hardware but because of the phone itself. The ability to fold and unfold brings many interesting experiences that ordinary flat-screen smartphones are difficult to do.
CREDIT: Galaxy Z Flip3, the magnet that attracts all the attention
Wait, let's talk about software as well as performance, what's the design on the Galaxy Z Flip3 and this and that. More than a decade ago, when there was no smartphone, folding phones once stormed the mobile market. More than half of every ten people owned a flip phone, making it a trend in mobile phone use at the time. Gradually, these devices are somewhat 'lagging' and are replaced by more modern flat-screen smartphones.
At the present time, people often tend to be nostalgic. Galaxy Z Flip3 is a blend of '1-0-2' by the combination of the familiar clamshell folding shape of the past and recreated on today's modern smartphone. Therefore, this is also the reason why it becomes a magnet with a large magnetic field that attracts all the eyes of the people around.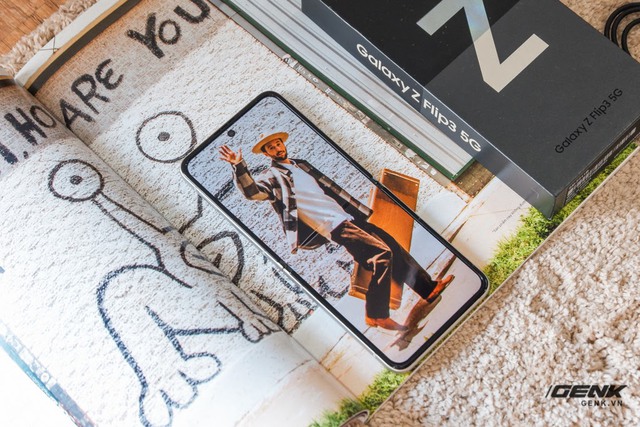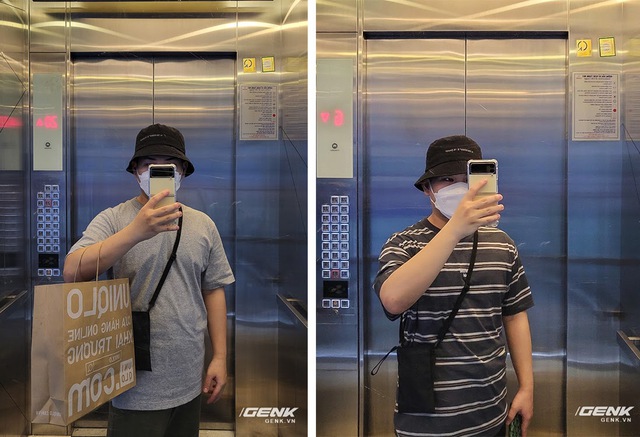 Undeniably the folding feature on Z Flip3 has helped me save a lot of space, it is as compact as a hand-held mirror that can fit in a jeans pocket when folded and becomes a complete smartphone when folded. opened, it was this strangeness that caught the attention of the opposite person even when in the elevator. All true attraction is focused on the Z Flip3 in hand, the person who asked about it, the thief glanced at it, it also helped me feel less lost when I became "different" and became the center of attention. scores of people around.
COMMENT: How does the folding feature help me get out of loneliness?
"Some people have a couple, but I have to be alone", who is in this situation can understand the feeling of sadness when alone facing everything around from work, solving problems. mind or play. In this case the smartphone seems to be a true soul mate for me and now that soulmate has been raised to a new level when it can help me capture all the everyday moments in a convenient and easy way. easier.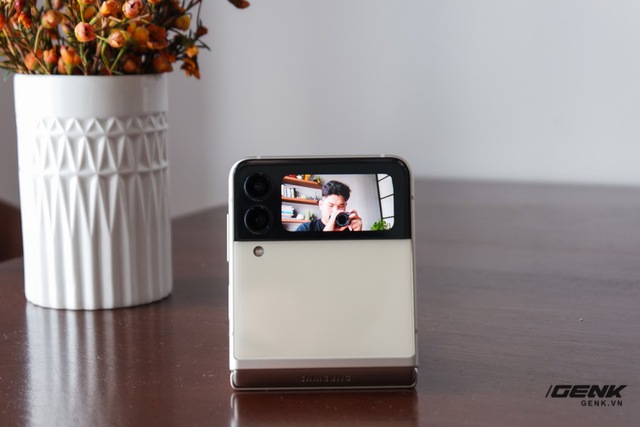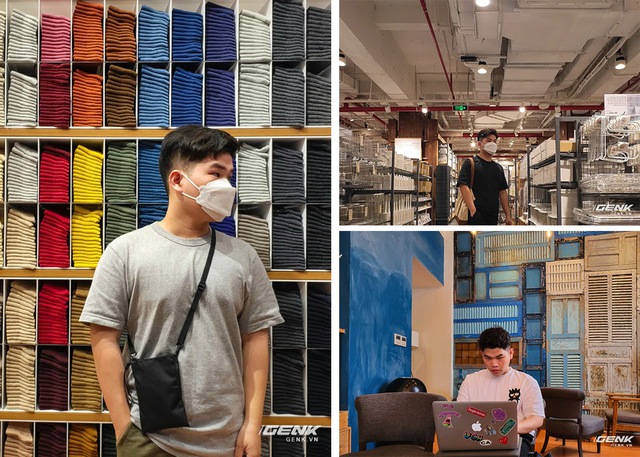 Like many other young people, I like to create content through images. Trending places, new cafes are often updated quickly. However, it is not always possible to have friends with 'vice flash' by your side, self-reliance now depends on yourself.
The cool thing about Z Flip3 is Flex Mode, I don't need to use a camera tripod or find a backrest for the phone. What I need for a good photo is to fold the phone to the angle I want, place it at a comfortable angle and then just shoot, basically because the Z Flip3 has the ability to stand on its own and work in many places. The different angles were very flexible, so I was able to get check-in photos without asking anyone else to take pictures.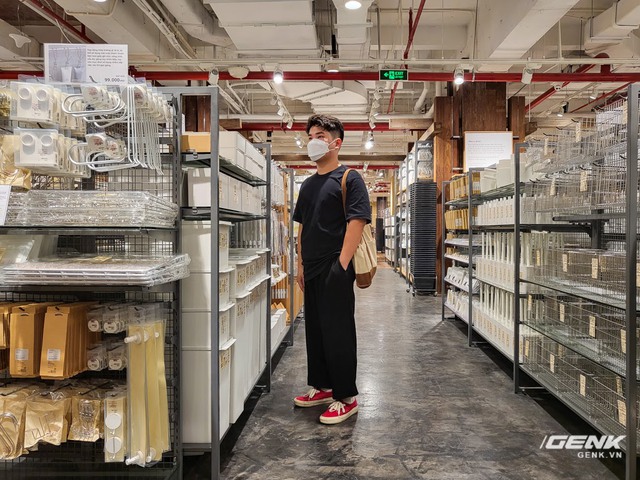 The vertical pillar of the Z Flip3 is not only encapsulated in selfie photography, moreover, I can shoot from the rear camera and adjust my stance through the front secondary screen to get sharper image quality. What's more, no need to adjust the time, with the action of bringing the palm to the camera, less than 3 seconds the image will be captured and give the best results.
The Galaxy Z Flip 3 has a total of three cameras. The two rear cameras include a 12MP main resolution with OIS stabilization, a 12MP ultra-wide-angle camera and a 10MP selfie camera. The image quality isn't really great, but it's still good enough that I can immediately post it on social media without having to go through post-production. For those who are 'lonely', the Galaxy Z Flip3 seems to be a lifesaver in self-portraits.
CREATE: Entertainment is enough but not enough
For me, all the necessary work has been solved on the laptop, and other entertainment tasks such as reading newspapers, surfing social networks, listening to music or playing games are done on the Galaxy Z Flip3.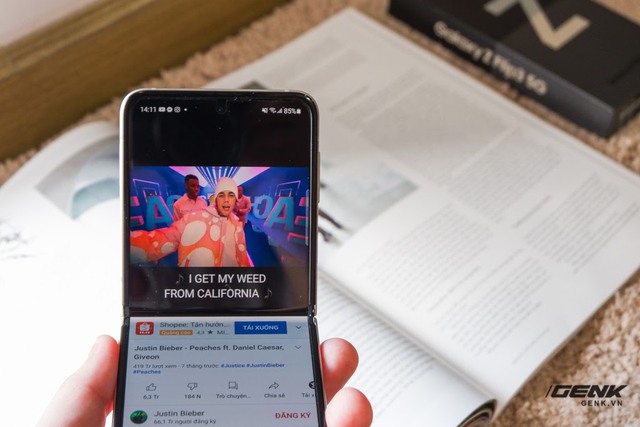 The use of a Dynamic AMOLED main screen with a size of 6.7 inches has helped Z Flip3 improve in maximum brightness, and better color accuracy than its predecessor. Another point to consider when using Z Flip3 is the screen folds, an unavoidable situation on folding screen phones, some perfectionists do not accept it, but I am 'familiar and familiar' now still using it. be plucked.
Flex Mode not only works well when taking pictures, it also gives me more hands-free when I can eat while watching youtube, or in the middle of doing other things and still be able to video call my friends with the upper half of the phone. display, the bottom half is a stand to perform other tasks without the need for a phone holder or struggling to find a backrest.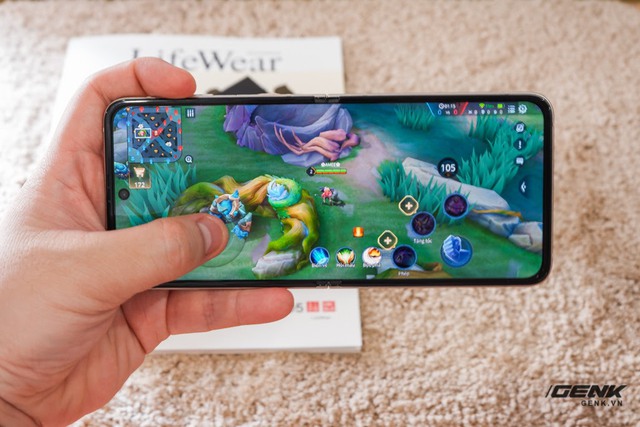 In lonely times, fighting games is also an effective way to combat boredom. However, the gaming experience is somewhat 'strange' than in regular smartphones because the screen is quite long. In addition, Z Flip3 is also equipped with a 120Hz refresh rate instead of just 60Hz for a smoother and faster gaming experience.
One downside that makes me extremely disliked in Z Flip3 is that the battery is too poor. With a total capacity of only 3,300mAh, the Galaxy Z Flip 3 can last all day if I use it sparingly and make the most of the external display to see notifications for hours instead of opening the phone. Playing a few games or watching a series of movies, it makes me have to plug in the charger many times, which is very time consuming. So the entertainment experience on the Z Flip is really good, but it's still not enough because the battery is still poor.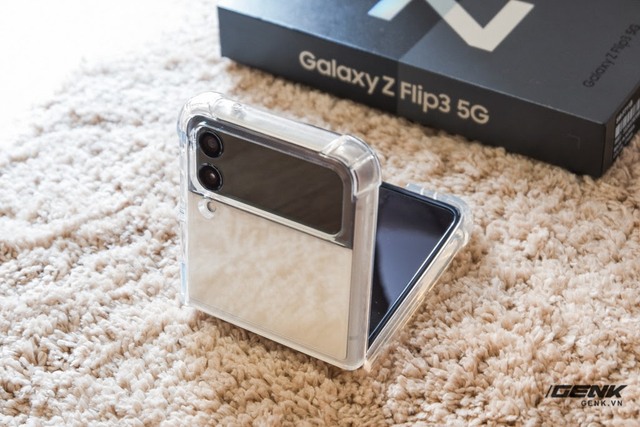 Because the folding design is quite fragile, it is essential to have an additional case included to increase the feeling of firmness when holding. There are many models for the current Z Flip3 case line with full colors and materials, or you can choose a transparent type to keep the full design of the device.
In my opinion, the Galaxy Z Flip3 has done a good job in leading users to the right folding device for those who love to experience new technology. Besides, it also promises to be a true "soulmate" to help you create content through images. Although there are a few minor flaws and are not worth worrying about, this will be the 'strange' device you have ever used.
Samsung launches $1,000 jeans with a dedicated pocket to hold the Galaxy Z Flip3
.