Conservationists are concerned that the horseshoe crab, a 450-million-year-old living fossil, will be pushed to the brink of extinction because of the value of their blood to the pharmaceutical industry.
Horseshoe crab blood provides a natural source of limulus amebocyte lysate (LAL), which is used to test vaccines, drugs and medical devices to make sure they are not contaminated with dangerous bacterial toxins known as endogenous toxins. toxin. And that's why hundreds of thousands of horseshoe crabs are caught and have to pour milky, blue blood into the tank every year. Right now, conservation groups are stepping up their advocacy efforts and taking legal action to help save these animals, and the other species that depend on them.
Fortunately, there is an alternative to horseshoe crab blood. In the late 1990s, biologists at the University of Singapore created a synthetic version of LAL called Recombinant Factor C (rFC). Many studies have shown that rFC is as effective as LAL extracted from horseshoe crabs, and it is currently commercially available.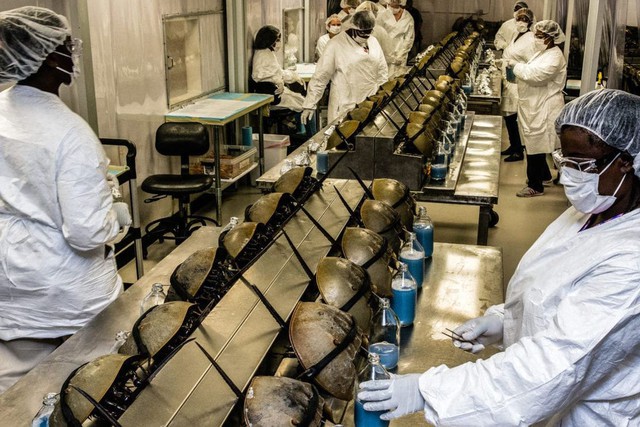 About 60 countries have approved the use of rFC, including EU countries and China. But in the US, conservationists faced a setback last year when the United States Pharmacopeia (USP) – an organization that sets guidelines for the pharmaceutical industry – decided it needed to see more data before put rFC on par with LAL. Companies can still choose to use rFC as an alternative to LAL – but only if they do a bunch of extra complicated paperwork first. Many environmentalists consider the USP's choice to be short-sighted and unwise.
"We will live in a world where there are more and more pathogens and the trend that more and more pharmaceuticals require endotoxin testing," he said. Ryan Phelan, CEO and co-founder of the environmental nonprofit Revive & Restore. "At some point that will put pressure on the supply of a product that is not sustainable. Why don't we secure our own supply path?"
The global medical and pharmaceutical industries use LAL to ensure that vaccines and a wide range of medical devices and products are not contaminated with endotoxins, which can cause fever, anaphylaxis, and illnesses such as plague. During testing, LAL coagulated around endotoxins, marking their presence and quantifying the degree of toxicity. The high demand for this compound can cause a liter of LAL to sell for $15,000 or more.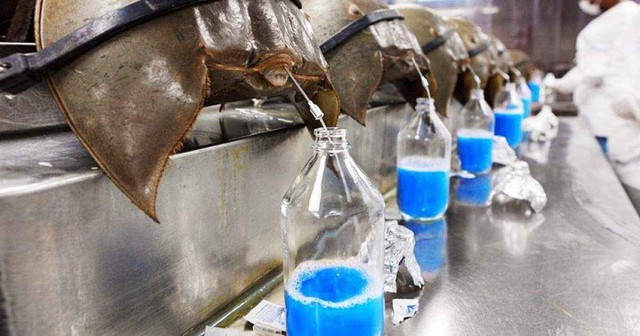 This result made the horseshoe crab blood business extremely prosperous. Today, US biomedical companies catch about 500,000 horseshoe crabs a year, according to a report from the Atlantic Ocean Fisheries Commission. But, there are few laws or regulations to protect or limit the capture of horseshoe crabs. And although the horseshoe crabs will eventually be returned to the sea after the blood collection period, conservation groups estimate that up to 30% of them will die in the process. Due to pressure from the biomedical industry, along with habitat loss and the fishing of horseshoe crabs by fishermen as bait, populations of this species both in the US and around the world have plummeted in the past few years. recent decades.
In Delaware Bay, where they are most abundant in the United States, horseshoe crab populations have fallen from 1.24 million in 1990 to less than 334,000 in 2002. Although the population appears to have stabilized, Conservationists fear that increased demand for horseshoe crabs in the United States due to the pharmaceutical industry could force them to follow the path of the Asian horseshoe crab, Tachypleus tridentatus, which is rapidly disappearing in the region. China and is listed by the International Union for Conservation of Nature (IUCN) as endangered. Currently, the American horseshoe crab is listed as a vulnerable species.
Not only that, the reliance on horseshoe crabs for medicine also affects other species. During the blood collection, the crabs will be isolated from the sea from May to June – the season they lay their eggs. During that time, a normal female horseshoe crab can lay up to 80,000 eggs. Environmentalists say that removing horseshoe crabs from beaches will reduce the availability of horseshoe crab eggs, a food source for migratory coastal birds. Red anemone populations have declined by 80% in recent decades. Conservationists assert that this decline is related to a declining supply of horseshoe crab eggs.
Supporters of rFC continue to urgently push for the transition away from dependence on horseshoe crab blood. In addition to being more humane, rFC is made in a lab, so companies won't have to worry about differences in the size of individual crabs, or variation in their populations, factors may affect LAL production. If demand increases, manufacturers can produce more rFCs on a large scale, which can reduce production costs and make it less expensive. Critics of rFC argue that rFC needs further research and testing to prove it is completely safe.
And the fRC and LAL debates are becoming increasingly important. The COVID-19 pandemic has spurred a large amount of research into potential COVID-19 vaccines and treatments, based on the use of LAL to ensure product safety. As demand for vaccines and other health products grows, conservationists worry that without a quick shift to rFCs, the health of the American horseshoe crab and the organisms that depend on them will only deteriorate. get worse.
Larry Niles, a wildlife biologist and environmental affairs expert for the Gulf of Delaware, says there is an inherent contradiction in how government agencies perceive horseshoe crabs. According to him, horseshoe crabs are not a protected species and therefore they do not see them as valuable.
"However, they admit that there is a $500 billion industry for their blood, so they are not worthless." Niles said. "They are truly one of the most valuable marine species on the East Coast."
Check out TheVerge
.