Apple's iMessage has a large user base in the US, and one of the strangest controversies surrounding iMessage is the blue/green color scheme.
Android users receive text with a green background color in iMessage instead of the default blue, because they are forced to use SMS instead of sending messages over data. This has led some people, especially teenagers, to mock Android users for not having an iPhone.
Now, Google's senior vice president, Hiroshi Lockheimer, has criticized Apple for taking advantage of "peer pressure" and "bullying" with iMessage.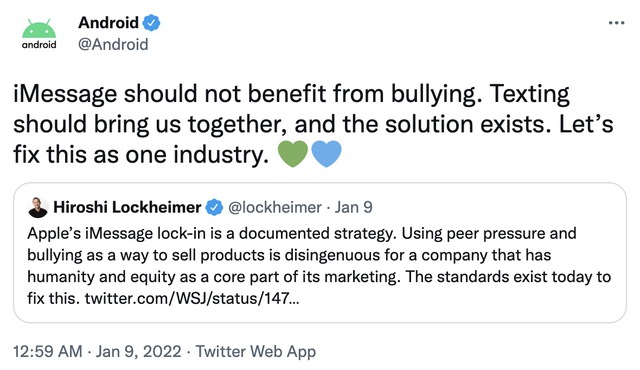 "iMessage is an Apple strategy. Using peer pressure and bullying as a way to sell products is abhorrent for a company that makes equality and people a core part of its marketing."
The Android Twitter account also condemned the issue of "bullying" surrounding Apple's iMessage, saying that a solution exists.
The comments by the Android and Lockheimer accounts were in response to information from a Wall Street Journal article about the dominance of the iPhone among teenagers. The WSJ also reports that Android teenagers and students are feeling social pressure because of the green text in iMessage.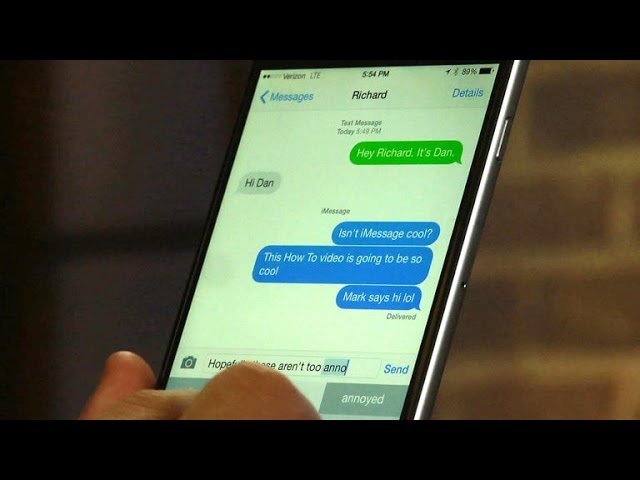 Furthermore, the article cites a 2013 email from Apple's Craig Federighi in which he opposed an internal proposal to bring iMessage to Android.
"I worry that iMessage on Android will simply remove an obstacle for iPhone families wanting their kids to use Android phones.," Federighi said in an email.
One solution suggested by both Lockheimer and Google is for Apple to adopt the RCS standard for messages. This feature routes text over data and enables higher quality media sharing, receipt reading, location functionality support, VoIP and video calls, etc. Google's investment in RCS also offers end-to-end encryption. However, RCS is not yet accepted by carriers.
Another potential solution is for Apple to bring iMessage to Android. But Apple seems to think it could suffer a drop in iPhone sales if it goes down this route, at least if Federighi's email still reflects the company's current strategy.
Apple has also released a web-based version of Facetime for Android and PC users. So a web-based version of iMessage is also possible in theory, but ultimately everything depends on Apple.
Reference: AndroidAuthority
.