In the past time, thanks to the trust and support of customers, FPT Shop has opened more than 150 Laptop centers nationwide – specialized stores, focusing on selling a variety of laptop products and many accessories with high quality. involved, far beyond the original plan. To thank customers, FPT Shop offers the program "Golden Week, all laptops get 10% off" for customers who choose to buy laptops here from April 15 to 21, 2022, specifically. can be as follows:
1. 10% discount when paying directly for all laptops at Laptop Centers such as HP, Dell, Acer, Lenovo, MSI, AVITA… (except Macbook), priced from only 5,999,000 VND. In particular, Lenovo laptops are down to more than 10%, Acer laptops are down to 30%.
2. Free 1 year warranty for customers who are students – this is an exclusive offer of FPT Shop, increasing the total warranty period of the machine up to 3 years, helping customers save maximum costs. , rest assured to use for a long time.
3. Installment 0% interest with term up to 12 months. Now, the problem of cost when equipping a laptop for work, study … is no longer a worry for you.
4. Not stopping there, customers who choose to shop at FPT Shop Laptop Center are also offered many practical incentives such as: an additional discount of up to 1,000,000 VND when buying online, 200,000 VND when buying a printer. , discount 100,000 VND when buying Microsoft 365 Personal/Family/Home & Student, high-end laptop backpack, give Office 365 worth 990,000 VND, chance to win Jackpot up to 2 billion, old collection renew 15% discount… apply depending on the machine.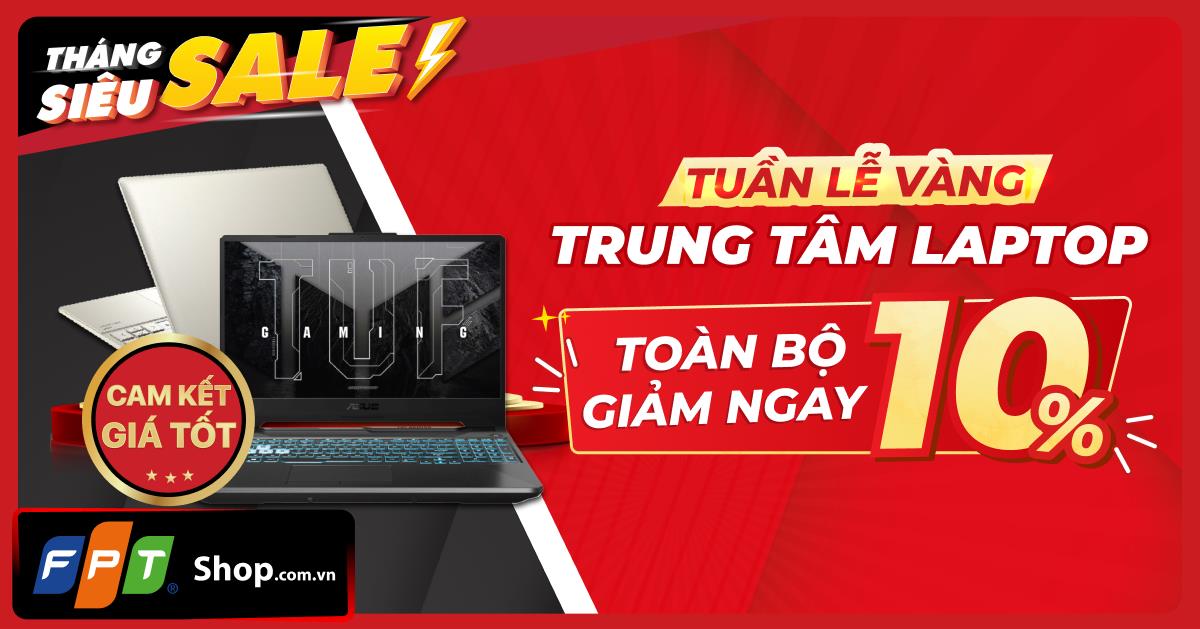 From April 15 to 21, all laptops at more than 150 FPT Shop Laptop Centers will receive a 10% discount immediately, priced from only VND 5.99 million.
Why should you buy a laptop at FPT Shop, the leading technology retailer in Vietnam?
First, diversify products for customers to choose from. FPT Shop is a major partner of computer brands sold on the market Apple (Macbook), Microsoft (Surface), Asus, HP, Dell, Acer, Lenovo, MSI, AVITA with prices from 6 million to 60 million, suitable for many specific needs: Study-Office, Graphics – Engineering, Gaming, Slim – High-end.
Second, the innovation policy is different. If in the first 30 days the product has a manufacturer's fault, the customer will be immediately exchanged for a 100% new machine (fullbox).
Third, professional advice and support. FPT Shop system currently has more than 750 stores across 63 provinces, including more than 150 laptop centers. All stores have laptops on display along with free home delivery, fast remote technical support, and a team of highly trained geeks.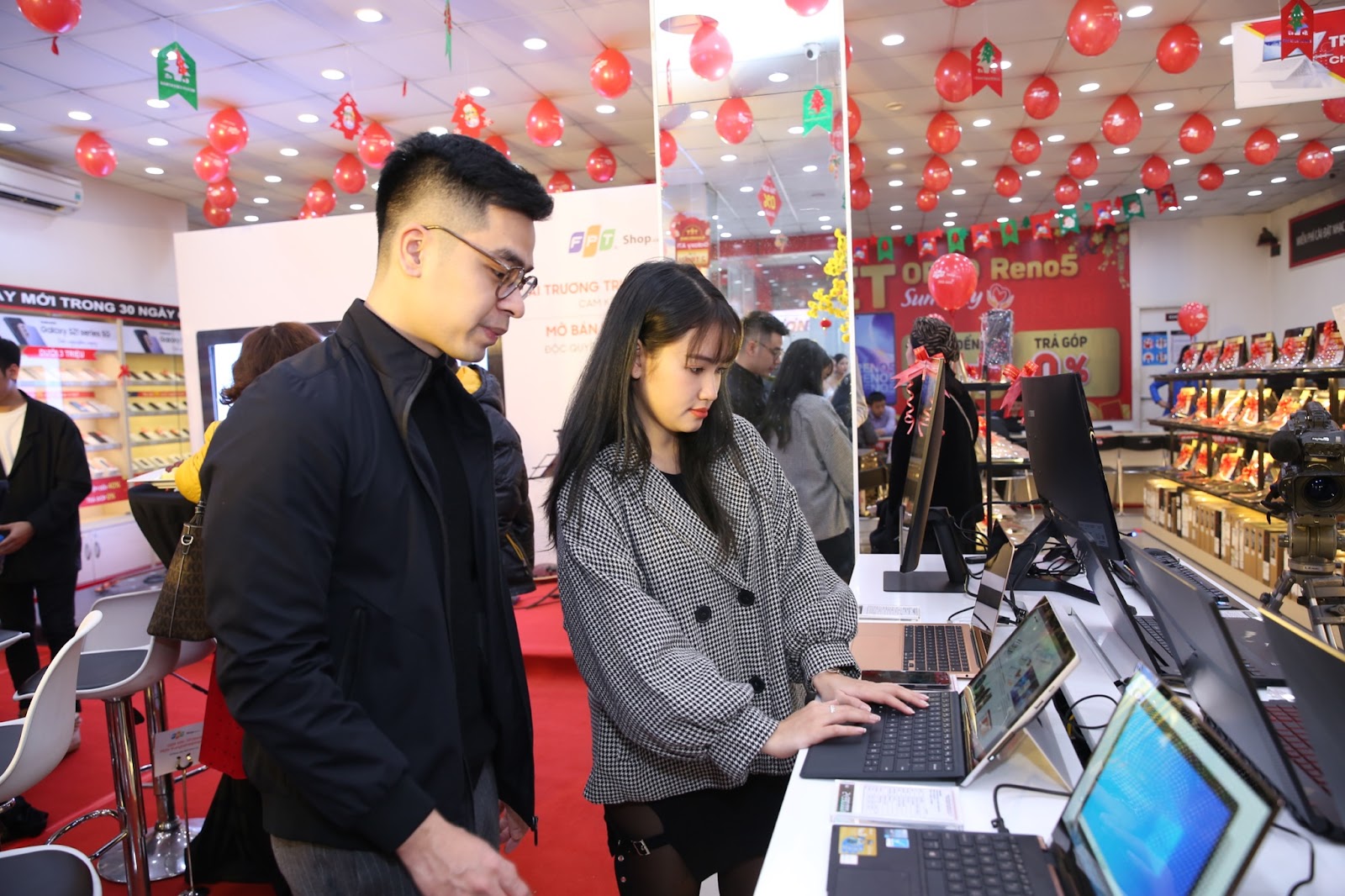 FPT Shop system currently has more than 750 stores across 63 provinces, including more than 150 laptop centers.
The system also continuously selects and sells laptops and accessories that are loved by many people. To choose to buy products with the most incentives, you can visit and buy online at the website, or go directly to the system of more than 750 FPT Shop stores or more than 150 new standard Laptop Centers.
Some typical shops are:
1. No. 100 Nguyen Thi Luu, Ngo Quyen Ward, City. Bac Giang, Bac Giang Province
2. No. 2 Nguyen Van Cu, Ninh Xa Ward, City. Bac Ninh, Bac Ninh Province
3. No. 135 – 137 Tran Hung Dao (Head of Yen Bien I Bridge), Group 8, Tran Phu Ward, City. Ha Giang, Ha Giang Province
4. No. 240 Cu Chinh Lan (Opposite Phuong Lam Market), Group 22, Phuong Lam Ward, City. Hoa Binh, Hoa Binh Province
5. No. 34 Bien Hoa (Vincom Crossroads), Minh Khai Ward, City. Phu Ly, Ha Nam Province
6. No. 342 – 344 – 346 Tran Hung Dao, Group 8, Ba Trieu Ward, City. Nam Dinh, Nam Dinh Province
7. No. 156 Tran Hung Dao, Dong Phu Ward, City. Dong Hoi, Quang Binh Province
8. No. 45 Thai Ha, Trung Liet Ward, Dong Da District, City. Hanoi
9. No. 03 Xuan Thuy Street, Dich Vong Hau Ward, Cau Giay District, City. Hanoi
10. No. 318 Le Duan, Tan Chinh Ward, Thanh Khe District, City. Danang
11. No. 37 Le Thanh Tong, Thang Loi Ward, City. Buon Ma Thuot, Dak Lak Province
12. No. 77 – 79 Thong Nhat (Quang Trung – Thong Nhat Crossroads), Van Thang Ward, City. Nha Trang, Khanh Hoa Province
13. No. 64 Phan Dinh Phung (73 Truong Cong Dinh, Corner of Ngoc Hiep junction), Ward 1, City. Da Lat, Lam Dong Province
14. No. 10 Hung Vuong, Phu Nhuan Ward, City. Hue, Thua Thien Province – Hue
15. No. 155 Nguyen Thai Hoc (Opposite CoopMart VT), Ward 7, City. Vung Tau, Ba Ria Vung Tau Province
16. No. 157 Le Van Viet Street (opposite Vincom District 9), Hiep Phu Ward, District 9, City. Ho Chi Minh
17. No. 14 – 16 Phan Dang Luu, Ward 6, Binh Thanh District, City. Ho Chi Minh
18. No. 261 – 263 Khanh Hoi (4 Hoang Dieu – KH intersection), Ward 5, District 4, City. Ho Chi Minh
19. No. 311/2B Tran Hung Dao, Hamlet 7, My Long Ward, City. Long Xuyen, An Giang Province
20. No. 198B 3/2 Street (Crossroad 4, 3/2 Street – 91B), Hung Loi Ward, Ninh Kieu District, City. Can Tho
21. No. 162 – 164 Nguyen Hue (Old Thanh Phong), Ward 2, City. Cao Lanh, Dong Thap Province
22. No. 89 – 91 Hung Vuong (Opposite Co.op Mart), Ward 6, City. Soc Trang, Soc Trang Province

https://genk.vn/tuan-le-vang-tat-ca-laptop-tai-trung-tam-laptop-fpt-shop-giam-soc-10-20220415172301298.chn