Christmas is a big holiday of the year for many countries around the world. The image of Santa Claus with a lovely, fat and long white beard and a funny red suit giving gifts to children has become an indispensable symbol in Christmas.
However, this is the image of Santa Claus created by Coca Cola to market a cold drink that is not often used for winter in many Western countries.
In other words, Coca Cola has been extremely successful when applying the most important branding strategy with a joyful and happy image during the holiday season. Even decades have passed, but Coca is still loyal to the idea of ​​​​selling "joy" to customers instead of just ordinary drink bottles.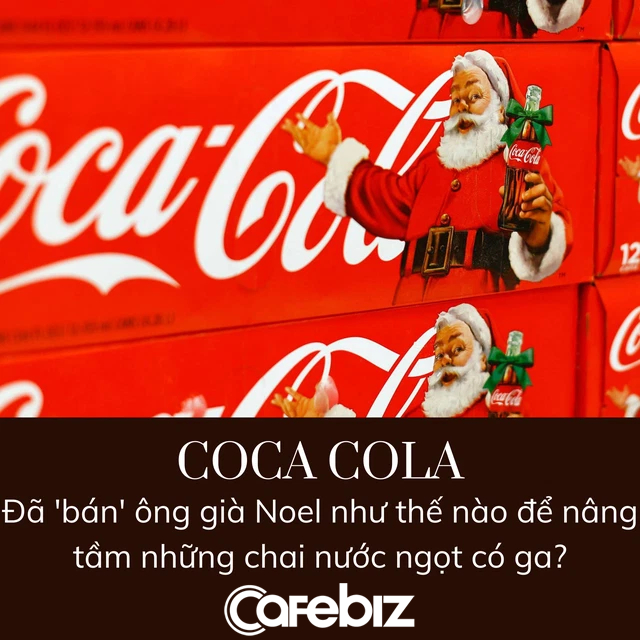 Santa Claus is an elf
The story of Santa Claus existed many years before Coca Cola promoted the image as it is today, not as the rumor that this beverage company invented "Santa Claus" as people still believe. think.
According to historical data, the prototype of Santa Claus was taken from Saint Nicholas in the 4th century, who used to give coins to poor children.
Before 1931, the image of Santa Claus was still depicted as a tall and thin elf, wearing a bishop's robe in the form of Saint Nicholas and a leather jacket like that of a Norse hunter.
Even in 1862, the artist Thomas Nast painted Santa Claus as a short, short elf, and this image continued to be preserved for the next 30 years.
It wasn't until the 1920s when Coca Cola needed to use advertising campaigns to promote this iced drink in the winter that things took a different direction.
Initially, Coca Cola still used the image of a leprechaun in a red cape by artist Thomas Nast to promote the product, but they did not bring much effect.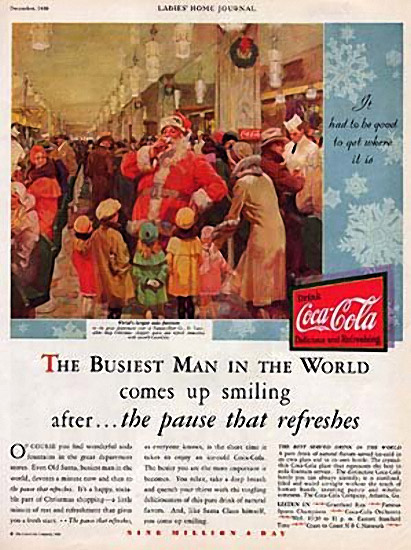 By the 1930s, Archie Lee, chief executive officer of advertising agency D'Arcy, worked with Coca-Cola to launch a new image of Santa. Since then, artist Haddon Sundblom has been commissioned to create an image of a different "Santa" from the currently unfriendly elf image.
Therefore, Sundblom was inspired by the poem "A Visit From St. Nicholas" by Clement Clark Moore composed in 1822 to aim for a warmer, friendly, fat and humane Santa Claus.
People often misunderstand that Coca is wearing a red cape for Santa, but in fact they have been colored red since before Sundblom invented the fat "Santa" as it is today.
Between 1931-1964, Coca promoted a campaign to promote the image of Santa Claus handing out toys, visiting children and drinking Coca Cola. This image is used on magazines, posters, calendars, dolls…
The image of a friendly Santa Claus immediately attracted children and along with the popularity of Christmas, Coca Cola revolutionized the "Santa".
From now on, people only remember Santa Claus created by Coca-Cola with its beverage products in hand or with the distinctive red color.
However, what is surprising is that of the 22,774 trademarks registered by Coca Cola, the number of registrations related to Santa Claus or Christmas is only counted on the fingers.
Another interesting fact is that the prototype for Sundblom to draw Santa Claus today came from a friend named Lou Prentiss, who is a retired salesman. Even when this employee died and Sundblom drew on his own image of Santa Claus and only later used the prototype of Saint Nicholas.
Coca does not sell drinks
The success of Coca Cola does not only come from the taste of the products. Today, there are many brands that have cracked the taste of Coca Cola drinks. Many countries even object to people consuming this drink because it has too much sugar.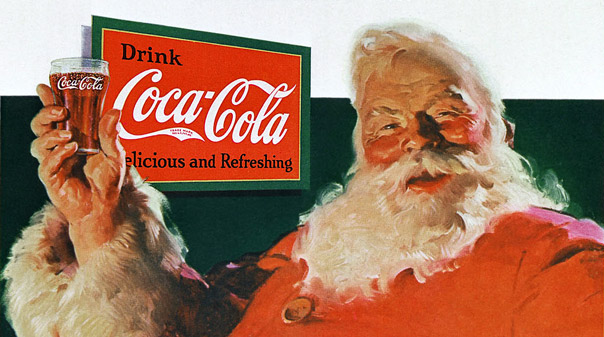 But for the past decade, Coca Cola has still developed because it always adheres to the rule of "selling joy" to customers. By associating the brand with happiness, Coca Cola users are not only enjoying the drink but also the joy and happiness when holding the product in hand.
Coca's advertising campaigns always convey the message that users can enjoy happiness, share joy or many other values ​​in just one bottle of carbonated soft drink.
Clearly, Coca has learned from its previous success selling "Santa Claus" when it comes to associating the brand with intangible values. So every Christmas, people are reminded of Santa Claus holding Coca bottles with Coca Cola's signature red clothes.
.