More than 12 years ago, when starting with Tiki, Tran Ngoc Thai Son once thought that "just start a business, if it's not successful, I'll go back to work, that's okay". However, when the number of employees of the company increased to hundreds and then thousands of people, he understood that his responsibility was also increasing.
Tiki – which stands for "Search" and "Save" – ​​was originally just a website selling English books. To date, this company is one of the largest e-commerce platforms in Vietnam, valued at nearly $1 billion in a funding round last year, and is on its way to conquering the dream of an IPO in the US.
Start a business with 5,000 USD from the garage
Tran Ngoc Thai Son was born in 1981 in Ho Chi Minh City. He holds a master's degree from the University of New South Wales (Australia) and has worked at a number of companies such as Impaq Interactive, Vega and Vinabook. In 2010, Son founded Tiki – starting from an online English book selling platform with a warehouse located in his family's garage and an office in his bedroom.
At that time, after getting married, Son had about 5,000 USD. He took them all to buy books in the hope that he could sell them and turn the capital around. Initially, Tiki only had about 100 titles. When there was an order, Son packed it himself, put it in the car and delivered it to the customer.
The founder of Tiki once wished he had more support. Son joked that he has "father as a journalist, mother as a teacher, but journalists plus teachers are poor" so he did not receive much financial support when starting a business.
"However, the biggest support is that my family allows me to do what I want," he shared on the show "The Changers" of VnExpress.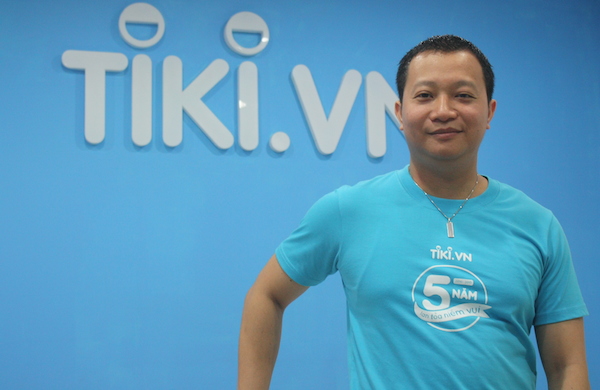 CEO Tran Ngoc Thai Son in the early years of starting a business. Photo: Tiki
"At that time, I was also a bit reckless, thinking that I could do it and do better," recalls CEO of Tiki. According to Tran Ngoc Thai Son, there are three reasons why he founded Tiki. Firstly, Son loves reading books. , especially English books, but at that time, it was very difficult to buy his favorite English books in Vietnam.The second reason is that Son believes that Vietnamese e-commerce has great potential. The third reason is that he realizes that the domestic e-commerce market has many limitations such as not many goods, often delayed deliveries, and poor quality goods.
Tran Ngoc Thai Son has always wanted to create an e-commerce platform that not only sells English books but can sell everything. So Tiki gradually expanded to include Vietnamese books and then electronics, cosmetics and many other categories.
The process of expanding the supply chain, building infrastructure as well as competing with competitors requires Tiki to have a lot of capital. Recalling the early days of starting a business, founder Tran Ngoc Thai Son once shared that "the first two years I managed by taking short to support a long time, borrowing money from friends, everyone". The company then received an angel funding round in 2012.
In 2017, Tiki attracted attention when it launched the TikiNOW 2h fast delivery service. This is considered a breakthrough in the Vietnamese e-commerce market and later many competitors also launched similar services.
Some sources revealed that Tiki had negotiated a merger with another large Vietnamese e-commerce platform, Sendo. This move is said to enhance the competitiveness of domestic enterprises with foreign competitors such as Shopee and Lazada. However, the deal was ultimately unsuccessful.
Potential unicorns and IPO dreams in the US
Last November, Tran Ngoc Thai Son's company announced it had raised $258 million in a Series E funding round led by AIA. Investors participating in this round also include UBS AG London Branch, Taiwan Mobile, Mirae Asset-Naver Asia Growth Fund and existing shareholder STIC GIGF.
Previously, Tiki was also funded by many other investors such as CyberAgent Ventures, VNG, JD.com, Sparklabs Ventures… In early May, Shinhan Financial Group (Korea) also said that it had reached the mark. agreed to buy 10% shares of Tiki. After the deal is completed, Shinhan will become the third largest shareholder of this e-commerce platform.
Share with Bloomberg, CEO Tran Ngoc Thai Son said last year's Series E funding round raised the company's valuation to nearly $1 billion. Thus, it is likely that Tiki will become the 5th unicorn of Vietnam – after VNG, VNLife, Sky Mavis and MoMo.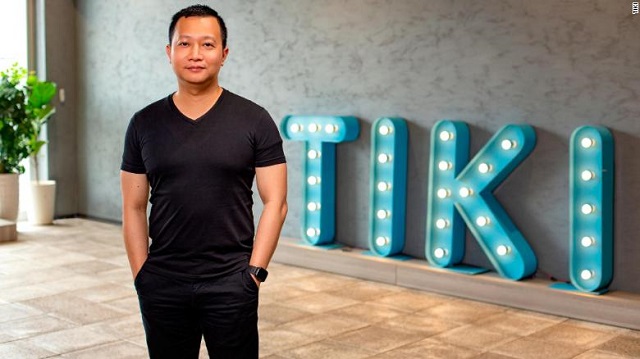 The image of CEO Tran Ngoc Thai Son appeared in an article of CNN 2020. Photo: CNN
Also in the interview with Bloomberg, the head of Tiki said that the company plans to have an initial public offering (IPO) in the US in 2025, but this deal may take place earlier. One of the IPO options that Tiki can choose is through a merger with a SPAC (special purpose acquisition company) but no official decision has been announced yet.
According to some sources, Tiki's IPO could be done as early as late 2022 or early 2023. The company established Singapore-based Tiki Global in the middle of last year to facilitate the IPO process. However, in the context of the global stock market with many fluctuations and lessons from the "dizzy" decrease in capitalization after the listing in the US of Southeast Asian unicorn Grab, CEO Tran Ngoc Thai Son and others The leader of Tiki will need to be more careful in choosing the time to go to the floor.
According to the report "The business landscape of e-commerce floors in the first half of 2022" extracted from the data platform of Metric.vn, Vietnam is becoming the second largest e-commerce market in Southeast Asia. only after Indonesia. Vietnam's e-commerce market explodes in the period 2020-2021 and is forecast to reach about 39 billion USD by 2025. This will be an opportunity for Tiki to develop more strongly in the coming time.
However, this company also faces stiff competition from rivals, especially two foreign e-commerce platforms with great financial backing, Shopee – a subsidiary of Sea Group and Lazada. by Alibaba. According to iPrice Group's Vietnam e-commerce map, Shopee is the largest e-commerce platform in Vietnam by visits, far ahead of all other platforms.