Elon Musk is the richest man in the world, a driver of 2 companies worth over 100 billion USD but does not own any houses. At the height of his life, Musk repeatedly sold off his possessions and chose to live in a car a few square meters. He put many satellites and spacecraft into orbit; sitting in a car of his own creation without using gasoline and without touching the steering wheel.
And yet, the financial market really likens Musk to a superhero when with just a "snap", this man easily causes stocks and cryptocurrencies to "shake up". This man dreams of changing the world, even the universe, and is putting his hand in that wild dream.
SpaceX – his startup in the aviation industry – was ahead of Boeing and many other big names in the race to own America's future of space travel. The car company in his hands – Tesla – is leading the electric vehicle industry and holding two-thirds of this potential multi-billion-dollar market. It is valued at $1 trillion.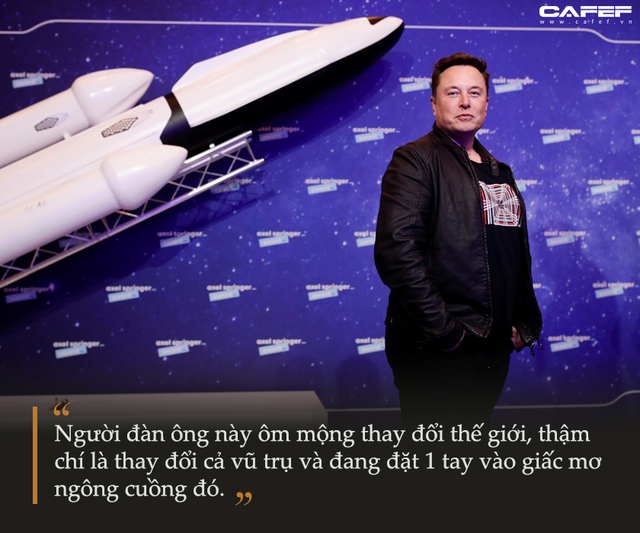 Those successes have helped Elon Musk become the richest person in the world, and the richest in history, with a net worth of more than $250 billion. He is also a famous "player" in the fields of robotics, solar energy, and cryptocurrency.
Elon has spent his life dealing with haters and now it seems he has changed them. 2021 can be seen as the year to untie Elon Musk.
In April, SpaceX won an exclusive NASA contract to send American astronauts to the moon for the first time since 1972. A month later, Musk appeared as the host of Saturday Night. Live.
In October, the car rental giant Hertz announced plans to add 100,000 Tesla vehicles to its existing fleet. Even his move to sell Tesla shares shocked the market even though the cost was billions of dollars – enough money to generate tax revenue to provide to the US Department of Commerce within a year.

Just a few years ago, Elon Musk was mocked as a crazy fraudster on the verge of bankruptcy. But now, this shy South African-born boy, with his journey through an unhappy childhood and personal tragedy, is bringing government and industry to his knees, following his ambitions.
For Elon Musk, the huge wealth he holds is simply the realization of the potential he can see, and be able to do – something that not everyone has the courage and talent to do.
Antonio Gracias – a close friend of the billionaire for two decades, who served on the boards of Tesla and SpaceX, said: "Elon Musk was born with a really special brain and grew up in the world. a harsh environment 99% of people in Elon Musk's situation can't get through the inherent arrangement.A small percentage can get out thanks to the ability to make excellent decisions under extraordinary pressure and the relentless drive to change the course of humanity".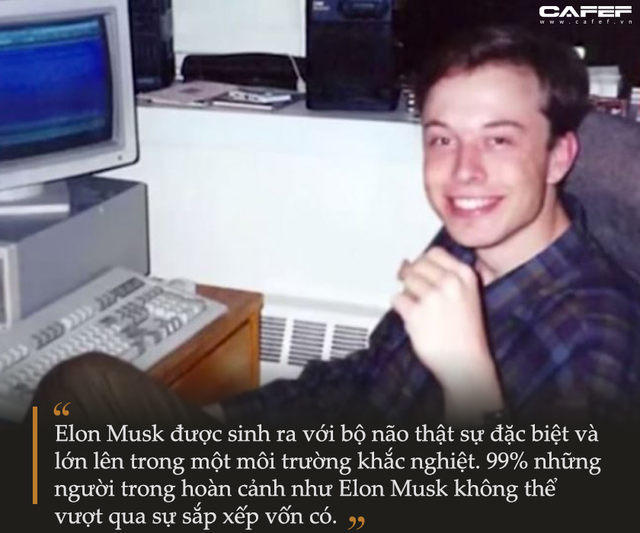 Elon Musk was born in Pretoria, the son of a Canadian model and a South African engineer. Elon's childhood was a period of long silence and quick encyclopedias. When he was only 12 years old, Elon wrote code for the video game Blastar, selling it to a computer magazine for $500.
"That guy was always different, he was a genius boy. Since Elon was 3 years old, we used to call him a genius," said Mrs. Maye Musk.
When Elon was 9 years old, his parents divorced. He and his younger brother Kimbal Musk went to live with their father – an excellent engineer and businessman. However, for Elon, this man is a painful memory when he is constantly mentally abusive.
School with Elon was also not much happier when bullies targeted him relentlessly, even at one point beating him so badly that he had to be hospitalized.
Elon made a comeback at the age of 17, deciding to move to his mother's hometown of Canada, enrolling at Queen's University in Ontario. He later transferred to the University of Pennsylvania, graduating with a double major in physics and economics.
Despite the opportunity with Stanford University's doctoral program, Elon left this school after only two days, spending time with his younger brother participating in the wave of Internet boom at that time.
As a result, they jointly created Zip2 – which provides maps, business addresses, as well as electronic newspapers, and then sold it to Compaq, helping Elon earn $ 22 million.
Then, Elon Musk decided to go ahead with a new idea, founding X.com – the company that was acquired by eBay and is now known as Paypal. This deal brought the young man at that time about 180 million USD.

In his 30s, Elon Musk is amazingly rich, but feels a lack of enthusiasm for life.
The young entrepreneur made a risky decision to invest his fortune in startups in industries with high costs, long development times and many barriers to entry. The last time a startup was able to succeed in the American auto industry was in 1925.
By 2008, the challenges had become bigger and clearer than ever for Elon Musk. Tesla has received deposits of up to $60,000 from more than 1,000 electric car lovers but has yet to deliver many cars. Meanwhile, SpaceX attempted to launch three Falcon rockets from an atoll in the Pacific Ocean, but all of them exploded. Then the financial crisis hit.
Kimbal Musk recalled: "The world blew up, GM and Chrysler went bankrupt. We didn't want Tesla to be like that."
"I remember Elon called me in October and asked if I had any money. I had no money because everything was gone except about $1 million in savings to be able to survive the recession. I moved. it's for Elon to put in Tesla. I told him: If things go to hell, at least we'll be in hell together."
Finally, the fourth rocket successfully launched. Two days before Christmas that year, NASA made a shocking decision to give SpaceX $ 1.6 billion to make 12 flights to the international space station.
"Sometimes I wonder if it's easier for other people to build businesses, because all of our work is really hard," said Kimbal Musk. "There was something about our previous education that kept us wanting to get ahead."

Understandably, utopian ambitions often come with trouble, and Musk still faces demands from the authorities.
Elon Musk's companies are accused of sexual harassment and working conditions. Or in October, the federal agency ordered Tesla to pay $ 137 million to a black employee for ignoring racism.
Not only that, but the agencies also conducted an investigation with Autopilot software for being involved in a number of alarming collisions with parked ambulances, causing deaths. And yet, Tesla's expansion in China still faces many difficulties, even a storm of anger from this market.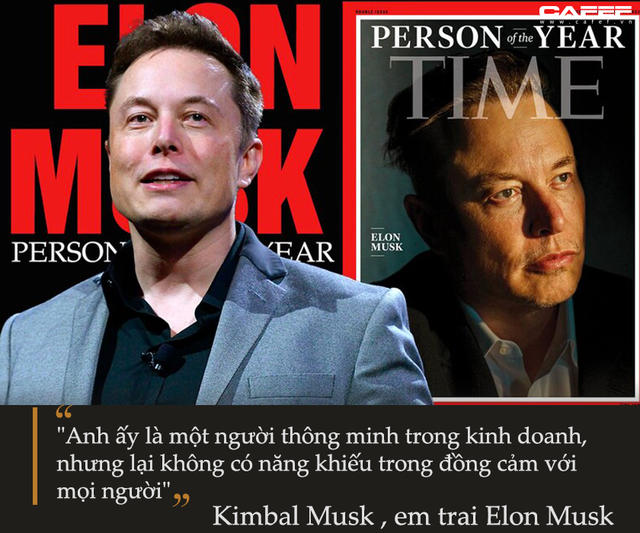 Even Elon Musk himself is entangled in many scandals. Former associates have described Musk as a petty, ruthless person, especially when he fell into disappointment or faced challenges. Recently, he separated from singer Grimes – the mother of the 7th son – after 3 years of marriage.
"He's a smart guy in business, but he doesn't have a gift for empathizing with people," Kimbal Musk said.
When the Covid-19 pandemic broke out, Elon Musk made many statements downplaying the danger of this virus, breaking health regulations to maintain the operation of factories, as well as "pouring more oil". " to the people's inherent skepticism about the safety of vaccines.
But what is undeniable is that Elon Musk is producing amazing results. His rocket was built with the desire to break the mold, save taxpayers billions of dollars when it can be reused, rewrite America's space dream, as well as many satellites in the pipeline. undertaking the task of expanding global Internet access.
Along with that, if it fulfills its promise, Tesla will deal a big blow to global warming. This man and technology are making everything possible, bringing industry to glory before America returns.
Robert Zubrin, founder of the Mars Society, who met Elon Musk in 2001, said: "He's a humanist, but not in the sense of being kind or likable, by the very nature of He is not like that.He wants eternal glory for doing great things and becoming the property of mankind, because for this man great deed is defined as something great for mankind. Money to him is a means, not an end."
"Elon Musk may be associated with the word genius, but wise is not," said the old friend wittily. "But in my opinion, there is one thought that Elon Musk is very wise, and that is understanding that he cannot last forever."
.