It turns out that the broken wireless headset charging box joint is a completely real problem. Out of about 2,700 votes, 11% of users have experienced this problem with their wireless headphones, according to data from a survey conducted by GenK on Facebook.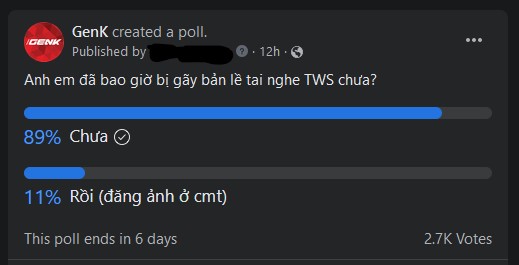 Probably 11% of users have broken the TWS headphone charging box hinge, the number is not large but not small either. Of course, most people claim to have used a lot of headphones for a long time without ever having this situation.
BKAV recently revealed that its AirB wireless headset will use a hinge made of "special flexible plastic" with the advantage of being extremely durable, used without worrying about breaking (but whether it is easy to break or not is unknown). This is a rare initiative that is hard to find, even international brands like Apple, Samsung or Sony have not thought of.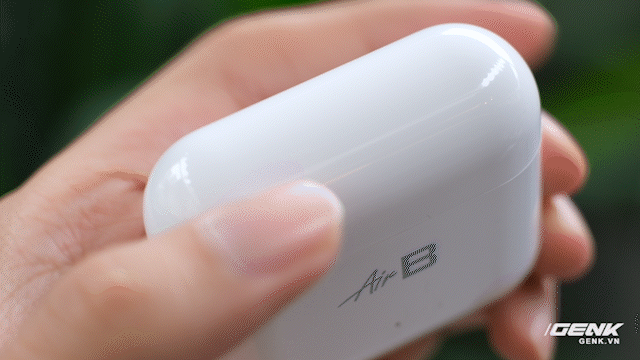 If you don't have a headset with a "special and durable plastic" charging box like BKAV's AirB, you have to use the "ordinary" type with a plastic joint, but what can you do?
Users like us now only have to pity to use "temporary" headphones with plastic and metal joint charging boxes "ordinary", for example, the 8 names below, most of them are priced below 1 million, selling well and receiving good reviews from users.
In the 500k to 1 million segment, many people choose Soundpeats products, such as TrueAir3 and TrueFree+ models. Two products have different designs to choose from, one is comfortable, breathable and stemmed earbuds, and the other is in-ear for better sound quality, soundproofing and significantly more compact. .


This price range should also not ignore options from Xiaomi and Haylou – 2 brands with quite a lot of experience in the production of True Wireless wireless headphones. The core technology is unknown, but the quality is considered to be worth the price.


Next are options from brands like OPPO, iWalk, Anker and Yamaha. These models are selling well and have been around for a long time, so the price is still quite low but the quality is still guaranteed. Particularly for the Yamaha model, the price dropped sharply from 2.69 million to only 690k, extremely worth considering.




.