Recently, in Hanoi, the launching ceremony of the Vietnam Blockchain Union (VBU) took place. VBU is an alliance of leading Blockchain experts and organizations in Vietnam, with the vision of becoming the number 1 prestigious Blockchain organization in Vietnam, contributing to creating opportunities for Vietnam to develop the digital economy.
During the discussion session with the topic "Blockchain is an opportunity for Vietnam to break through to become a digital technology powerhouse by 2030", FPT Technology Director Vu Anh Tu shared: "From the perspective of an enterprise, FPT It took more than 30 years to become a company worth more than 3 billion USD, but, when Blockchain appeared, we saw spectacular changes like Axie Infinity or Coin98, in just about 4 years, these companies have been built into tech unicorns."
Mr. Tu assessed that, in the field of Blockchain, the starting point of Vietnamese businesses is not too much slower than other businesses in the world, even Vietnam is creating new trends in this field. . Besides, Blockchain is an open platform for companies in Vietnam to effectively access and develop new technologies.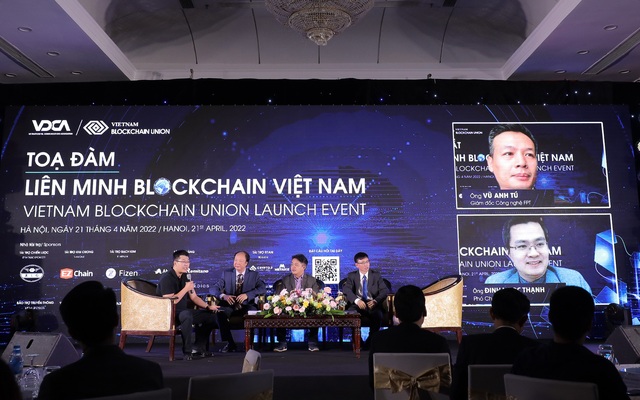 "When compared with other technologies, the openness of Blockchain is an advantage, a difference, thereby creating development opportunities for businesses.", said Mr. Tu.
In addition, according to FPT Technology Director, Blockchain is also global. Mr. Tu explained that while products such as e-wallets and fintech operate very easily on the Internet in Vietnam, they are not easy to use abroad. Meanwhile, Blockchain applications can be used abroad much easier. And this is the development opportunity for Blockchain businesses.
In addition, Mr. Tu said that trends such as play to earn, move to earn or metaverse are huge trends. At the same time, the FPT Technology Director also revealed that metaverse will be the next trend that the company is aiming for.
"So, what trends will companies in Vietnam bet on, and what products will they focus on building and developing? From FPT's perspective, metaverse will definitely be the next trend that the company will invest a lot in research and development.", shared Mr. Tu.
Tu said, a number of assessments and studies indicate that, by 2026, humans will spend at least 1 hour a day working on the metaverse space. This will be a virtual space for everyone to share, and especially the metaverse space will be developed by many different companies, not just an individual unit.
"For FPT, we believe the metaverse will be the future", emphasized Mr. Tu.
The application of Blockchain technology does not stop at the financial sector
In addition to domestic and foreign experts, leaders of large enterprises, technology companies and the startup community, the VBU launch ceremony also had the appearance of many typical names in the Blockchain field. in Vietnam and internationally such as: Kim Long Group, EZChain, Fizen, Remitano, Ekoios, Binance, Ahamove, Metain, Fanverse, UFin, CryptoF, Metaxiz, Bizverse, FMCPAY…
For example, the EZChain platform focuses on supporting the development of highly practical DApps in the simplest way, with the lowest development and operating costs. At the same time, EZChain also aims to provide a platform for businesses and government organizations to easily create their own blockchains with specific needs.
Talking to Young Intellectuals, Mr. Chu Duc Minh, Technology Director of EZChain said that at present, blockchain is mainly applied in the financial sector. However, the application of Blockchain technology does not stop there, many other fields such as traceability of goods, electronic notarization, electronic contracts, healthcare, education, identity/public identity Everyone… can apply Blockchain very well thanks to its advantages such as transparency, consistency, integrity, and safety.
According to Mr. Minh, the establishment of the Vietnam Blockchain Alliance will create a lot of value for all parties involved. Accordingly, VBU will be a bridge for Vietnamese Blockchain enterprises to bring initiatives and proposals to agencies and ministries.
Thereby, agencies and ministries will have a basis to build a clearer and more open legal corridor on Blockchain in Vietnam; At the same time, there are policies to promote the healthy development of the Blockchain technology industry, thereby being ready to receive the next wave of technology.