The first 3 Laptop and PC Centers were opened at the following locations: No. 45 Thai Ha, Dong Da District, Hanoi; No. 03 Xuan Thuy, Cau Giay District, Hanoi and No. 495 Truong Dinh, Hoang Mai District, Hanoi. These are all specialized stores, focusing on selling Laptops – which are the strengths of FPT Shop and especially new products: PCs (desktop computers) assembled on demand, PC assembly components. (such as Mainboard, CPU, VGA, RAM, hard drive, case, heatsink, monitor, optical drive …) and PC accessories (such as headset, keyboard, mouse…).
FPT Shop aims to perfect the computer ecosystem to become a technology destination for customers in general and for students in particular, serving not only basic needs but also advanced needs. such as specialized computers, gaming computers, needs that Laptops have not completely met.The new business segment is PCs assembled with the E-POWER brand and products that customers can choose to configure themselves. , not limiting yourself is the remaining piece for us to complete the positioning of Buy Laptop & PC to FPT Shop" – Mr. Nguyen The Kha, Director of Mobile Telecommunications Division of FPT Shop system.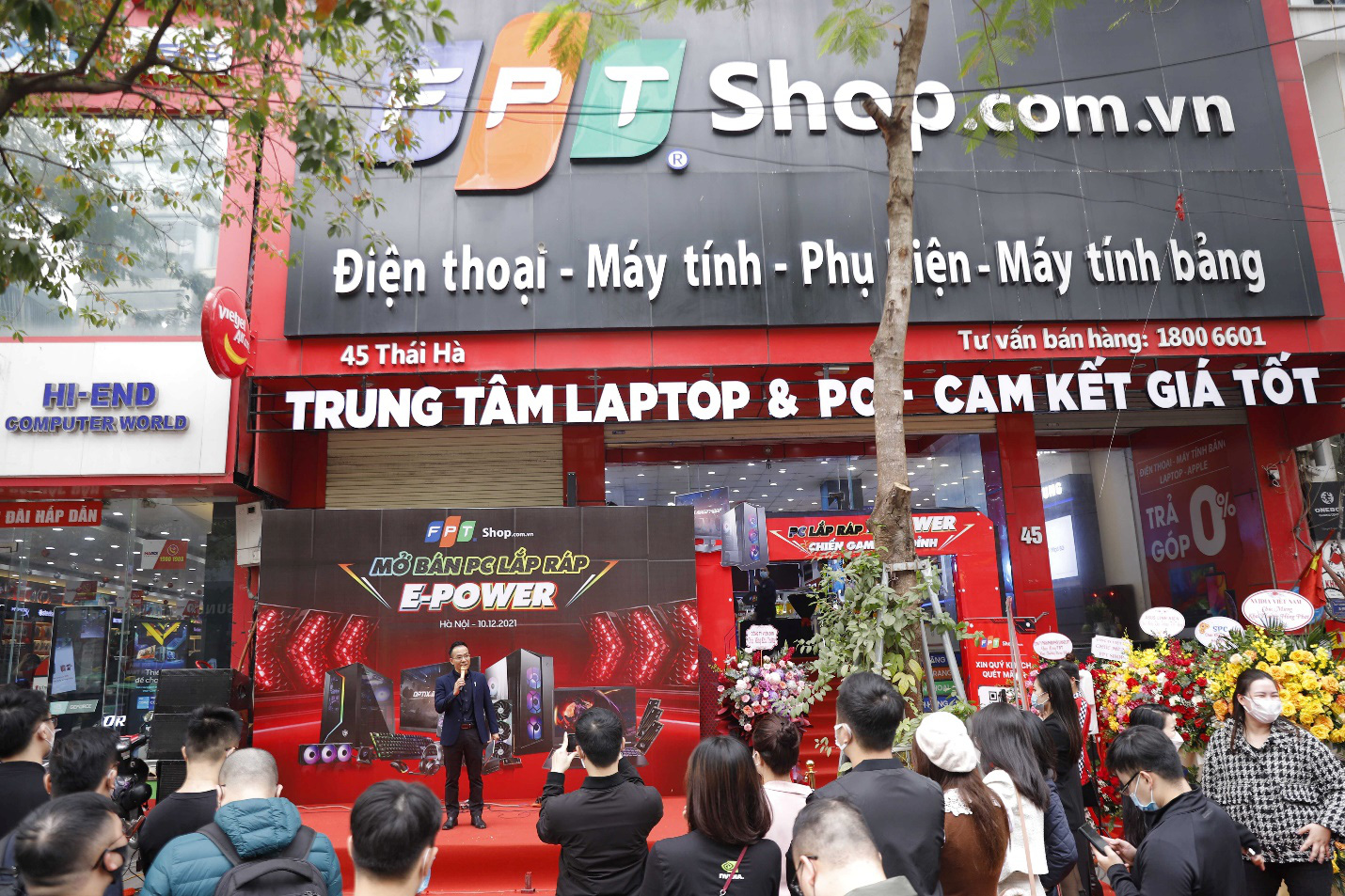 FPT Shop officially opened the Laptop and PC Center with a new business segment, completing the computer ecosystem to become a leading technology destination.
"Looking back at the laptop market in the past year 2021, FPT Shop has achieved impressive achievements when it has more than doubled compared to the previous year, providing consumers with nearly 400,000 computers, accounting for a large proportion of the total contribution. in the revenue growth of FPT Shop, especially during the period affected by the epidemic. This is also the driving force for us to enter this new business of assembled PCs."Mr. Kha added.
On the occasion of the opening of the Laptop and PC Center, from December 10 to 23, FPT Shop drastically reduced prices up to 30% for E-POWER PCs. In particular, Gaming E-POWER, priced from VND 8,399,000, is a product equipped with a powerful configuration, many advanced features, using a dedicated discrete graphics card for heavy tasks such as gaming and Graphics. The FPT E-POWER series is lighter and more affordable, priced from VND 5,399,000, fully meeting basic learning and working needs. Equally attractive, many PC assembly components have a shock reduction of up to 50%, Laptops are also reduced by 10% during these opening days.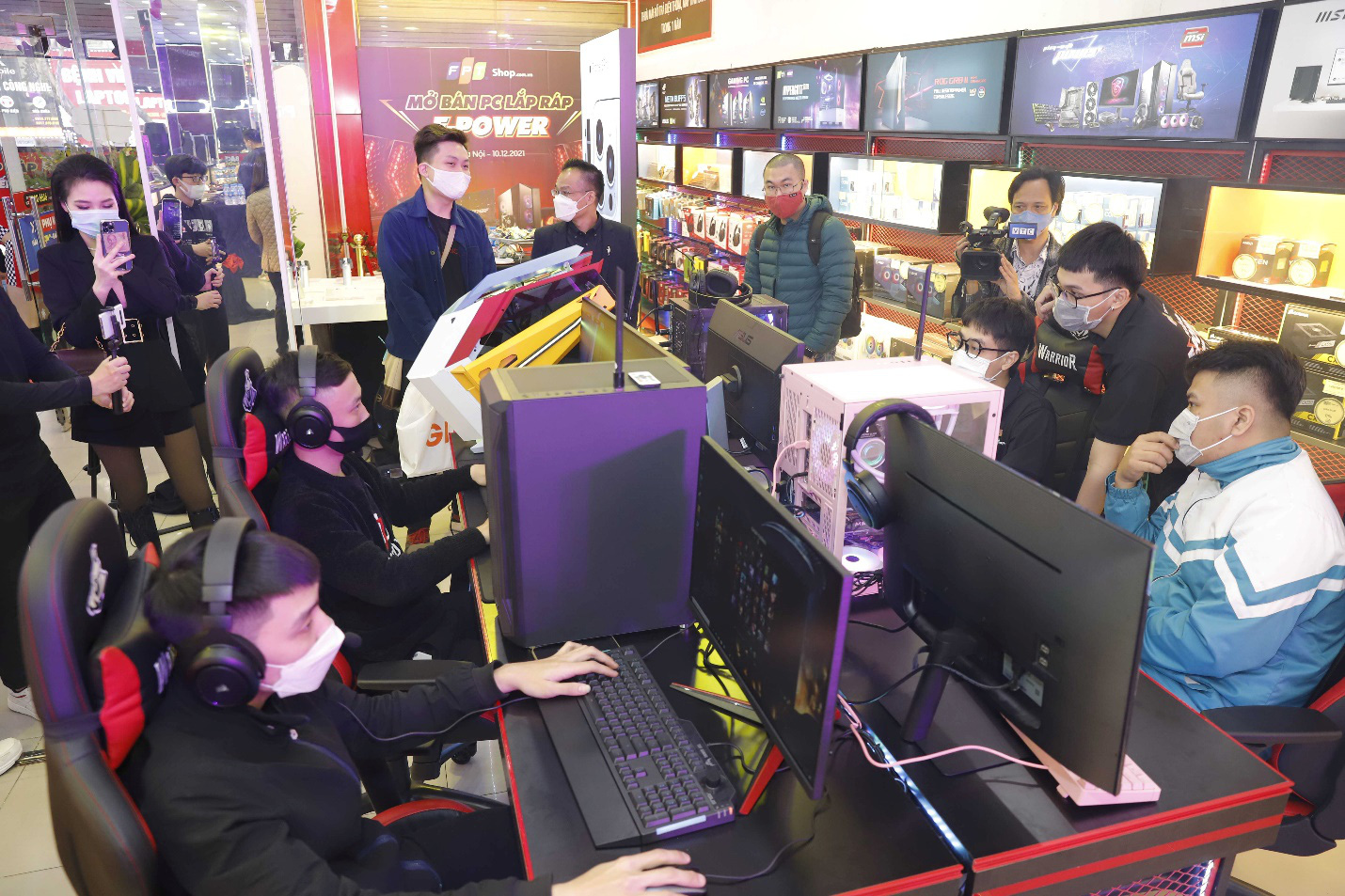 On the opening day, from December 10 to 23, FPT Shop's Laptop & PC assembly center offers a shock discount of 10% – 50%, PCs are priced from only VND 5,000,000.
Why choose to buy products at Laptop and PC Center?
Inheriting the standards of Laptop Center, Laptop and PC Center also has 5 reasons to become a reliable destination for technology lovers:
• First, price commitment and good after-sales service. As a major partner of all computer brands and the leading retail system in Vietnam, FPT Shop will always build selling prices, preferential programs and outstanding after-sales services. In addition, choosing to buy products here, you can be completely assured because 100% are genuine products, fully warranted and up to standard with a warranty period of up to 3 years.
• Second, product variety. FPT Shop has hundreds of products in many different price segments, making it easy for customers to choose the most suitable product. In particular, PCs cost from VND 5,000,000 to VND 61,000,000, belonging to many specialized product lines such as: gaming, office, graphics, 3D rendering… Components and accessories are also extremely diverse, so that you can assemble, replace, and upgrade products according to your needs.
• Third, professional advice. Laptop & PC Center has a team of highly trained staff, from sales staff to technical staff, who will advise, assemble… so that you can get the most suitable product for you.
• Fourth, fast support. Laptop & PC Center has a professional technical team ready to support you at the store and Online Technical Support Center supports through specialized software.
• Fifth, dedicated service. In order for customers to have the most enjoyable and comfortable shopping experience, FPT Shop has implemented many support programs such as: free home delivery, customer support to install products, advice on suitable products. with the most needs of customers instead of consulting to sell products,…
Right now, you can choose to buy products directly at Laptop & PC Center, or choose to buy online, FPT Shop will deliver and install at home nationwide, right here.
.