On the afternoon of November 15, Ho Chi Minh City University of Food Industry (HUFI) posted on its website, warning students about the problem of "black credit" loans. The reason came from a HUFI student who fell into a black credit trap and took on a large debt.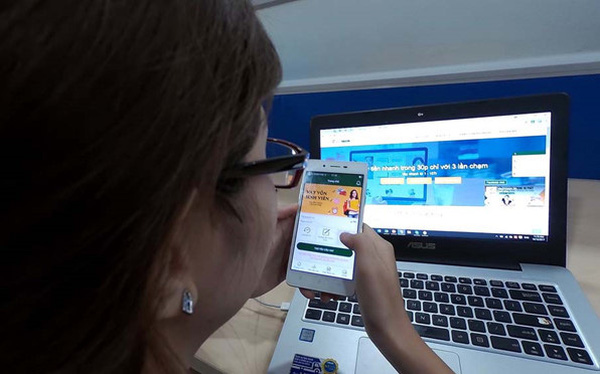 Answering VnExpress, Master Hoang Thi Thoa – Deputy Director of the Center for Admissions and Communication, University of Food Industry, Ho Chi Minh City, said that in November 2020, T (2nd year English language student at HUFI) ) unfortunately lost the amount of 10 million dong the family sent to pay tuition fees.
Because of losing a large amount of money, friend T was so scared that he did not tell his family and took a loan online with high interest rate, planning to spend his savings and work part-time to repay the debt. By the time the loan was due, there was no money to pay, so student T was referred through other loan applications.
However, after nearly 1 year, the loan amount and interest has reached 300 million dong. The female student was constantly called and threatened by texting, so she confessed to her family. According to documents provided by his family, T borrowed money in dozens of different applications, earning interest from mother and child.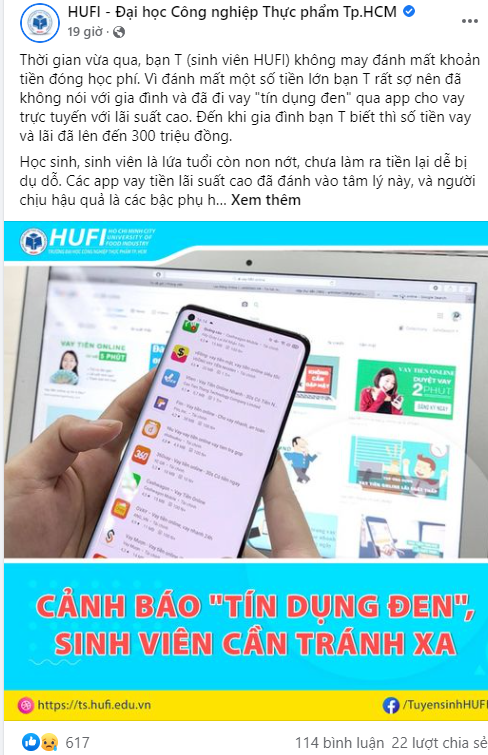 A representative of the University of Food Industry in Ho Chi Minh City (HUFI) said that this is not the first time that students borrow "black credit" with high interest rates. The school has warned many times but students still suffer.
In the newly released notice, this University requires students to seriously implement the following contents:
– Absolutely do not participate in credit loans through the application or online credit loans with an interest rate exceeding 150% of the interest rate announced by the State Bank.
– Absolutely do not provide student information, personal information to outsiders or information declared on unclear applications or forums. Do not take advantage of, entice others to participate or provide personal information of others without permission.
– It is recommended that all students, when facing unexpected financial difficulties, contact the Student Affairs Department & Education Inspector for support.
.