During the launch of the 12th generation Intel Core CPU series codenamed Alder Lake, in addition to the star i9-12900K, Intel also launched a series of CPU models with the suffix K such as i7-12700K and i5-12600K. With a completely new hybrid microarchitecture and Intel 7 process, Alder Lake is one of the most anticipated popular CPUs ever, especially after nearly 5 years of witnessing an extremely strong rise. of competitors in the industry.
With the new hybrid microarchitecture, Intel has equipped the i5-12600K with up to 10 cores, including performance cores (P-core) and 4 efficiency cores (E-core). Thanks to that, this CPU will have up to 16 processing threads. Now, the 12th generation i5 CPUs in general and i5-12600K in particular will grow up like tigers to compete in the mid-range segment.
With 6 cores 12 threads high performance, this i5 CPU will easily weigh most of the games on the market. Meanwhile, with 4 efficient cores for multitasking or streaming, anyone can now stream using the CPU without having to worry about gaming performance being affected.
Test configuration:
– CPU: Intel Core i5-12600K
– RAM: G.SKILL Ripjaws S5 5200MHz CL40
– Mainboard: ASUS ROG STRIX Z690-E Gaming Wifi
– GPU: Nvidia RTX 3070
– NVMe: WD_Black SN750SE 1TB
– PSU: Corsair RM850 Gold
– Heatsink: MSI AIO MAG CORE LIQUID 240R
– OS: Windows 11
As said in the i9-12900K review, if you intend to use Alder Lake CPUs, make sure you have updated Windows to the latest version 11. If possible, install a "fresh install" of Windows 11 to ensure that the OS Scheduler of the operating system and the Thread Director on the CPU best recognize and work together, ensuring the ability to coordinate tasks into the right cores/threads .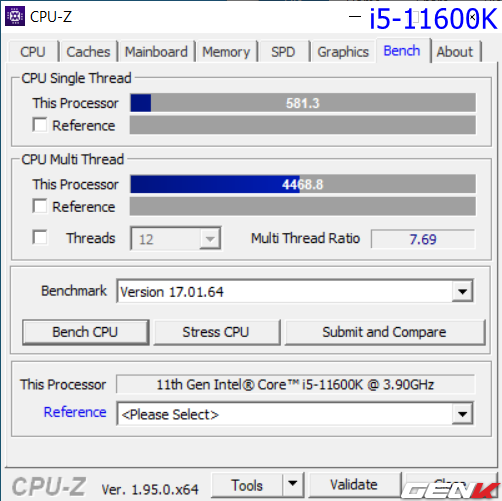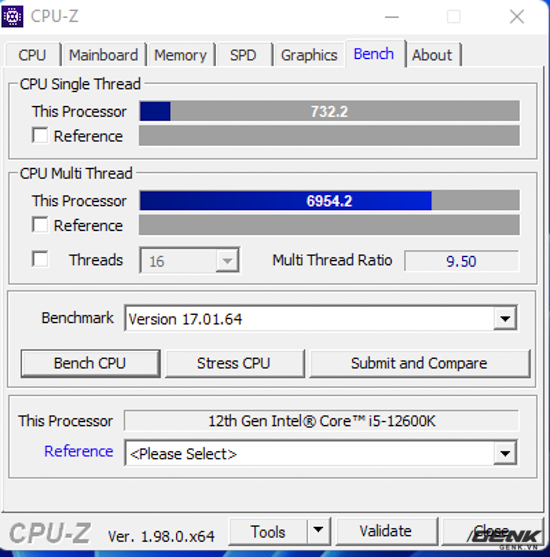 Benchmark on CPU-Z, comparing i5-11600K (left) with i5-12600K (right)
In terms of pure performance, similar to its predecessor, the i5-12600K also has a jump of up to 50% in performance compared to its predecessor i5-11600K, including single and multi-threading in the CPU benchmark engine. -z.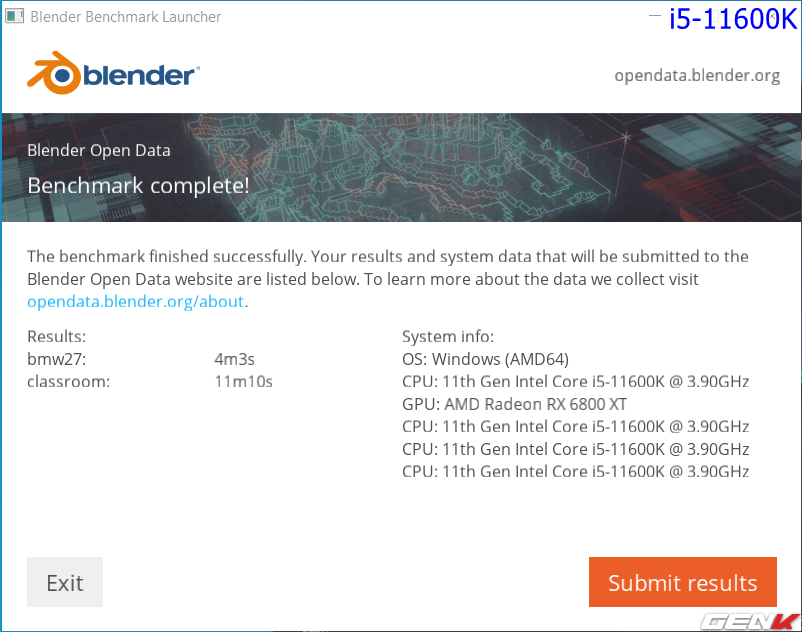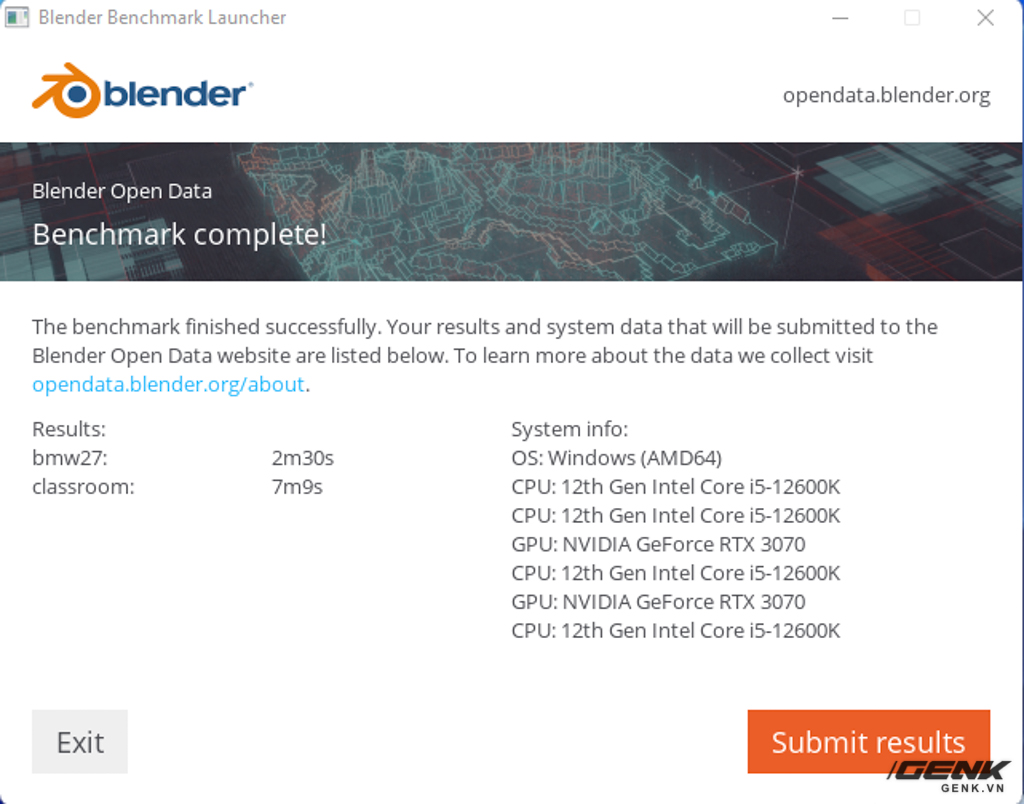 Blender BMW27 and Classroom test, comparison between i5-11600K (left image) and i5-12600K (right image)
Meanwhile, with Blender's combined render test, we once again see the i5-12600K's superior performance and efficiency of the four efficient cores. As a result, rendering time has been reduced by up to 40%. With performance like this, students of graphics or architecture can completely build a machine with a relatively low investment but bring great performance.
Game performance is perhaps the most expected, especially on performance/cost-focused configurations equipped with Intel Core i5 CPUs. When compared to the senior i9-12900K, the i5-12600K gave extremely impressive results with an almost negligible difference. Of course, with its superior power consumption and multipliers/threads, the i9-12900K should deliver better results, especially at maximum FPS.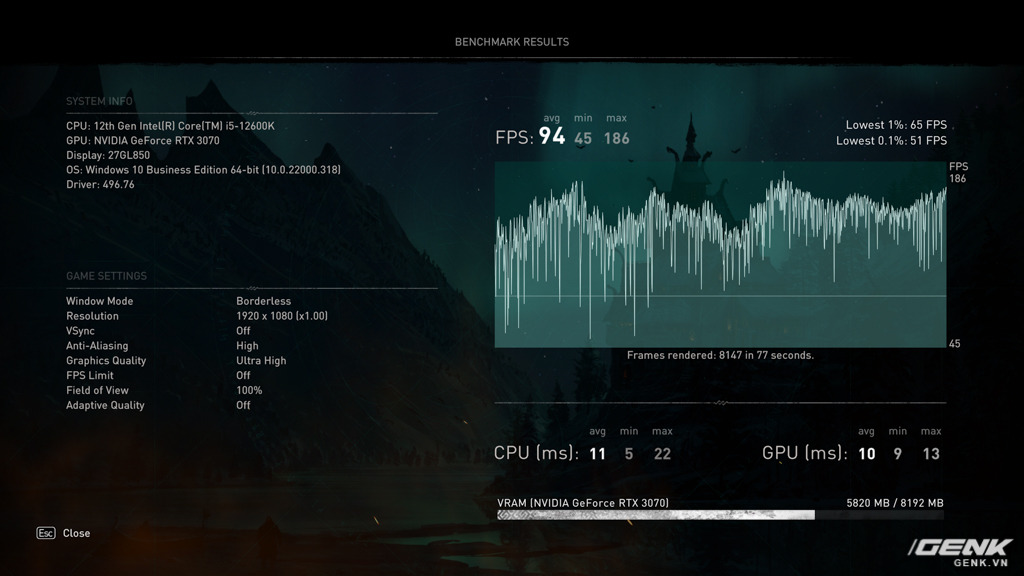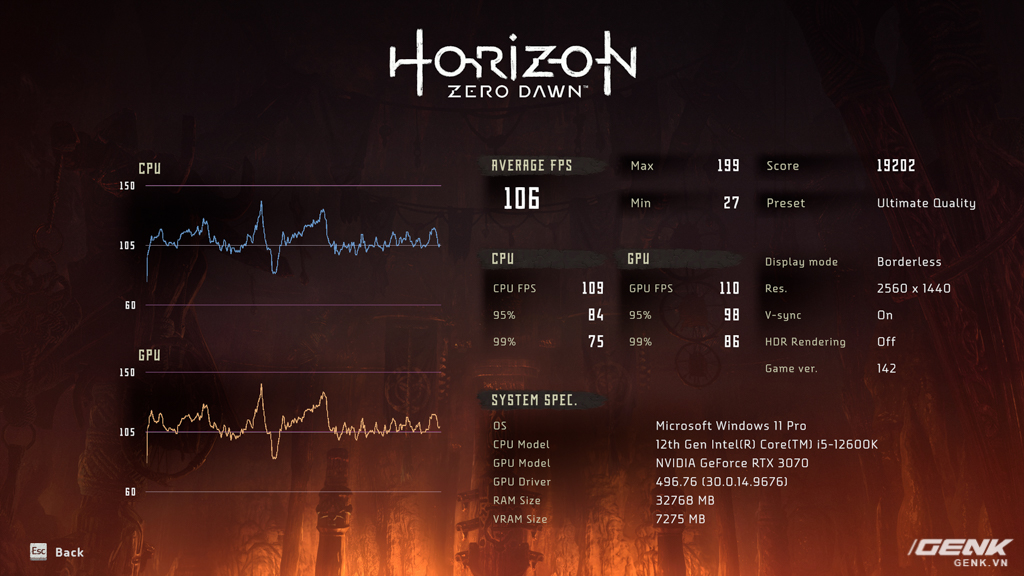 Results of i5-12600K.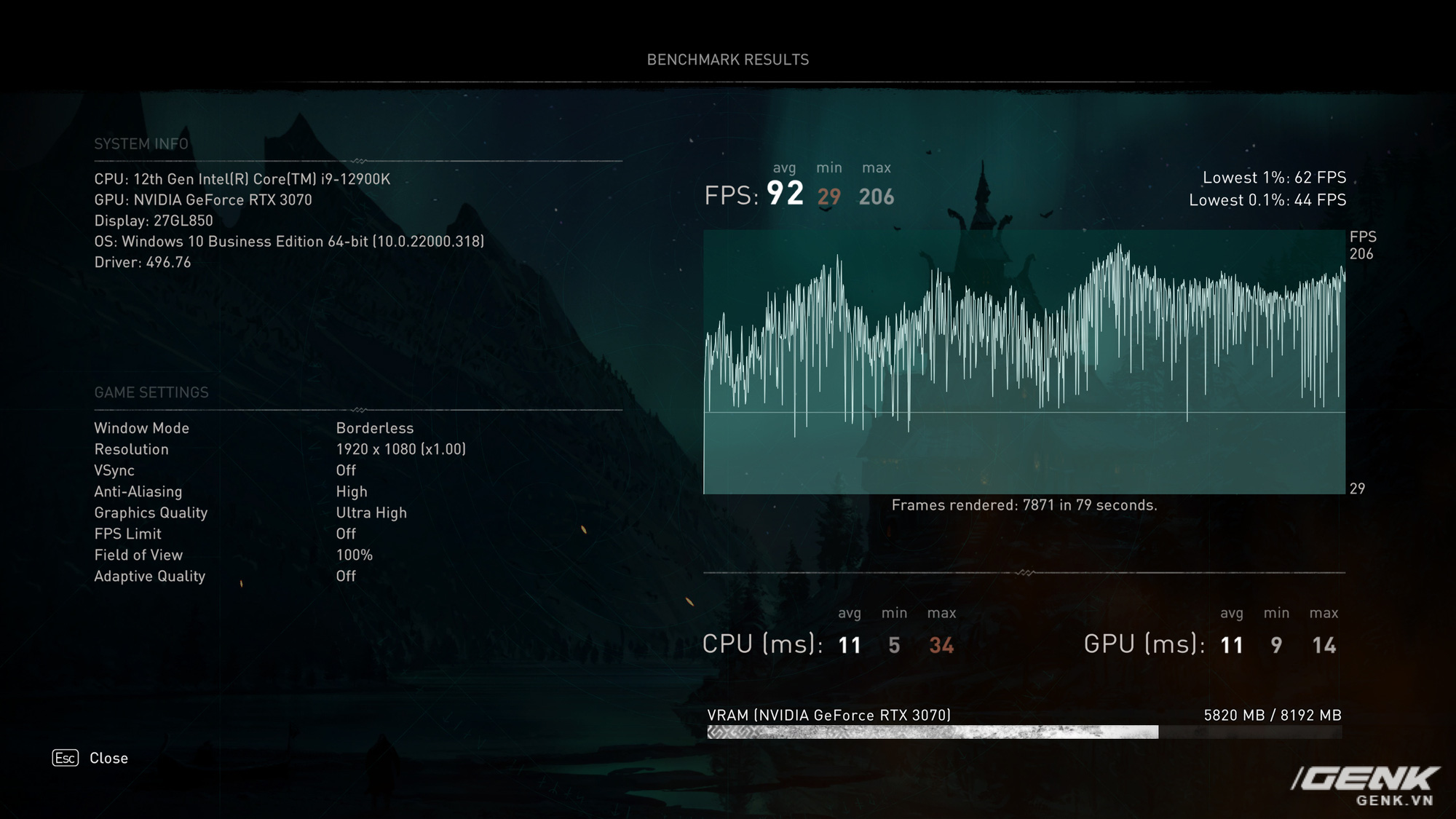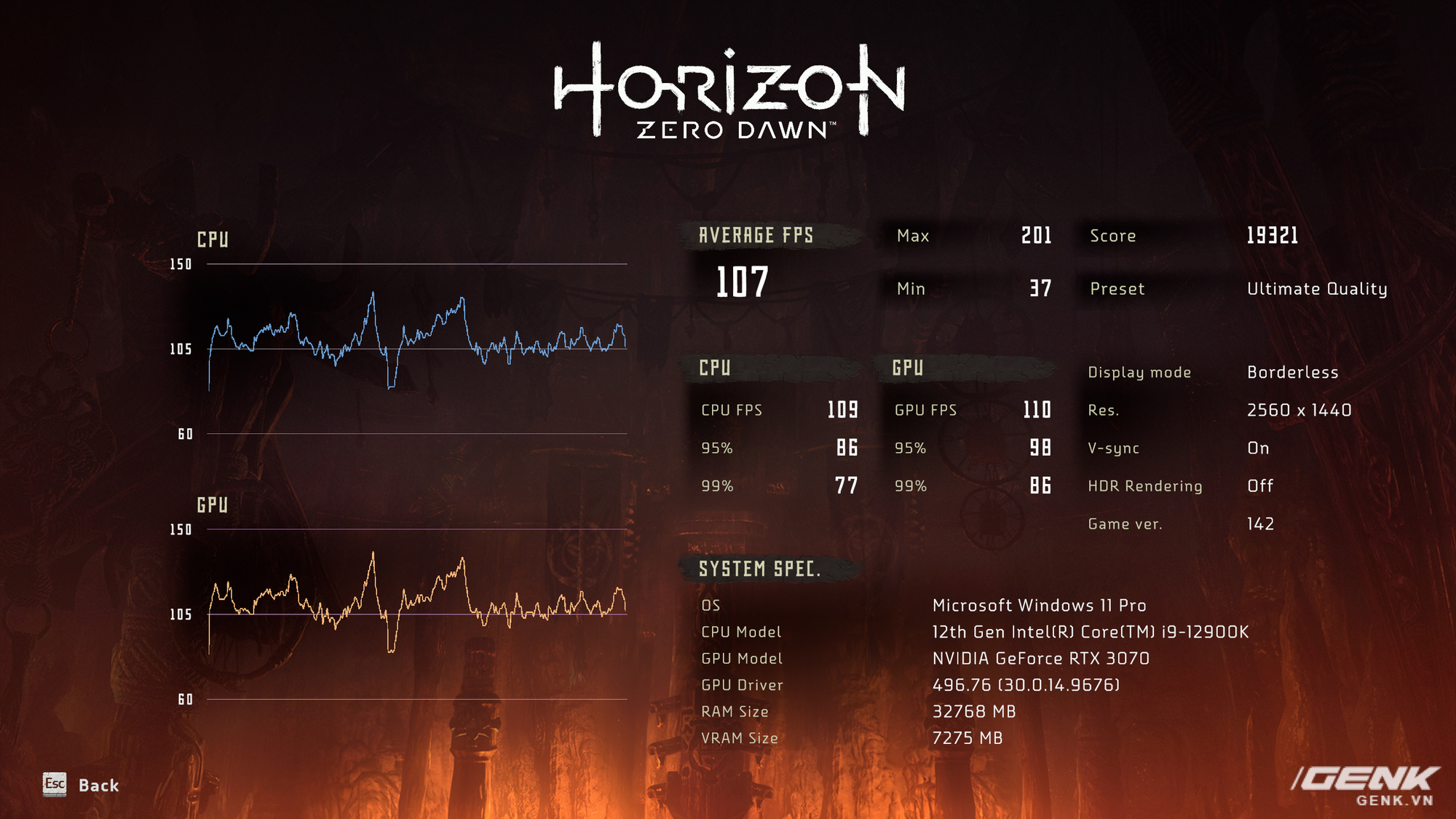 Results of i9-12900K.
One issue during testing that I encountered was CPU overheating. Even though it's only i5, this CPU still hits 100 degrees Celsius. In the long run, this is not really an ideal temperature for CPUs in general. This, according to the writer's guess, may be because the heatsink mount is not really compatible and the heatsink can be mounted due to the old heatsink support feature on the new ASUS motherboard. However, a better and more sustainable solution is still to wait for the support kit or buy the latest heatsink products.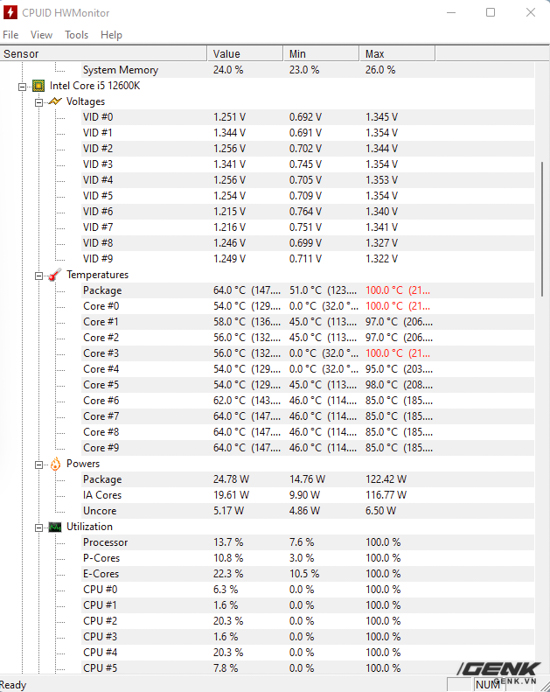 Like its previous generations, the i5-12600K still excels at being a mid-range CPU for those who need a machine with a good price/performance level. Thanks to the addition of 4 more efficient cores to serve tasks like rendering and streaming, the performance cores that are dedicated to gaming will be freed up to focus on "carrying" the game.
Although it is still quite far behind the senior i9-12900K, the price difference is about double while the game performance is only 1-2% difference, making the i5-12600K the first choice for "wise users". " with the highest priority being performance/cost. This CPU will definitely be suitable for machine configurations equipped with CPUs ranging from RTX 3070 or RX 6700 and below.
.