The sequel, Jurassic World: Dominion, will introduce seven new species of dinosaurs never seen in the series before. Directed by Colin Trevorrow, Dominion will not only conclude the Jurassic World trilogy, but also conclude a six-movie saga that began with Steven Spielberg's Jurassic Park in 1993. And now a brand new Prologue to Steven Spielberg's Jurassic World. Jurassic World Dominion including 5 minutes of footage has been released.
Set four years after the events of Jurassic World: Fallen Kingdom, Dominion sees humanity forced to coexist with the dinosaurs that have proliferated since they were brought inland and set free into the wild.
Dominion will also feature familiar characters like Dr Alan Grant (Sam Neill), Dr Ellie Sattler (Laura Dern) and Dr Ian Malcolm (Jeff Goldblum), who will meet the main couple of Jurassic World, Owen Grady (Chris Pratt) and Claire Dearing (Bryce Dallas Howard).
Of course, the fan-favorite dinosaurs of the franchise will also return, such as the T-Rex, Blue the Velociraptor, and Mosasaurus. But aside from that, Jurassic World: Dominion also introduces a bunch of new and never-before-seen dinosaurs, both in the main story and in the prologue to Dominion, set 65 million years ago during the Cretaceous Era. .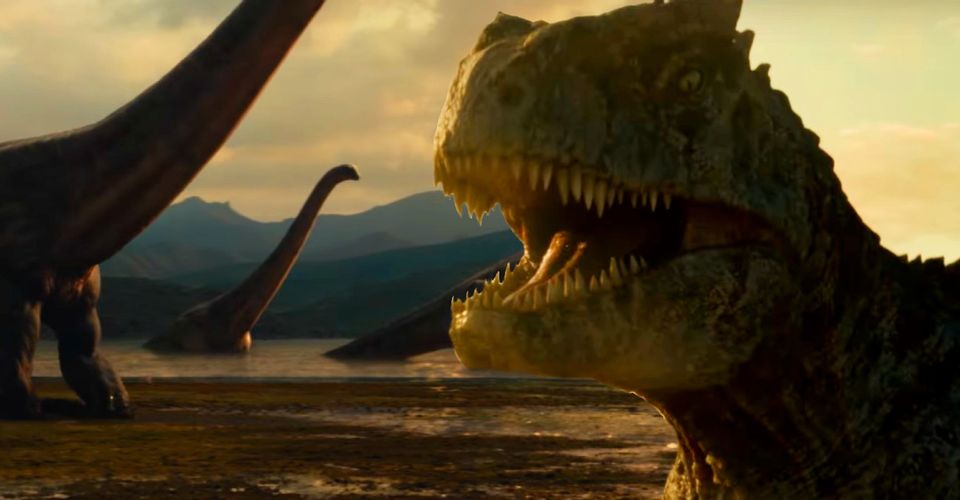 The Jurassic World movies introduced the concept of hybrid dinosaurs like Indominus Rex, Indoraptor and Scorpios Rex, who were the villains in the first two Jurassic World movies and Netflix's Jurassic World: Camp Creta. However, Jurassic World: Dominion won't have hybrid creatures; instead, the film will focus on the myriad of dinosaurs that actually exist (and do exist in the film's universe). Along with seeing familiar dinosaurs, Jurassic World: Dominion will feature all-new prehistoric beasts. Here are all seven newly revealed dinosaur species.
Dreadnoughtus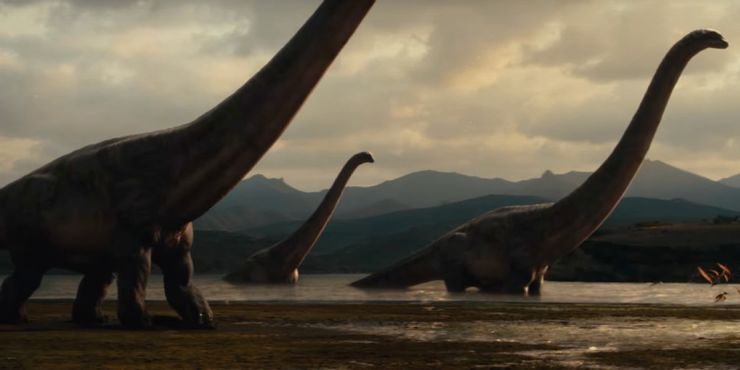 Dreadnoughtus, is a genus of giant dinosaur that is one of the largest land creatures on Earth found in Argentina, named after a battleship that once dominated the seas in the early 20th century. The animal is about 26 meters long and weighs 65.4 tons or 59.3 tons.
Seen trudging across and beside the waterhole in the Jurassic World Dominion prologue, Dreadnoughtus is a massive new sauropod similar to Brachiosaurus. Dreadnoughtus' bones were only discovered in real life in 2005.
Quetzalcoatlus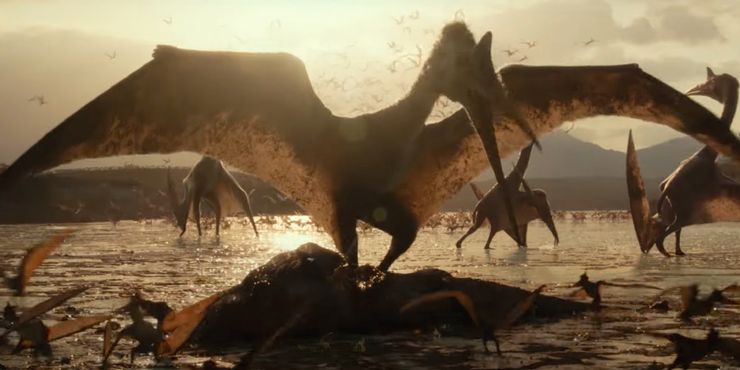 Quetzalcoatlus is a genus of late Cretaceous Pterosauria in North America that is the largest flying animal along with Hatzegopteryx because the two species are about the same size, standing as tall as a giraffe. Quetzalcoatlus is a member of the family Azhdarchidae, a family of long-necked toothless pterosaurs.
Flying pterodons were first introduced in Jurassic Park III and returned in the first two Jurassic World movies, but they weren't "old enough" to compare with the flying dinosaur Quetzalcoatlus. They were the larger and more fearsome of the known Pteranodons.
Oviraptor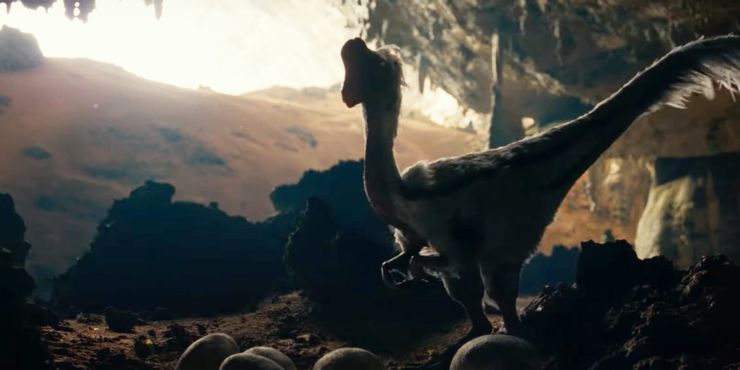 Oviraptor is a genus of small, feathered, carnivorous theropod dinosaur that lived in Mongolia during the late Cretaceous period 75 million years ago. This species was first discovered by paleontologist Roy Chapman Andrews and described by Henry Fairfield Osborn in 1924.
Oviraptor is a feathered dinosaur similar to Velociraptor but smaller in size. It's one of the first giant dinosaurs in the Jurassic franchise, and audiences begin to see it while standing at a large dinosaur's nest to steal an egg.
Nasutoceratops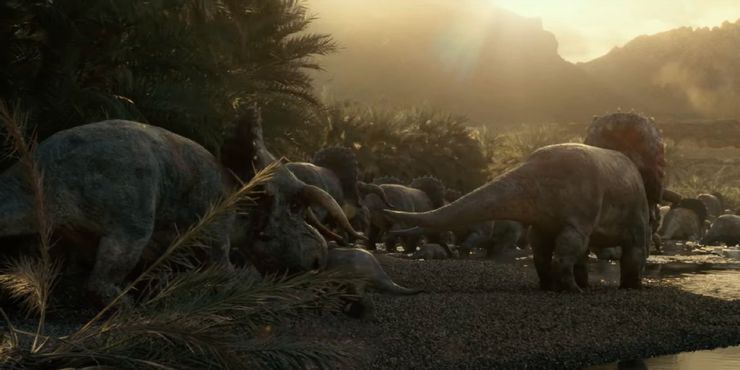 Nasutoceratops is a genus of herbivorous horned dinosaur. This species lived during the late Cretaceous period in what is now Wyoming, United States. This dinosaur was about 5m tall, had a very large nose and long front horns. This dinosaur was named Nasutoceratops, which means "big nose, horned face".
Nasutoceratops had horns similar to Triceratops and Sinoteratops, but this giant dinosaur had shorter horns extending from below the bony armor on its head. The opening footage shows a large swarm moving in a swarm over the edge of the waterhole.
Moros Intrepidus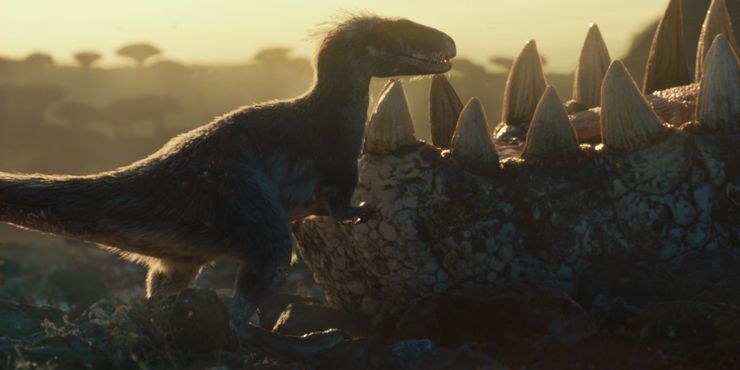 Moros intrepidus is a small theropod that was described only in February of this year. They are also the earliest ancestors of the T. rex species, dating to nearly 97 million years ago in the early Cretaceous of North America, about 30 million years earlier than T. rex. They are significantly smaller in size than their descendants when only about 1.2 m tall, about 1.5 m tall and weigh more than 80 kg, equivalent to a deer. While still alive, Moros intrepidus had to carry sandals for the much larger Allosaurus. The period when they began to develop also marked the end of the monstrous genus Allosaurus, famous for "moros" in Ancient Greek meaning "doom".
Iguanodon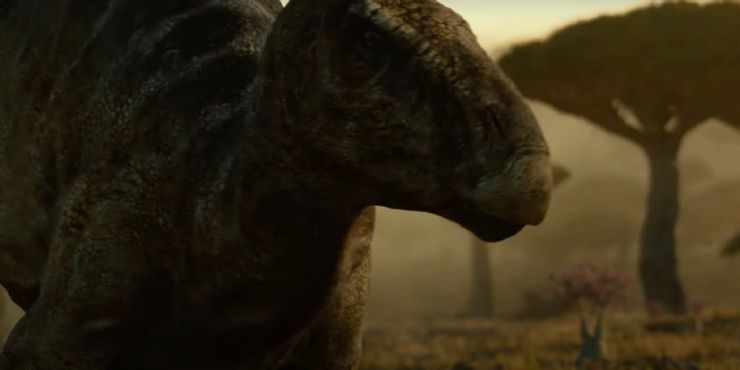 Iguanodon is a genus of Ornithopoda dinosaur. Iguanodon was a large herbivore. Iguanodon lived in the Cretaceous period, about 155.7 – 93.5 million years ago. Fossils of Iguanodon are found all over the world, from Asia, Europe to the Americas. Its front legs have a sharp claw for self-defense.
Gigantosaurus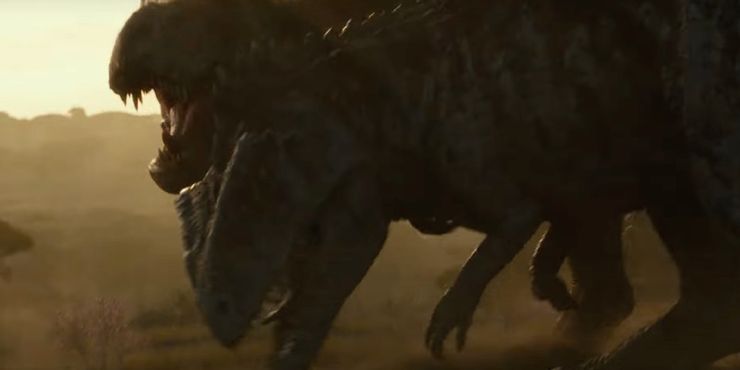 And finally, the star of the show, Jurassic World: Dominion also introduces a new giant predator in the Gigantosaurus species. The giant carnivore battled the T-Rex in the Cretaceous, taking down the iconic dinosaur of earlier times. And when it comes to today's story of Jurassic World: Dominion, it could be the threat that Alan Grant, Ellie Sattler, Ian Malcolm, Owen Grady and Claire Dearing will face.
.