According to the Washington Post, the story of space war, which was thought to be only a matter of nations, has now become a race of billionaires.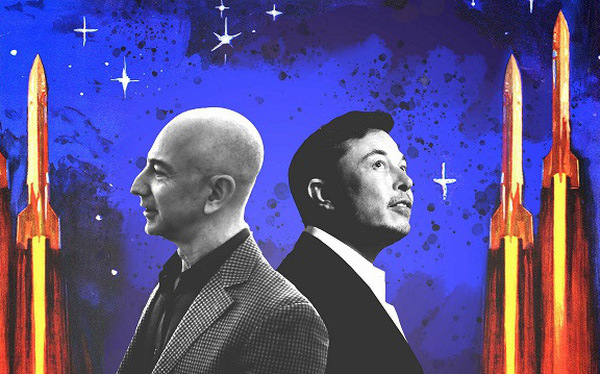 For years, Amazon founder Jeff Bezos and Tesla billionaire Elon Musk have been at odds over spaceship projects. Both want to prove their company can help the US National Aeronautics and Space Administration (NASA) in launching spacecraft into space.
But now, this competition is not simply about launching ships into space or sending people to space anymore. Both giants have entered a legal battle to build a satellite network to provide the Internet, a service that, if successful, will change the entire telecommunications industry.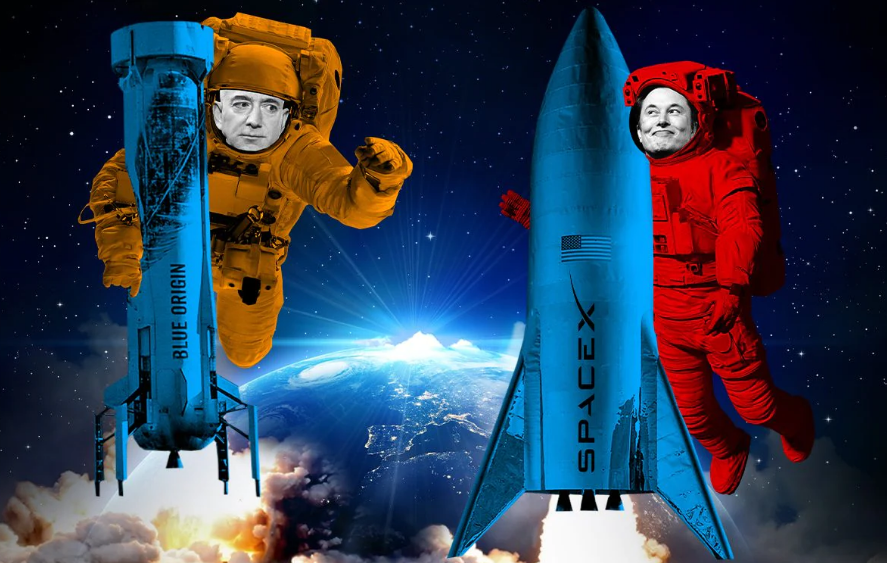 Dispute
The Washington Post reports that in the past few years, Elon Musk's SpaceX has successfully launched many satellites into the edge of space to build an Internet supply network. Meanwhile, Amazon also has a similar project called Kuiper but has not been able to launch a satellite.
As a result, founder Jeff Bezos resigned as Amazon CEO in July 2021 to focus on developing other projects, including the space segment to compete with SpaceX.
On August 25, 2021, Amazon officially sued SpaceX to the Federal Communications Commission (FCC) for violating the agency's regulations when building a satellite network. In response, SpaceX accused Amazon of conspiring to delay their efforts as well as trying to cover up Bezos' failures in the space race.
"With falling behind competitors, Amazon is ready to use legal processes to create obstacles to delay being left behind even further," SpaceX announced.
By September 2021, the controversy has not stopped when Amazon once again denounced SpaceX to the FCC and of course, SpaceX also responded immediately.
The Washington Post notes that large US corporations have traditionally competed with each other, from Andrew Carnegie's steel business to John D Rockefeller's oil business. Now, it's the turn of Elon Musk and Jeff Bezos to write a new history for America's business rivalry.
Although Elon Musk envisions building a city on Mars or Jeff Bezos building a colony in Earth's orbit, experts assert that the business potential of space is huge and the main purpose is of these entrepreneurs is still just profit.
"They don't give away anything for free, they're still entrepreneurs after all. Although the universe is the dream of many billionaires, it's also a growing industry, and a lot of profit. can earn from it," emphasized Professor Margaret O'Mara of the University of Washington.
Compete
The career paths of Musk and Bezos are quite similar, both successfully creating an industry revolution with revolutionary products. Both Musk and Bezos have foresight, a strong belief in what they do despite criticism or short-term losses, all for a successful long-term future.
While at Paypal, Elon Musk changed the card payment industry as well as created a payment revolution with American consumers. With Tesla, Musk created an earthquake for the entire auto industry and led the electric vehicle segment. Coming to the SpaceX project, Musk has faced a network of military companies that have worked for decades in the space industry to become a trusted partner for NASA.
On the other hand, Bezos also succeeded in revolutionizing book sales and retail, becoming a giant in the e-commerce industry. Then its cloud computing segment also ranked 2nd in the market after Microsoft.
Now, these two giants begin a new competition on the space race. For the time being, Musk is leading the way before successfully becoming a NASA partner and launching many satellites to the edge of space to build an Internet supply network.
SpaceX has also successfully brought 3 crews of astronauts to the International Space Station (ISS) while Bezos' Blue Origin has only performed 1 flight to the edge of space in 10 minutes.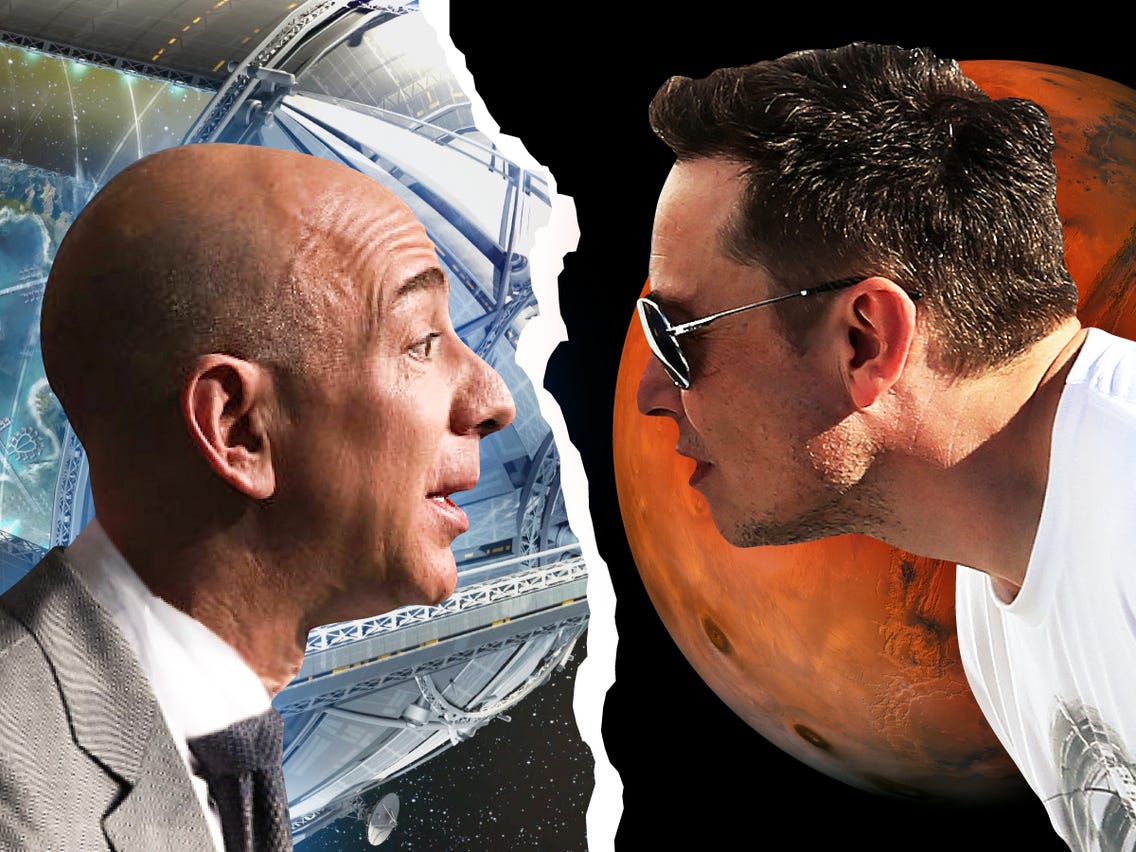 Elon Musk has successfully put nearly 2,000 satellites in his Starlink project to the edge of space and is moving towards completing the Internet supply network for 144 countries. Earlier in 2020, the FCC also granted SpaceX a budget of 886 million USD to support upgrading the Internet system in the US.
On the Amazon side, they also plan to build a satellite array on the edge of space to provide the Internet, but have not yet launched one. So to avoid being left behind, Bezos decided to launch a legal battle with the leader Musk to find time.
Accordingly, Amazon accused SpaceX of launching two types of satellites, Starship and Falcon 9, against FCC regulations. In response, Elon Musk tweeted sarcastically: "Turns out Besos (Intentionally misspelled name) quit his job at Amazon to switch to a career in lawsuits against SpaceX."
After that, there was a legal battle between the two sides. Amazon believes that SpaceX violated FCC regulations when launching Starship without registering a design, and their rocket production facilities are not safe against epidemics.
"With SpaceX, they don't follow any laws. Those regulations are only for other people, not them," Amazon said.
Even more dramatic, Bezos personally sued NASA for favoring SpaceX in cooperation in sending people to space. Although this decision was confirmed by the Government Audit Office (GAO) as reasonable, the Amazon founder did not give up. The matter has been taken to both federal court and even the White House.
"Is Elon Musk afraid of a little competition?", Blue Origin said.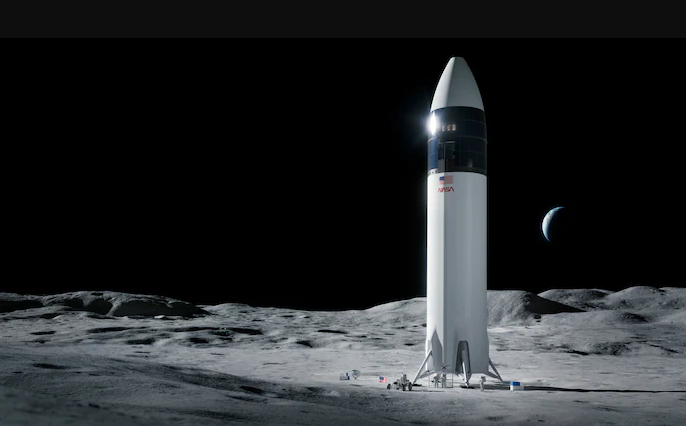 One of the points that Bezos' Blue Origin targets is that new designs from SpaceX violate NASA's safety regulations. Blue Origin vice president Megan Mitchell said that SpaceX's moon landing project will have to launch many rockets to refuel on the edge of space, thereby increasing the danger.
In response, Elon Musk mocked that Bezos had not yet launched a rocket into space and even Blue Origin's quote for NASA was up to $ 6 billion, twice as much as SpaceX.
Commenting on this competition, Professor John Logsdon of the Space Policy Institute (SPI) said: "Where there are people, there is competition. Just like the fact that KFC announced that McDonald's makes sandwiches. chicken is against the profession."

https://cafebiz.vn/cuoc-chien-khong-gian-cua-2-nguoi-dan-ong-giau-co-bac-nhat-the-gioi-elon-musk-muon-xay-thanh-pho- star-hoa-jeff-bezos-bo-ban-sach-de-lam-ten-lua-20220303094745876.chn