Up to now, we have always thought of the screen as a "single-function" product, just needing to display a beautiful image to do its job well. Samsung does not think so, the M5 and M7 screen product duo bring "smarts" that normal screens do not have, expanding their usefulness much.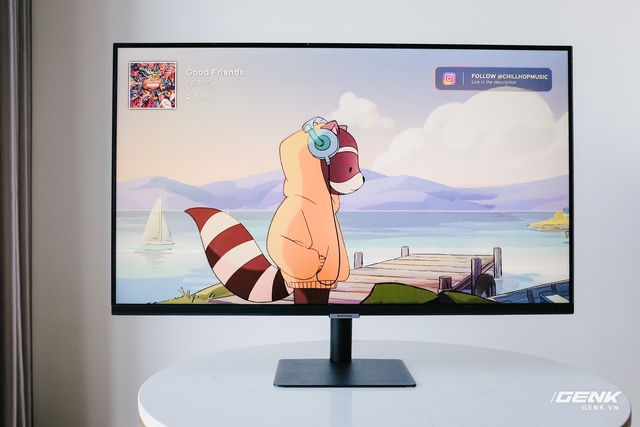 What are these features and are they actually useful? Let's find out with me by experiencing the version Samsung M5 32 inch.
"Smart TV minus TV feature"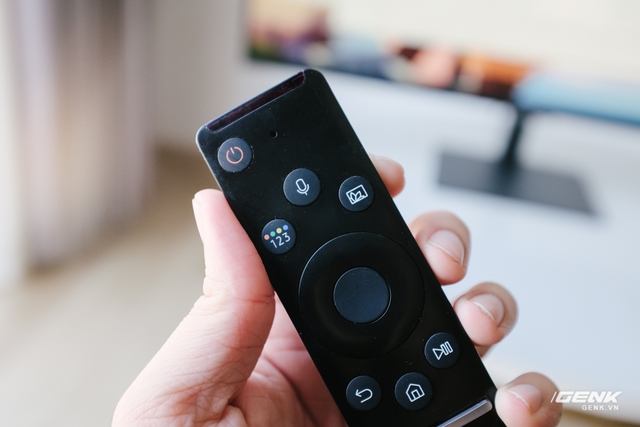 What makes the Samsung M5 a smart display? The simple answer is that this monitor is equipped with the Tizen OS operating system that is so familiar to its TV users, and cuts the "TV" feature away. Even the remote control of Samsung M5 is also a smart remote that comes with its TV codes.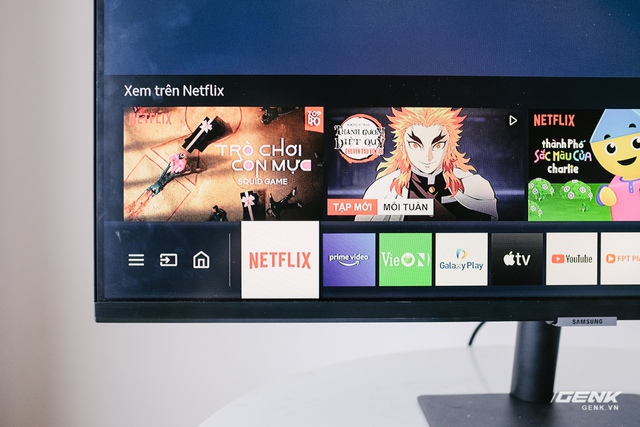 This means that the Samsung M5 can be used independently by connecting to the network. From here we can access online streaming services, the most prominent of which are Netflix and Youtube.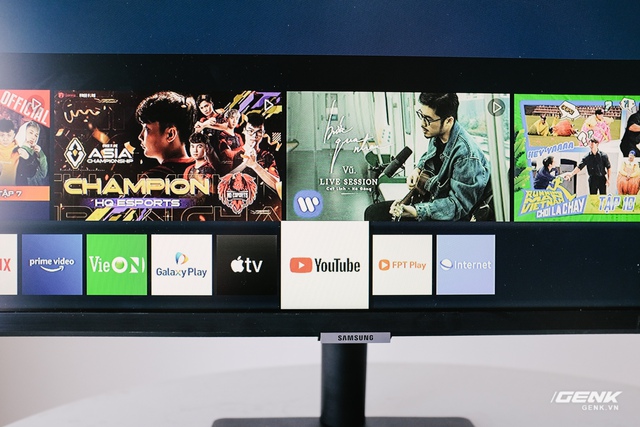 Young people today watch TV less and less, but the need for a larger screen than tablets and smartphones to watch videos or enjoy movies is still there. Samsung M5 can take care of this task, turning into a central entertainment screen without having to connect to any other devices.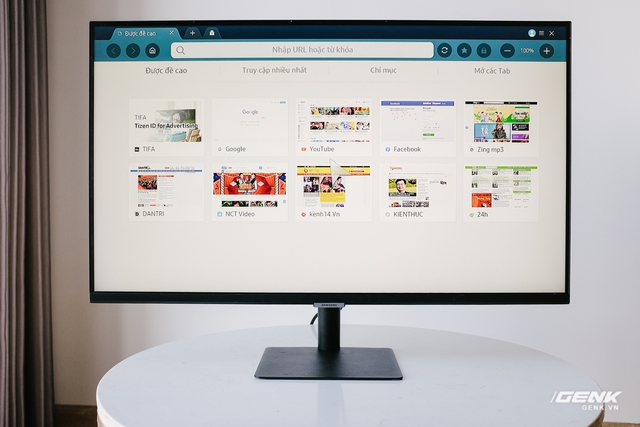 Tizen OS is also integrated with a web browser, with a magnified interface so you can sit far away from the screen and still operate. Although there have been software adjustments so that the pointer when controlled with the smart remote will automatically point to clickable elements, the browsing experience with the smart remote is generally still "tired", not convenient. with mouse and keys.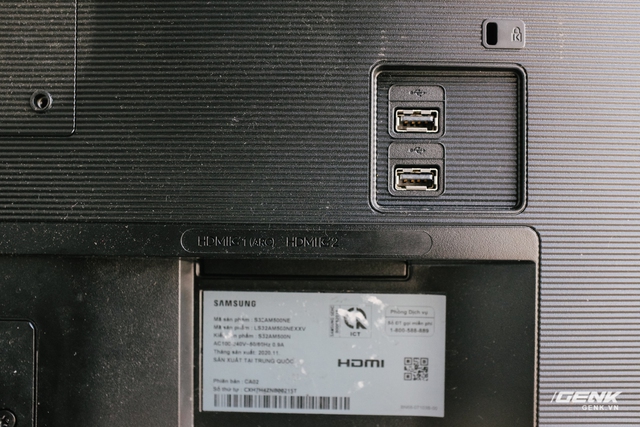 But we can also solve this problem by… using mouse and keys. The back of Samsung M5 has 2 USB ports for peripherals.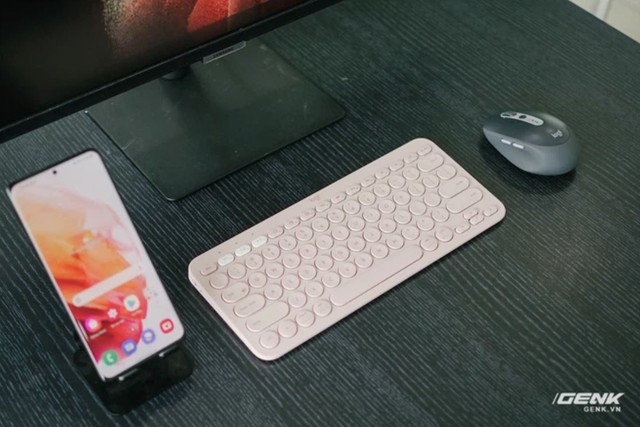 We can buy a wireless mouse and keyboard, the operation will be faster and more like using a desktop computer.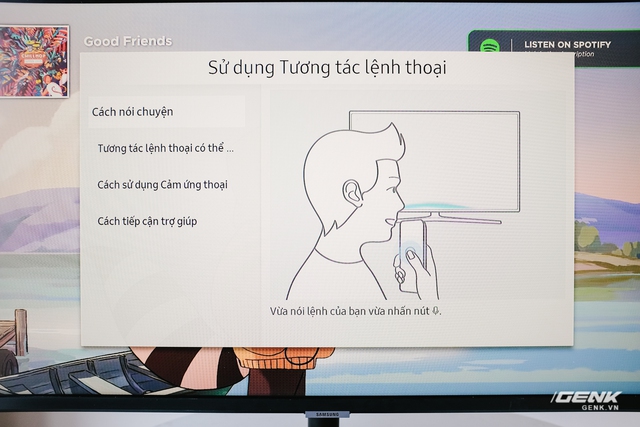 For simpler operations, we can control it by voice through the microphone built into the smart remote. The amount of manipulation on the dialogue will not be as much as using with the virtual assistant of the smartphone, but also because of that, it is easier to remember after only a few manipulations.
Voice control with Samsung M5
Works smoothly with smartphones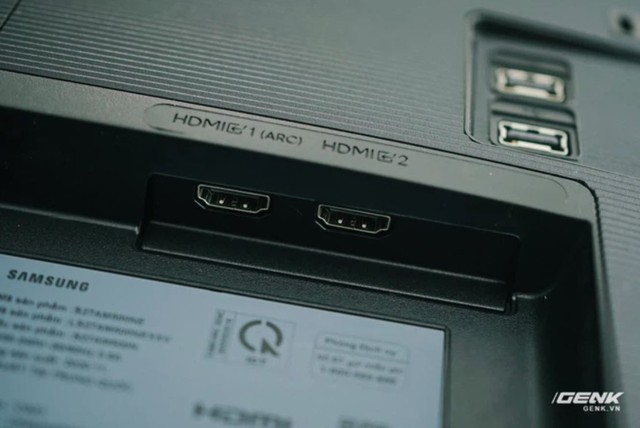 No matter how smart it is, the Samsung M5 can still act as a screen for other devices. The monitor has 2 HDMI ports to receive signals from computers or game consoles such as PS, XBox and Switch. Monitors have modern controls like TVs, so switching between wired sources is simpler than other screens.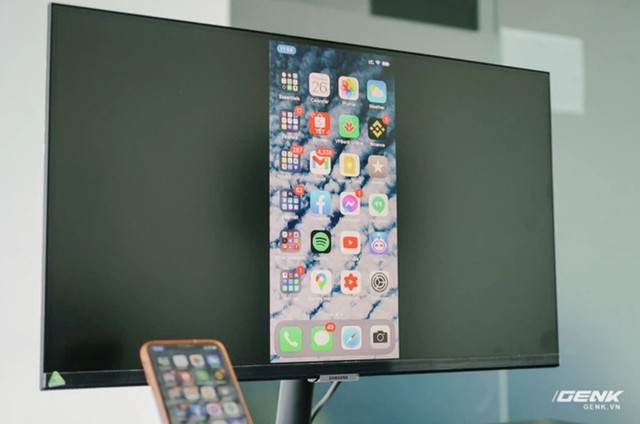 In addition to a wired connection, the Samsung M5 can also connect wirelessly to smartphones and tablets of any brand, including iPhones and iPads. With Apple products, the technology used is AirPlay!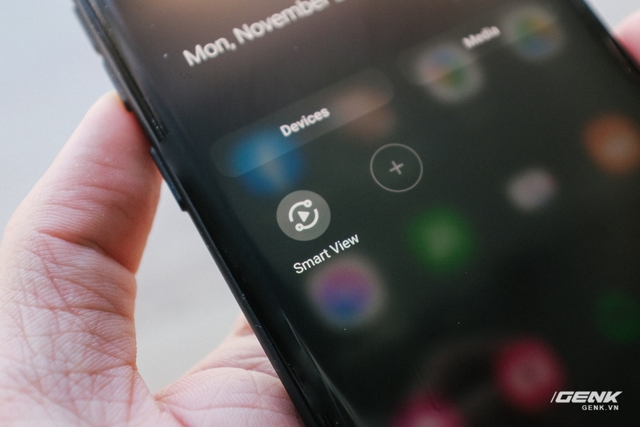 With Samsung products, this feature is called Smart View, which can be quickly accessed with the click of a button in the list of tools. Sharing a smartphone screen with a large screen also has many uses, for example, to share documents, give presentations in a meeting, study online with a large screen to see better.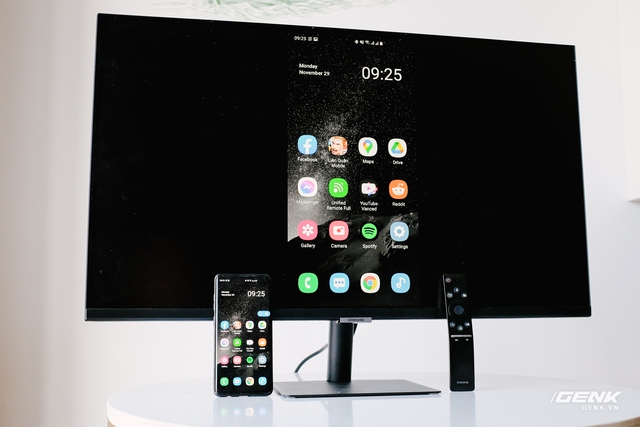 Or you can even share your gaming screen so that the "comrades" sitting next to you can comment, for example! Screen sharing will have a slight delay, so playing by looking at the big screen and manipulating on smartphones will only be suitable for slow-paced adventure and arcade games, not FPS and MOBA games.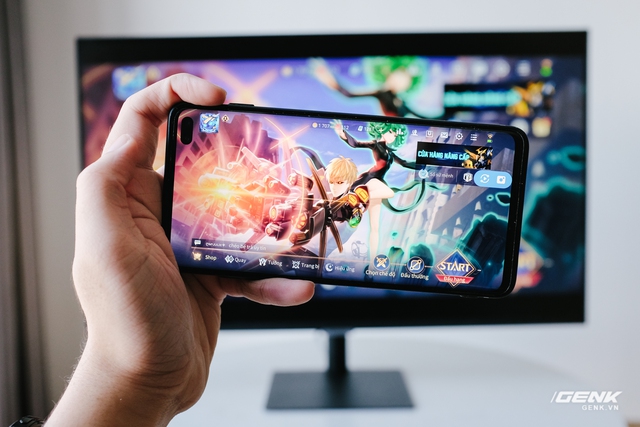 The Samsung M5 also has a built-in speaker, so every time you play content from a smartphone on the big screen, there will be the benefit of using the screen's external speakers instead of the "tiny" speaker on mobile devices. The monitor's speakers are of good quality, the volume is quite large, but in terms of sound, it will not be as good as the portable harpoons or the TV's speakers, it also has to be small enough to fit into the rather thin design of the monitor. screen.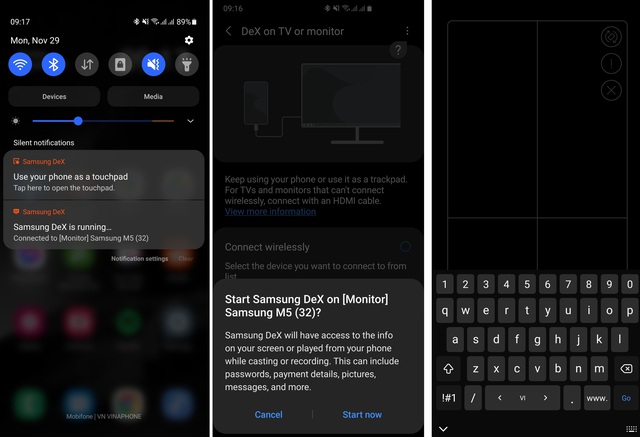 For Samsung smartphones and tablets, we will have another smart connection option, Samsung DeX or Desktop Experience. Previously, to use this feature, we would have to use an extra dock or a very messy cord, but now with the new generation of mobile devices, we can connect wirelessly. We can also use the mobile device as a mouse and keyboard for the screen, no need to add these devices.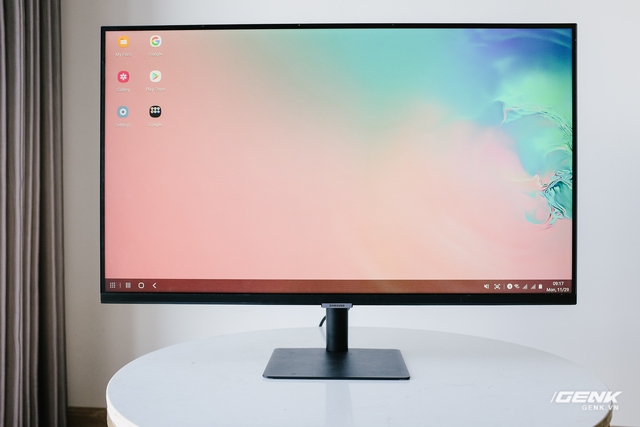 DeX will expand the possibilities of working because with a multitasking interface, we can do (almost) what a Windows or Mac computer can do. But there is a drawback here is that DeX with Samsung M5 has a bit high latency, when I move my hand on the smartphone screen, it takes 1 beat after the mouse to move on the screen.
It is not clear what the reason is, it may be that my Galaxy S10 Plus is "old", or because the wireless connection is unstable or even the hardware configuration of the Samsung M5 can't keep up. Either way, the DeX experience for me is far from perfect, less useful than the standalone and screen sharing capabilities mentioned above.
For who?
To simply describe the Samsung M5, this is a Smart TV for people who don't watch TV! It can work independently for basic entertainment purposes, as a computer screen or in combination with smartphones for study and work.
This product will be suitable for students living in dormitories that do not have too much space for both large TVs, computer monitors and speakers; want to have a single screen for computers, smartphones and even game consoles.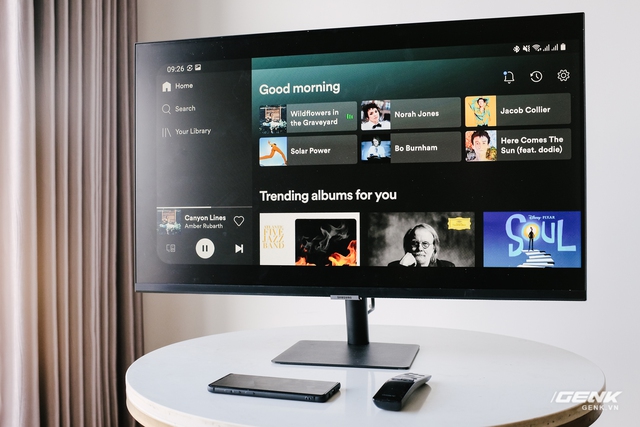 Or it will be suitable to become a corporate meeting room display, for example. A display capable of connecting wired, wirelessly to many different platforms will make presentations in the office easier than ever.
In fact, the 32-inch Samsung M5 version that I use only has FullHD resolution, which is not high for this size, so when used at close distances, pitting will occur. So my recommendation would be the 27-inch FullHD version of the M5, or if you have more money, "upgrade" directly to the Samsung M7 – a more advanced smart-monitor with a 32-inch size but 4K resolution.
.