Multi-function dishwasher with domestic ultrasonic waves in China (Price: 341 – 351K)
As the name suggests, this product can create strong vibration waves and spray high-pressure water to speed up the process of removing stains on dishes. The machine can be placed directly into the sink containing water, can be set to turn off after 15 minutes. In cold season, afraid to touch water, afraid to wash dishes, try to refer to this cool machine.
Material: ABS shell
Plug port: USB
Wave generation time: 120 seconds
Can be set to automatically turn off after 15 minutes.
Power: 10W
Dimensions: 10 x 10 x 7.5 cm
Aimaba ultrasonic multi-function dishwasher (Price: 4,779K)
This product also uses ultrasonic waves to clean dishes and eating utensils, but is integrated with more modern features.
According to the advertisement, the machine can be used to wash fresh food, capable of removing 98% of pesticides in vegetables and fruits. The machine uses a modern touch screen, making it easy for users to select the desired function. In addition, the luxurious and beautiful design is also an indispensable plus point of this dishwasher.
Power: 500W
Machine weight: 5kg
Other uses: Washing vegetables, meat, fish, seafood, fruits
Can remove 98% of pesticides in fruits and vegetables
There are 3 types of machines:
+ AMB500: 400w power (300w real power) most effective with a 40x40cm . tank
+ AMBQ500: 500w power (350w real power) most effective with a 50x50cm . tank
+ AMBQ6: 500w power (350W real power) effective with a 50x50cm . tank
360 degree rotating hand-held dishwasher (Price: 1,250K)
At first glance, the design of this product may seem complicated, but its usage is actually extremely simple. Simply clip the bowl and plate in and press the pen, the brush head will rotate, removing food residue and grease. After washing is complete, you just need to disassemble the brush part for cleaning. However, when there are many dishes in the house that need to be washed, if you have to hold the machine a lot, your hands will probably be tired.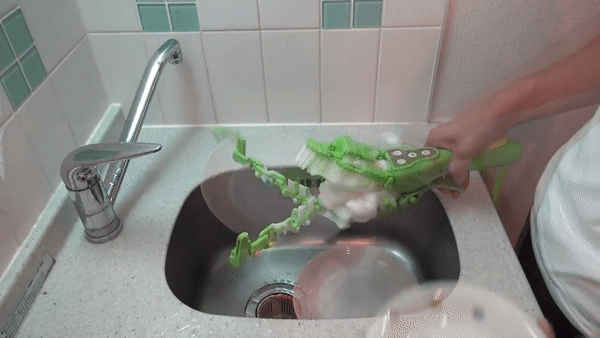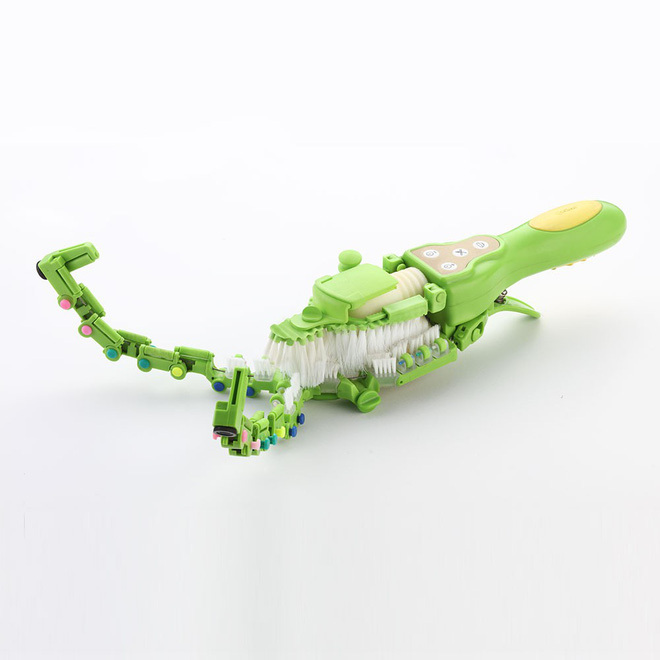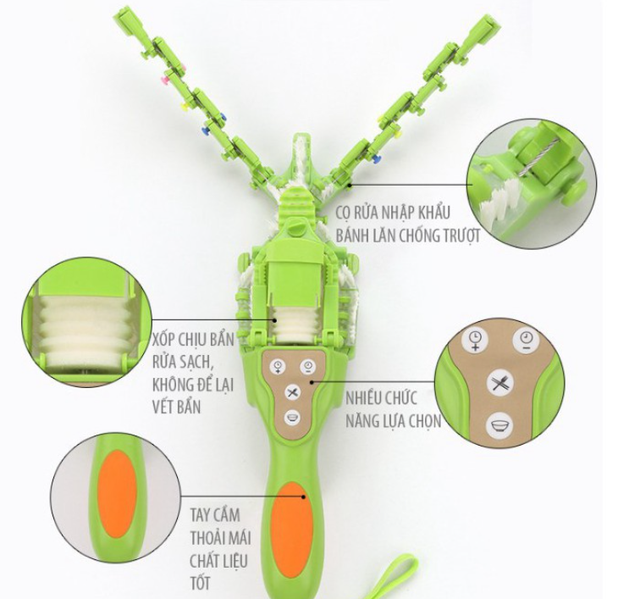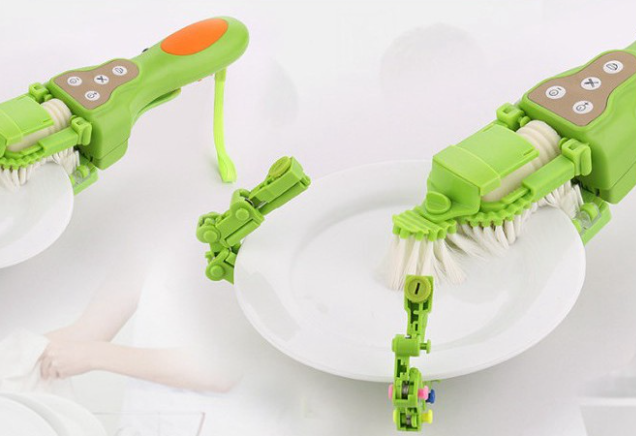 Battery capacity: 1500mAh
Can be plugged in and used continuously, if using the battery, the maximum duration reaches 40 minutes
Rotation speed: 500rpm
Suitable for: Round dishes, chopsticks, spoons, forks
Weight: 1.3kg
Dimensions: 418mm (Handle length 195, grip arm 223) x 115mm x 70mm
Water-resistant, washable replaceable body
Adjustable grip handle to fix various eating utensils
360 degree rotating hand held dishwasher (1,250K)
[Box thông tin shop] – Genk cheap dishwashers
.