Although accounting for nearly three-quarters of the Earth's surface, the ocean has always been a great mystery to mankind, and can make us excited with even the smallest discoveries. At the end of April, the Nautilus expedition ship accidentally found a mysterious yellow brick path on the seabed while exploring the Liliʻuokalani Ridge area, Pacific Ocean.
[Vietsub] Scientists have discovered a "yellow brick road" on the bottom of the Pacific Ocean.
"It feels like I'm standing in front of the road leading to Atlantis", said a member of the research team aboard the Nautilus. Indeed, a cracked dry brick pattern appearing in the middle of the ocean like this is an amazing phenomenon, but not without a logical and reasonable explanation.
The "yellow brick road" is said to be a layer of cobblestone, and is also a good example of volcanic geology that has been active on the ocean floor since ancient times. The researchers have now identified the "dry lake bed," which contains this pathway, as a faulted outflow of hyaloclastite (a volcanic rock that forms during high-energy eruptions, causing the rocks to settle. to the bottom of the sea). The man-made orthogonal cracks on this path may be the result of heating and cooling stresses from multiple successive eruptions.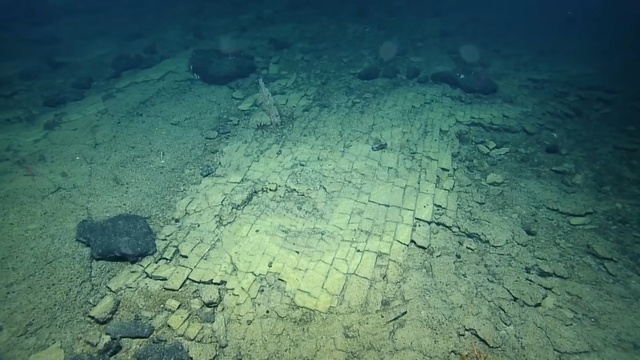 In addition, the researchers also want to explore this area of ​​the ocean that has never been surveyed to help scientists get a deeper and more detailed view of the natural life in the seabed ridges. .
They focused on the microbial communities residing in the ferromangan crust, found on the rock surface here; as well as how that crust varies across oceanic regions, and the impact it has on the microorganisms that live on and in them. These studies will help provide useful baseline information for management programs into ocean conservation.
According to nautiluslive

https://genk.vn/phat-hien-con-duong-gach-vang-bi-an-duoi-day-thai-binh-duong-cu-ngo-nhu-loi-vao-atlantis-20220511225641119.chn