FPT's biggest technology event of the year FPT Techday 2021 will take place online on December 2 and 3 with many activities around the theme "Comprehensive reconstruction, breakthrough in the Green Normal" (Thrive). in The Green Normal). In particular, the annual "Technology Arena" playground attracts the attention of thousands of young technology enthusiasts, in addition to the opportunity to experience exhibitions and seminars to share in-depth technology trends. .
'Technology arena' with prizes up to 1 billion dong
The "Technology Arena" was held with two competitions: Avengers Lockdown and Coder Gladiators, for young people from 12 to 25 years old, who know how to use one of the following programming languages: C#, C++, Java, Js, Go, Python. Here, candidates have the opportunity to rub their hands to affirm their technological capabilities and receive prizes with a total value of up to 1 billion VND.
In it, Avengers Lockdown will simulate the battle with the Covid-19 pandemic. Competition teams will program Bots to transform into "superheroes" with the task of participating in tracing infections to localize the epidemic, send for treatment, and trace contacts for centralized isolation. The final outcome depends on the number of people saved and the items found. Each team plays no more than 4 people, competes against opponents to find the winning team.
The winning team will receive VND 20 million in cash in the same year using FPT's AI and Cloud resources, worth VND 500 million. The second and third prizes have prizes of 10 and 5 million dong, respectively.
In the content of the Coder Gladiator, there are three exam tables for three subjects of middle school, high school and students to find out who has the ability to code fastest and most accurately on the topic from the organizers. Contestants participating in the matches will code on the CodeLearn platform to solve problems given by the organizers. The 150 contestants with the highest scores in qualifying in each group (groups of Middle School, High School and Students) will be placed in one of the two finals.
Gladiators register to compete directly at techday2021.fpt.com.vn for a chance to immediately receive attractive gifts.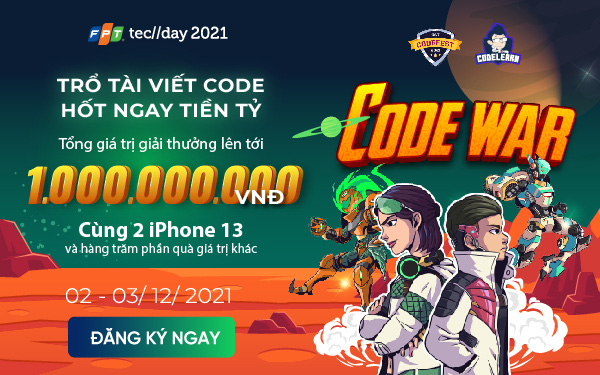 Technology arena with a total prize value of up to 1 billion VND
Experience the technology exhibition "Smart Green City"
The technology-loving community has the opportunity to fully access and experience a smart and safe city model during the pandemic, in the new context of the Green Normal – "living with the pandemic" in the exhibition category. technology on the online platform.
With the theme Green Smart City, viewers can witness the activities of governments, organizations, businesses and individuals' lives operating in a new way.
In particular, this city model rotates based on the core foundation of technology, through technology solutions and products, thereby, rebuilding the activities of fields, organizations and individuals – where everyone Things will be intelligently connected, proactively managed, flexibly responding and ensuring safety in all situations.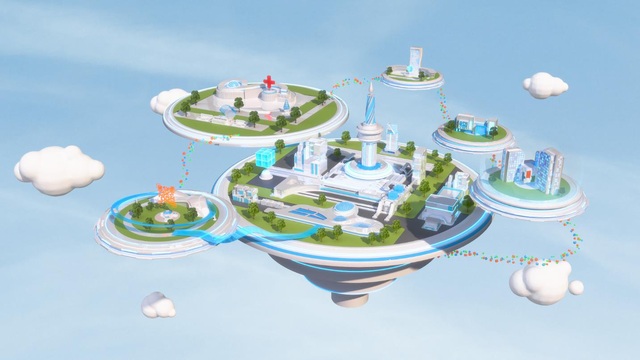 Experience the technology exhibition "Smart Green City"
In-depth seminar session on future technology trends
The conference gathered more than 50 speakers who are business leaders, consultants, leading technology experts at home and abroad such as Mr. Truong Gia Binh – Chairman of FPT Board of Directors; Mr. Nguyen Van Khoa – General Director of FPT Corporation; Mr. Nguyen Thanh Trung – CEO of Sky Mavis; Mr. Le Hong Viet – General Director of FPT Smart Cloud; Ms. Tran Thi Thanh Van – Deputy General Director in charge of Digital Transformation and Marketing of Goldsun Media Group; Mr. Yuichi Ui – VMware Multi-Cloud Architecture and Solution Strategy expert…
In which, in the main thematic session, Mr. Truong Gia Binh will present the Mission of Technology in Green Normal – Technology for Humanity. The main content includes: life-saving technology (AI chatbot supports tracing, consulting, collecting information about cases); strong business rescue technology (FPT eCovax); technology to help make economic breakthroughs (in Vietnam and globally) and technology to control the epidemic.
In addition, the seminars focused on deeply discussing technology trends and giving future directions for technology development such as Blockchain, AI, Cloud, etc. in many fields such as real estate, finance, and banking. , manufacture…
FPT Techday is an annual technology forum organized by FPT Corporation with the leading scale and stature in Vietnam. Holding a series of events in Vietnam since 2013, until now, FPT Techday has created a brand about the convergence of business trends and new technologies, which are summarized into lessons, experiences and solutions. Practices come from leading consultants and technology experts at home and abroad.
Through each event, FPT wishes to bring to attendees new perspectives on how technology can change, and how technology can help people unlock their potential in business and life.
.