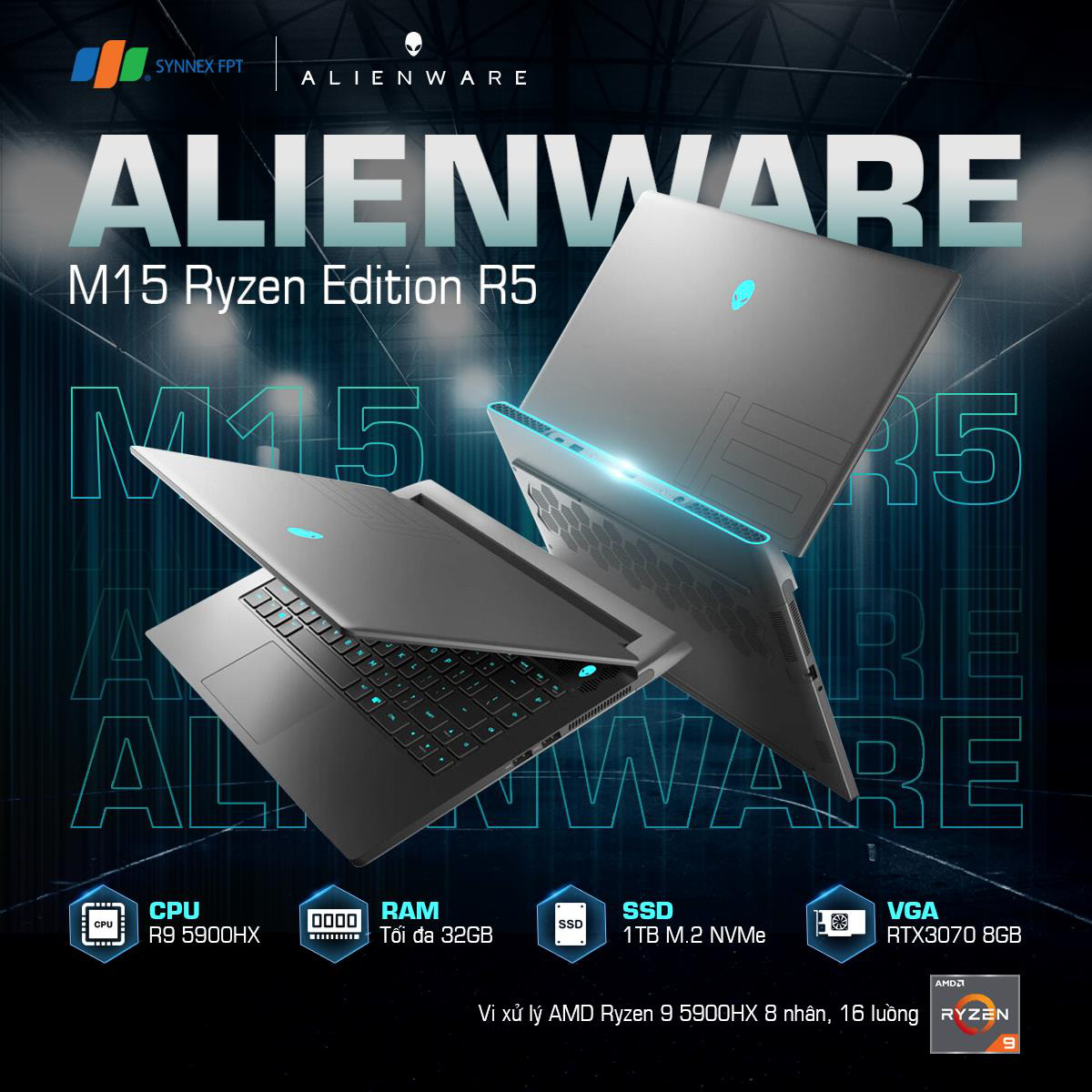 Design bold "universe"
Characteristic "spaceship" design with features such as honeycomb-shaped vents and RGB Led arrays stretching behind the machine. The case is much more durable with high-grade aluminum alloy and anti-fingerprint matte coating. The chassis is made of magnesium alloy material, very little flex phenomenon.
The M15 R5&R6 series currently only has 1 option of the Dark Gray color version, which is true to the name "Dark Moon" combined with the stylized "15" number to create an extremely luxurious style. Logo on the back of the device and the power button with RGB LEDs can be customized.
Performance – timelessly powerful
Dell Alienware M15 R5 marks the return of AMD with the 8-core – 16-thread Ryzen 9 5900HX with the new Zen 3 architecture and 7nm process for outstanding performance. While the Alienware M15 R6 uses the familiar but powerful Intel chipset, the famous Intel i7-11800H.
With graphics cards, both R5 and R6 use the extremely powerful RTX 3070 to help you easily "plow" today's heavy games such as Battlefield 2042, GTA V, Forza 5, Valorant, PUBG, Cyberpunk 2077 … at high levels. 1080p resolution with extremely high FPS. Even in the next few years, not many games will be able to challenge Alienware's M15 R5&R6 series
32GB RAM (max 64GB) and 1TB SSD hard drive let you save games and documents comfortably without worrying about running out of space.
Screen quality "top"
Alienware M15 R5 has a 165Hz refresh rate screen with integrated G-Sync – FHD resolution. This is an extremely "expensive" addition that Dell has for the R5 version. As for the R6, you will experience one of the top gaming laptop screens with a refresh rate of 360Hz FHD and 240Hz QHD.
You will immediately feel the difference in smoothness when experiencing. 100% sRGB color coverage and 400nits brightness ensure true and sharp colors, these are definitely the parameters of a monitor that any designer aspires to, gamers are immersed in the world game.
Complete keyboard and touchpad
The chiclet key feels extremely good typing with deep key travel (1.7mm), solid key frame, high bounce. The system is LED RBG each key and can be customized through the Alienware Command Center.
Particularly for the R6 version, you will have a Cherry MX Switch Ultra-low Profile mechanical keyboard with a key travel of up to 1.8mm and a pressing force of 65g that can "seduce" any gamer. And this is also a laptop under 100 million today with a mechanical keyboard.
The touchpad is a bit small, but perhaps this point is not too important for a gaming laptop. Dimensions 4.1×2.4 inches and covered with a layer of glass, feels quite smooth when swiping.
Connector
The number of ports is not much, just enough to use. 3 USB-A 3.2 Gen 1 ports; 1 USB-C 3.2 Gen 2 port and 1 HDMI 2.1 port (capable of 4K output at up to 120Hz); 1 RJ-45 LAN port and 3.5 combo headphone jack. And for the Intel chipset of the R6, a USB Type-C 3.2 Gen 2 port with Thunderbolt support is indispensable
The charging ports, HDMI, … are placed behind to help users not get tangled in wires, a very subtle improvement towards Dell's user experience.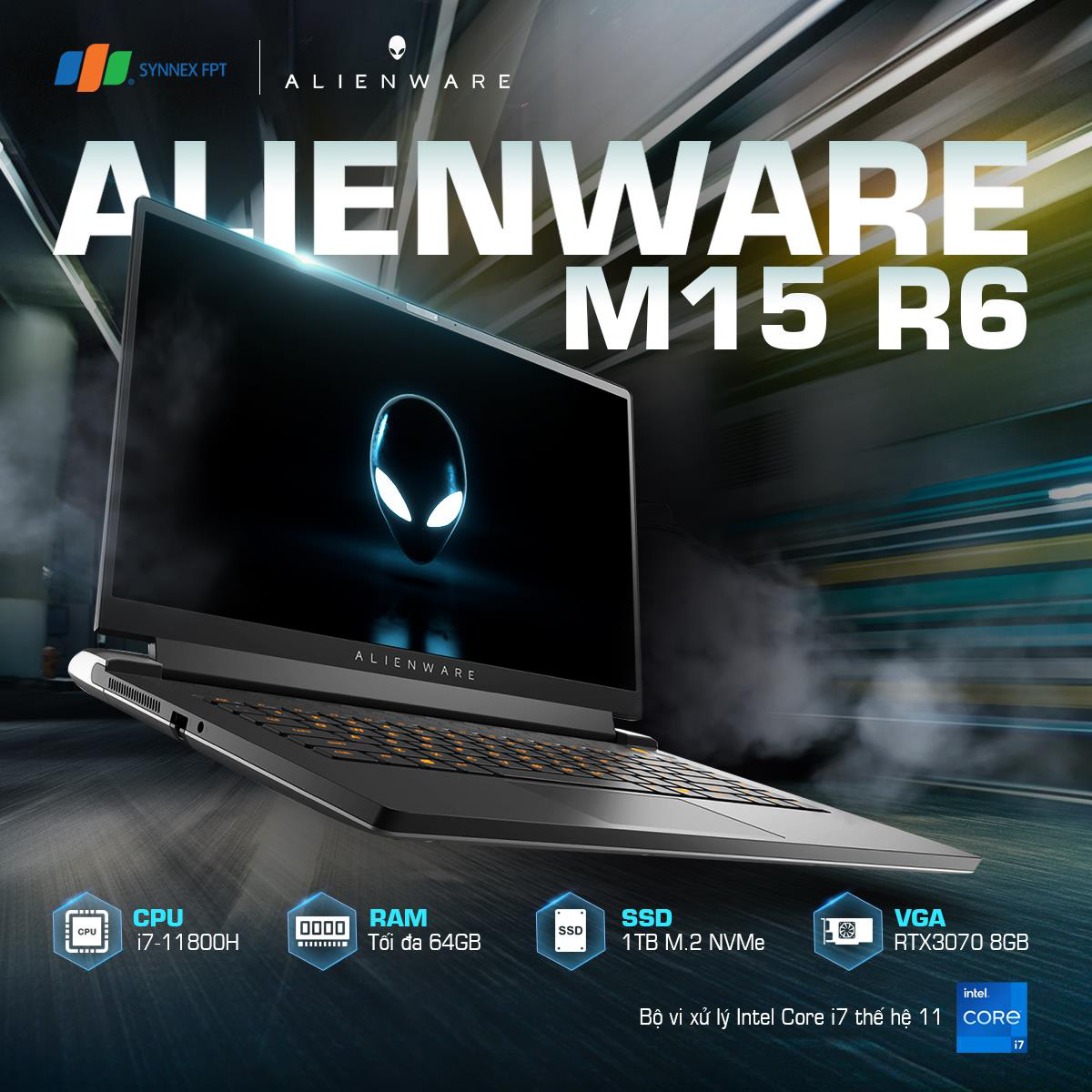 Significantly improved battery life
Still using the same 86Wh battery as its predecessor. However, the usage time of R5 and R6 has significantly improved thanks to the hardware using the newer process. Continuous video playback, web browsing over Wi-Fi at 150 nits brightness, the M15 R5 and R6 for up to 5 hours of battery life.
Cooling system
Equipped with a beautiful heat dissipation system, with a honeycomb design on the bottom of the back of the machine. Dual fans draw cool air from the top and bottom vents and simultaneously discharge it to the left, right, and rear vents for optimal cooling of components
However, with the above "terrorist" performance, it seems that it is still not enough. When used for a long time, the machine heats up about 80 degrees (up to 95 degrees when running at full capacity).
Conclude
Dell Alienware M15 R5&R6 deserves to be one of the best high-end gaming laptops today in Vietnam. The only downside is probably the rather high price tag. However, if you can fully exploit its performance, the Alienware M15 R5&R6 is the gaming laptop worth the "money".
.