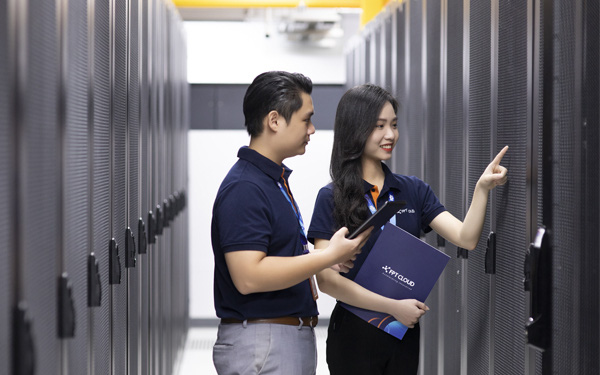 Finding solutions to the problem of mining and managing digital data for businesses
Every day, we receive a lot of information in many areas of life. However, we will only filter out necessary and useful information to save in different forms: letters, numbers, symbols, images, sounds,… That's called data ( data). An organized collection of data stored online in a computer system is called a database.
Managing and using Database seems simple, but in the digital age, businesses are facing many challenges. Data comes from many sources – mobile phones, computers, IoT devices… which increases the amount of structured and unstructured data rapidly. The current laws are constantly changing, requiring businesses to quickly adjust and expand the database to adapt. However, with traditional data management methods, it will be difficult for businesses to do that.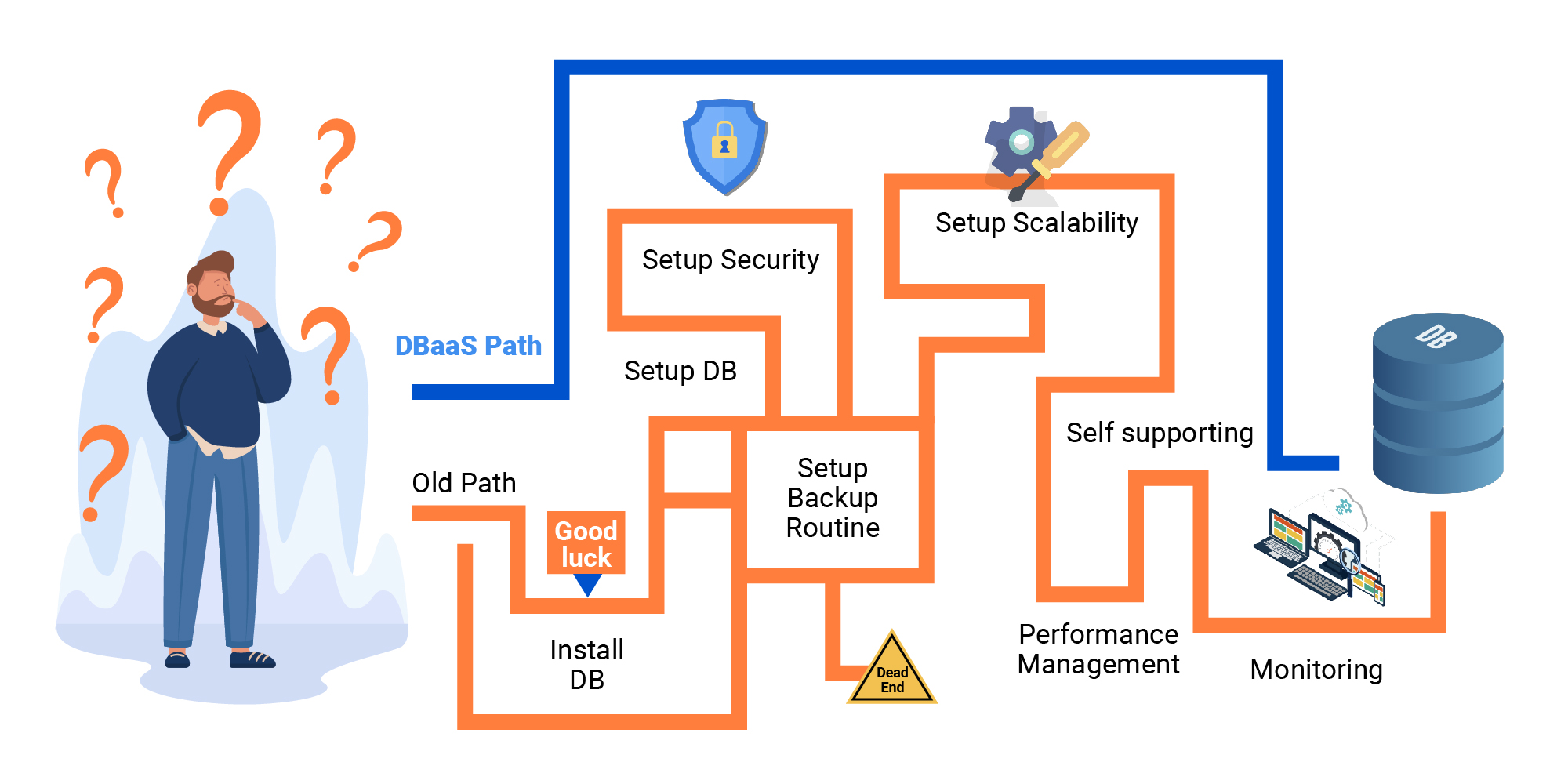 Describe traditional data management method (yellow line) and via Cloud service (blue line)
With the traditional approach, when users want to use and expand the database, they have to perform a series of complex operations from preparing hardware and software; install, configure, set up security for the database you want to use. In addition, users also have to prepare resources for: administration, monitoring, support when there is a problem or simply ensuring the data backup of the database.
From there, Database-as-a-Service (DBaaS), Database Engine, Cloud Database or Managed Database was born. These terms refer to cloud computing services (blue lines) that allow deployment customers to quickly build a fully automated database management system. Users do not need to install or hire staff to maintain the underlying technology layers. Database administration will be done with simple operations, allowing customers to focus their resources on application development.
Accompanying businesses on the journey to discover pioneering technologies
With the position of a leading Cloud provider in Vietnam thanks to its solid technology foundation, diverse product ecosystem and global connectivity, FPT Cloud has researched, developed and launched the service. FPT Database Services – A modern, powerful cloud-based database service designed specifically for businesses.
FPT Database Services is a cloud computing service that provides safe, secure, stable and high-performance databases (SQL/ noSQL) to customers, with 04 services including: In-Memory with Redis; relational databases with mySQL and PostgreSQL; noSQL database with MongoDB.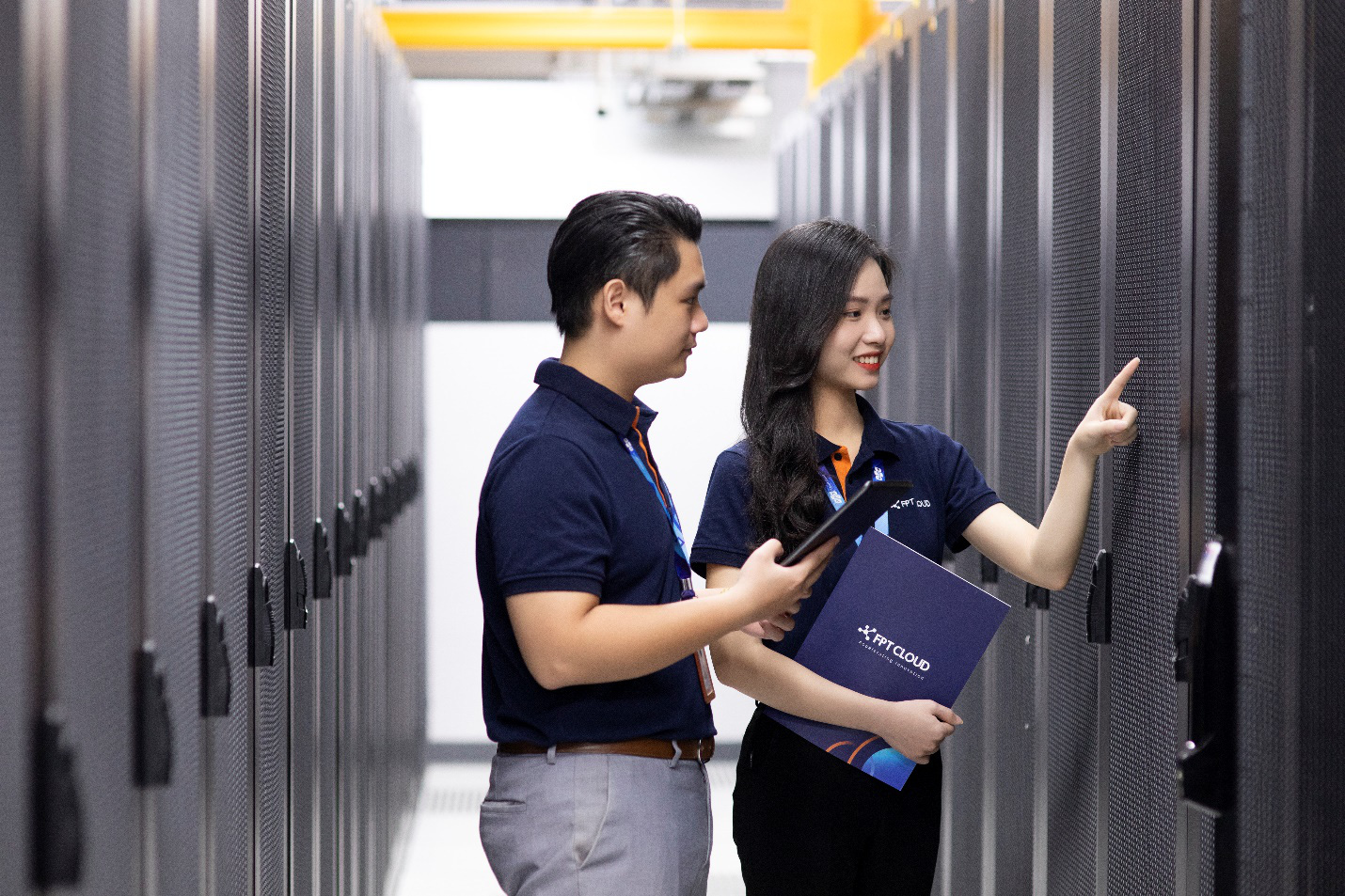 FPT Database Services – A modern, powerful cloud-based database service designed specifically for businesses
The FPT Database Services platform provides automated processes such as deployment, monitoring, storage, recovery, expansion, security, etc. With FPT Database Services, users do not need to have in-depth knowledge of the database to still be able to use it. can be easily used effectively, saving maintenance and operating costs of the system. Some of the salient features include:
Deploy quickly and easily: Automate the deployment and configuration of the database; integrated monitoring and warning of incidents. In just a few minutes your database will be installed, configured and optimized ready for use.
Flexible expansion: Create new, increase or decrease resources quickly (in minutes). Extend resources (hot-add) without affecting database operation.
High Availability: Manage point-in-time data backup and restore. In case of failure, the data processing will be transferred to the backup node.
High integration ability: Easily integrate with services, enterprise applications and other services in the ecosystem of FPT Cloud such as FPT Kubernetes Engine, FPT Storage services and FPT.AI.
On the occasion of the product launch, FPT Cloud launches the program "90 days of completely free experience with the full set of service features". Accordingly, customers who register during the promotion period will be free of cost: management for 1 Cluster in 03 months; store FPT Storage Services for 01 month; Cloud server service resources FPT Elastic Compute (CPU, RAM) for 01 month.
See more at: https://fptsmartcloud.vn/Yp9Wy
.