Share on Twitter social network, Tesla CEO Elon Musk said that Tesla may be directly involved and scale in the field of mining and refining lithium – an important component in battery production because of the cost of the battery. this metal has risen too high.
The Tesla CEO has commented that the price of lithium has increased like crazy while the element is not rare and is found almost everywhere on earth. The technology billionaire thinks that the problem is only in the speed of mining and refining.
According to Benchmark Mineral Intelligence, the price of this metal has increased by more than 480% in the last year.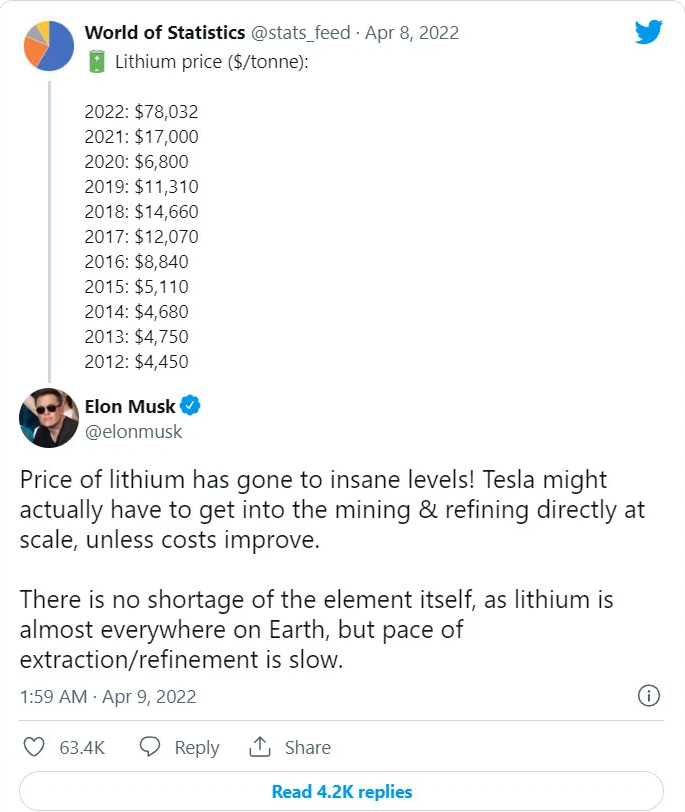 Lithium is a vital element in the battery industry, as it is the lightest and least dense metal, providing the highest power-to-weight ratio. Not only used in phone batteries or some portable electronic devices, lithium is also essential in the production of batteries for electric cars – a component that accounts for about one-third of the vehicle's cost, and is also a one of the factors that directly affects the competitiveness of an electric vehicle model in the market.
Earlier, in 2020, Tesla secured its own lithium mining rights in Nevada after a deal to buy a lithium mining company fell through. According to Fortune, Tesla is currently looking for partners specializing in this field.
https://cafef.vn/viec-gi-cung-den-tay-che-toc-do-khai-thac-lithium-qua-eo-uot-khien-gia-tang-dien-ro-elon-musk- tiet-lo-tesla-se-truc-tiep-khai-thac-va-tinh-che-lithium-20220410073430855.chn
https://cafef.vn/viec-gi-cung-den-tay-che-toc-do-khai-thac-lithium-qua-eo-uot-khien-gia-tang-dien-ro-elon-musk- tiet-lo-tesla-se-truc-tiep-khai-thac-va-tinh-che-lithium-20220410073430855.chn