In life, whether you are rich or not, it is always the right thing to try to save. There are many reasons why many people want to repair or modernize the electrical system in their home themselves, but one of the main purposes is to save money on calling a plumber.
If you don't have a certain amount of experience and knowledge, doing so will not only save you a lot of money, but it can even lead to breakdowns. There are errors that are easily fixed, while others will cost you quite a bit because every mistake costs cash!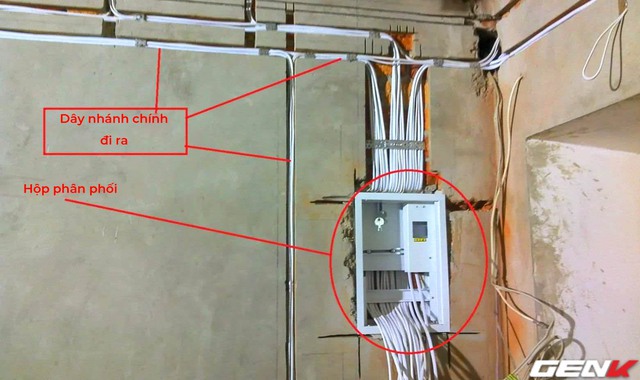 In this article, we'll tell you about the most common mistakes made by both beginners and some self-proclaimed "experts". After studying the errors presented below, you will know exactly how not to repeat that "trash".
Common mistakes when wiring
Attention! If you do not have theoretical knowledge and practical experience, it is best to entrust the work to experts (workers), and use the knowledge in this article as a reference to check your work. worker.
No detailed electrical wiring diagrams
This is the biggest mistake, most often encountered when building or repairing houses, especially from about ten years ago. Today, many people have learned that before starting to repair or install a new electrical system, it is necessary to have a detailed plan and draw the correct diagram. "I'll remember everything" excuses are never appropriate in this case. A detailed drawing will help you a lot in the future when you want to repair, upgrade safely, and most importantly, do not risk damaging the sunken wires, for example when you want to drill the wall to install shelves, install more sockets, etc.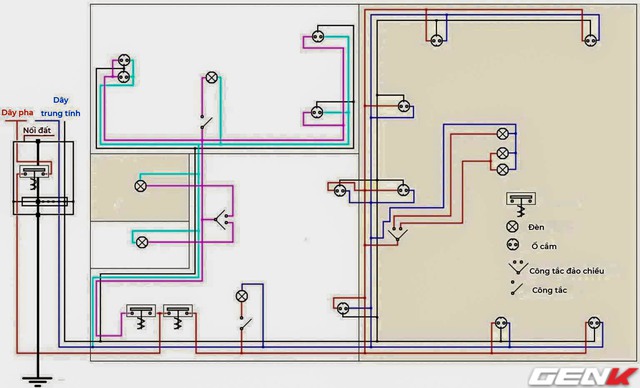 In addition, making such a diagram and planning allows you to calculate exactly how many outlets, switches, mounting boxes and wires will be needed. This means you won't be overbought, and thus save money.
Using wire with insufficient cross-section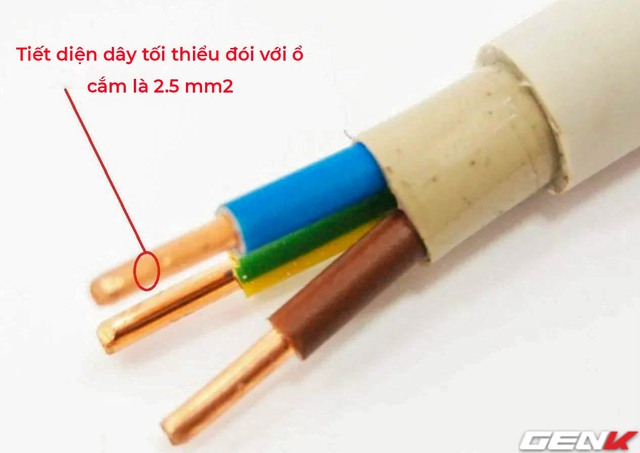 Remember common physics: The larger the load, the larger the cross-sectional requirements of the conductor. So, if you are planning to use a 1.5 mm2 core cross-sectional wire for the lighting system, you will need a 2.5 mm2 wire for the outlet.
Use aluminum wire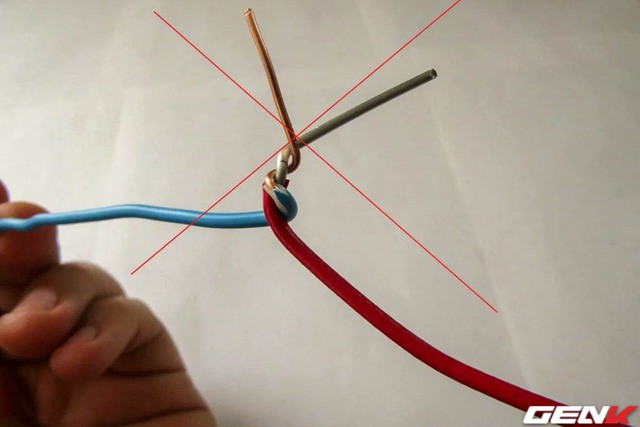 Don't forget: there's no room for aluminum core wires in the house. So if you are installing new wiring, use only copper wire. In case you are upgrading an old electrical system and cannot completely remove the aluminum wire (if any), do not try to do the usual twisting of copper and aluminum wires for 2 reasons:
1. The resistivity of aluminum wire and copper wire is different.
2. Aluminum wire is easy to be oxidized by air, the surface of aluminum wire forms an oxide layer, which will increase the contact resistance of the contact point between aluminum wire and copper wire. As current passes through this contact point, heat will rise at the junction and may cause a fire.
Improper separation of power lines
To connect large power consuming devices, for example, kettles, induction cookers or electric ovens, it is best to provide them with a separate power supply line from the main circuit breaker (or mains).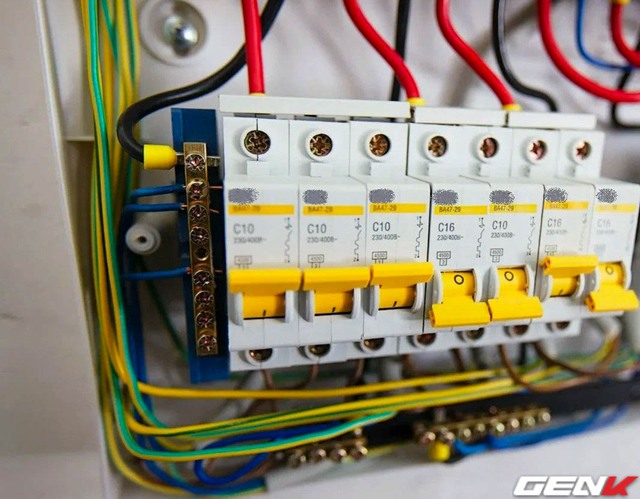 If you still decide to use what is available, for example a 1.5 mm2 cross-sectional wire as the outlet cord, in the event of a heavy load the power cord will begin to heat up. When the insulation is melted, a short circuit will occur and may result in a fire.
Do not use the connector
Another mistake is to abuse the twisted way to connect wires instead of using the prescribed methods. The most reliable way of wiring is a combination of twisting + soldering and pliers.
Personally, I still prefer to use the header join method because I think it is more reliable and easier to implement.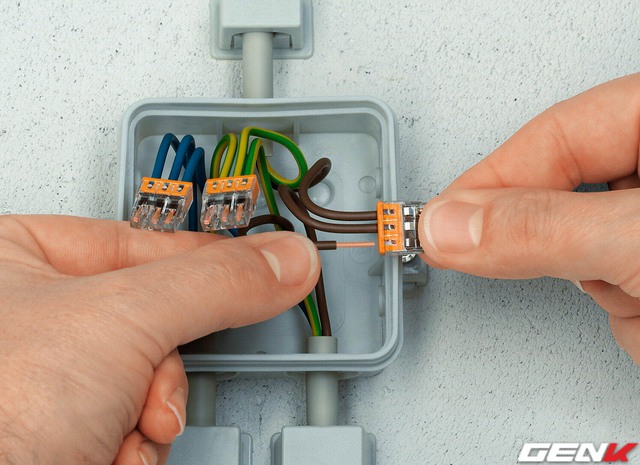 If the junction box is left open, the lighting service lines can be easily connected using WAGO quick-wire units.
Cross rope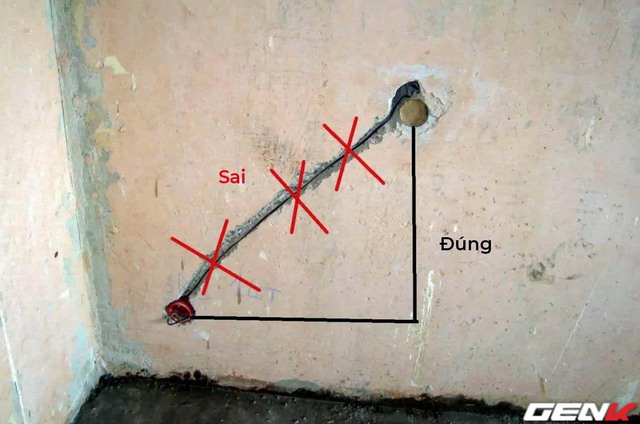 Some "garden experts" or those looking to save a lot of money may want to lay the wire diagonally. However, keep in mind that this is strictly prohibited. Wiring must be laid horizontally from the exit junction box, vertically to the sockets and switches.
Let the neutral wire go through the switch
This is a fatal mistake! In the case where the neutral wire (N) passes through the switch, when you do simple work without disconnecting the breaker because of laziness or being subjective (for example, changing a light bulb), you will be at risk of electric shock. So the principle is to only let the phase wire (L) pass through the switch.
Use an outlet in a wet room
If you install ordinary sockets in the bathroom, there is a high chance that after a while they will spark. This can cause protective devices such as circuit breakers or surge arresters to jump on their own.
Therefore, in rooms with high humidity, the sockets must also be of a special type of waterproofing.
Do not divide wiring into groups
"Why split the wires into groups? I just put in a circuit breaker and that's it".
This thinking is really crap, and at times it will make you regret it. If you are doing the wiring from scratch, never save money with a total box.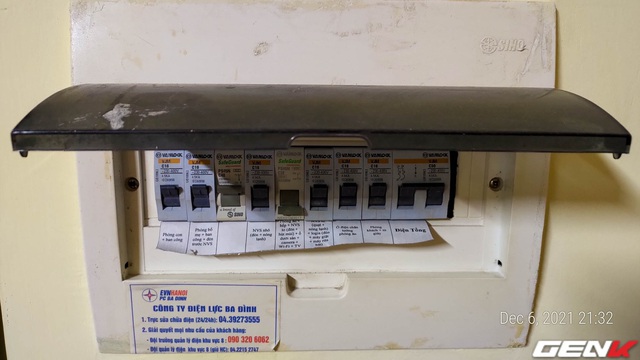 At the very least, you will need to separate the wires into separate lighting and socket groups. When you need to change an outlet, you'll thank yourself because you don't have to carry a flashlight or do everything in the dark.
Save money buying a knife
Do not choose to buy a circuit breaker (cooling circuit breaker) according to the criterion: "we'll get it if it's cheaper". Better yet, choose a circuit breaker from a trusted manufacturer and buy it from a reputable dealer. With safety issues, never regret money.
Conclude
Above is all I want to tell you about the most common mistakes when working with electrical wiring. Remember them and do it right, maybe one day they will help you save your money and even your life!
.