Tomorrow (December 19), BKAV will officially launch a new generation of Bphone in the A series, including three models of Bphone A40, A50 and A60. This is a low-cost and mid-range machine, manufactured under the ODM model, which means that BKAV will not directly design and manufacture but assign it to another unit to implement.
Due to the lower segment, Bphone A series will be cut with some features compared to high-end Bphone Bphone, for example, removing the monolithic aluminum frame, no water resistance, perforated screen instead of bottoming, use MediaTek chip instead of Snapdragon.
In return, Bphone A series will inherit many software technologies, especially security features. Through the BMS software suite (BKAV Mobile Security), Bphone A series will have features such as anti-theft, anti-spam messages, anti-bank fraud… BKAV CEO stated these are features "practical for users that even other brands' flagships do not have".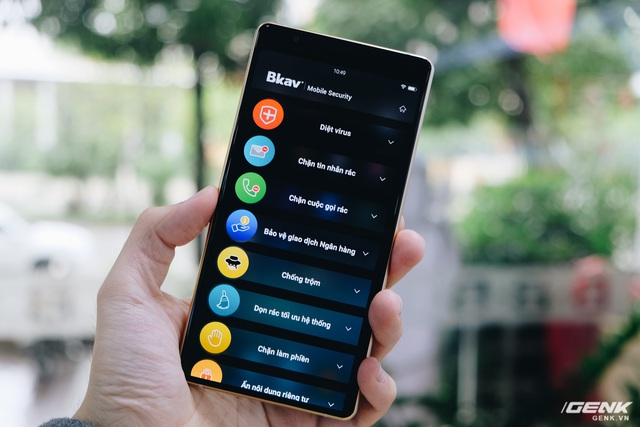 Recently, on social networks, BKAV CEO Nguyen Tu Quang continued to have an article to emphasize the security features of Bphone A series, especially the anti-theft ability. BKAV CEO continues to affirm these features are "world top luxury", "no other company has", "even when buying flagship devices costing up to thousands of dollars, they still can't get it".
As promised, we bring HIGH-QUALITY TECHNOLOGIES found only in flagship phones, into Bphone A series. Today I introduce to you the security and anti-theft features of Bphone A40.
By Integrating security technologies deeply into the hardware of the device, Bphones become invulnerable. The bad guy holding the phone can't use it, can't control the device even after restoring the factory settings (factory reset).
Therefore, in case the machine is lost, and the owner issues a lock order, the machine will be considered as a "paperweight" and cannot be sold to shops selling stolen goods. At this time, the only way is to contact and return the device to the server.
Thanks to such special anti-theft technology, up to 89% of customers find their lost device. Stories like lost Bphone, traveling to 3 different provinces, the last person holding the phone contacted the owner to return it, have become not strange to Bphone users.
We are proud to equip the world's leading premium feature, NO OTHER can get this for Bphone A40 which will be released tomorrow.
As a manufacturer of cybersecurity software, we strive to protect our customers as much as possible. Therefore, in addition to effective anti-theft, Bphone A40 is also equipped with the following protective shields:
+ Protect banking transactions:
o Automatically detect bank account hijacking malware
o Block fake banking Brandname messages.
+ Block spam messages
o Smart Filter, automatically block spam messages with a rate close to 100%
+ Virus removal
o Real-time protection
o Smart Scan technology, using AI to detect viruses without updating the identification pattern.
Owning EFFICIENT TECHNOLOGY in many fields, helps us to bring maximum benefits to customers, even when buying mid-range devices like Bphone A40, A50, A60.
These benefits even when buying flagship devices costing up to thousands of dollars are still not available.
Previously, according to CEO Nguyen Tu Quang, Bphone A40 will own a configuration including MediaTek Helio G85 chip, 4GB RAM, 64GB internal memory, 6.7-inch Full HD + screen, 4 cameras, 5000mAh battery that supports fast charging 18W. It runs BOS with anti-theft security, AI computational photography, and full gesture control. The machine will cost from 4.5 to 6.5 million.
The launch event of Bphone A series will take place at 6pm on December 19, and will be livestreamed by BKAV on many different platforms. This event will have the participation of comedian Xuan Bac.
.