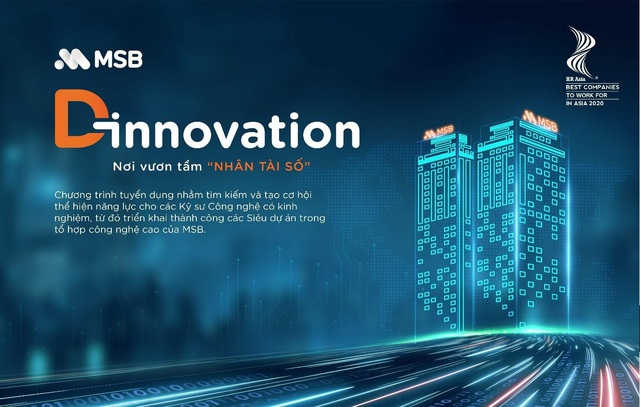 Recruitment demand is increasing day by day
According to TopDev's report on Vietnam's IT market, it is estimated that the IT labor market in 2021 will have 117,180 jobs, an increase of 36.5% compared to 2020. IT becomes a "thirst" industry for human resources, occupying the leading position. spearhead in recruitment of many companies.
In fact, not only units directly related to technology, but many organizations in other fields are building separate technology platforms. Typically, in June, Vietnam Maritime Commercial Joint Stock Bank (MSB) officially launched the Digital Factory project with an investment of approximately 2,000 billion VND with strategic advice from BCG Group. . This bank also "aggressively" upgraded the Core Banking system to the most modern version when shaking hands with Temenos. These two projects have pushed MSB to increase the recruitment of high-quality IT human resources with the number of up to hundreds of positions.
Besides, MSB's representative also shared that MSB is expanding the candidate search market by placing "technology hubs" in 3 key cities: Hanoi, Da Nang, and Ho Chi Minh. This is considered a fairly new strategy in the banking industry today, because most parties often focus on recruiting at the Head Office. Particularly, Da Nang with a high proportion of Dev & Test candidates is one of the "fertile" lands for MSB to invest. This is considered a "shortcut" action for MSB to soon complete its digital talent team.
Attractive salary and benefits
Stemming from recruitment demand and industry trends, the income of IT personnel is very attractive. According to a report from Topdev, mid-senior positions (employees with 2-4 years of experience) and Senior (senior specialists with 5 years of experience) can receive salaries ranging from $1,340 per month, equivalent to more than 30 million. Mid-level managers can receive a salary of approximately 2,400 USD (about 55 million VND).
Typically, last September, MSB activated MSB D-Innovation – The largest recruitment program in the field of information technology and data science in 2021. MSB is committed to bringing an attractive salary and bonus regime to the employees. for project participants. This is considered a move for the bank to attract "digital talent" by offering a salary that is superior to the current market average and commensurate with the candidate's capacity.
Besides the income from 15-18 months salary/year, MSB also owns a very diverse employee welfare policy. Mr. Nguyen Ngoc Cuong – Human Resources Director of MSB said: "Human resources in general and digital talent in particular are valuable resources for any organization. Therefore, we not only recruit, train, and work with us. The bank's goal is for employees to be "healthy" both physically and mentally, to join hands to bring digital transformation culture into the DNA of MSB".
Which environment should I choose to engage in?
The IT industry has a common ground for good income, however, due to the great recruitment demand, choosing which unit to work for becomes a "headache" for many candidates.
Currently, many units are promoting the construction of technology platforms in the direction of autonomy. It can be seen that in the case of MSB, this bank is building a methodical strategy, making technology a "backbone" factor, bringing breakthrough profits. With the companion from BCG, Temenos, IBM or McKinsey, it is undeniable that the great benefits that candidates can reap when joining MSB.
It is known that with excellent candidates, MSB will coordinate to build an appropriate career path through the Talent Pool program, creating momentum for candidates to promote their highest capacity, soon achieve their goals. to the desired career position. In particular, with the companionship of famous training units, the opportunity to own new experiences and valuable national and international certificates is completely "within reach" for MSB technology personnel.
Recently, MSB was honored by HR Asia Magazine as one of "Asia's Best Places to Work for 2021", based on its outstanding personnel policy, attractive remuneration, effective working environment, and high productivity. dynamics and internal culture that engages employees.
It can be seen that information technology is an industry with a lot of potential for development, however, choosing a unit to accompany is a factor that needs careful consideration. In addition to the income, the candidate should comprehensively evaluate many factors such as the nature of the job, the environment, the development ability and the remuneration of that unit to make an accurate decision.
.