1. What is nearsightedness? Causes and symptoms of nearsightedness need to know
Nearsightedness is simply defined as the inability to see distant objects clearly, but only close objects. Depending on the degree of nearsightedness that the patient has, the distance that can clearly see objects is different.
The exact cause of myopia is unknown, but this refractive error is thought to be the result of a combination of genetic and environmental factors that disrupt the normal development of the eye.
According to the World Health Organization, myopia affects about 30% of the world's population. This number is expected to increase to 50% by 2050, and researchers say the main cause of this situation is children staying indoors too much.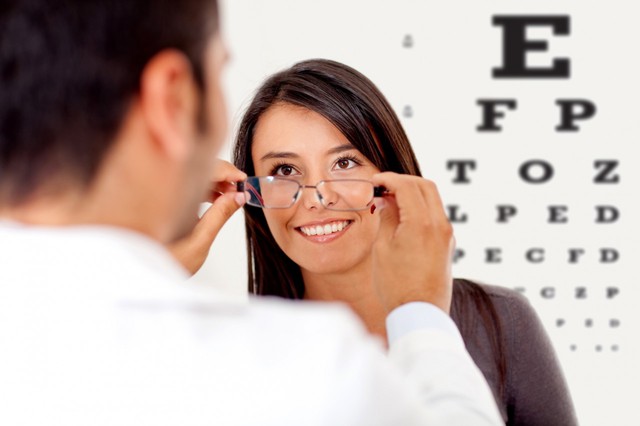 Read more:
– How to make my eyes stop protruding? Ways to make eyes stop bulging when nearsighted
Distinguish between nearsightedness and farsightedness: What is the difference between nearsightedness and farsightedness?
In Vietnam, according to statistics of the Central Eye Institute in 2016, 50% of students are nearsighted. This metric has certainly been growing and could hit the 80% mark.
Between the ages of 6 and 13 children can begin to develop nearsightedness. During this age, children's bodies grow rapidly, so myopia can get worse. Besides, myopia can also occur in adults.
Signs that your child may be nearsighted include:
– need to sit near the front of the class at school because they find it difficult to read the blackboard
– sit near the TV
– complain of headache or eye strain
– rub your eyes often
2. Can myopia be reduced?
Surely many of you wonder if myopia can be reduced?
The answer is that we cannot reduce myopia but can only control myopia, that is, keep myopia from increasing or prolong the time the eyes increase myopia.
As mentioned above, myopia in children tends to get worse as they get older. If we develop myopia at a younger age, vision will decline more rapidly and more severely in adulthood. Myopia usually stops getting worse around age 20.
There is currently no treatment that can reduce myopia. But the process of hyperopia can be slowed down with the use of special eye drops or contact lenses. Research has shown that eye drops can slow the progression of nearsightedness, but it can cause intense side effects (such as difficulty reading and sensitivity to glare).
Orthopedic and bifocal contact lenses can also slow the progression of nearsightedness in children, but not as much as eye drops, and they carry small risks.
3. Methods to overcome and cure myopia
3.1. Bespectacled
Wearing glasses is a common remedy for nearsightedness. Wearing the right glasses for your nearsightedness will ensure that light is focused on the back of the eye (retina) correctly so that distant objects are not blurred. The thickness and weight of the lenses you need will depend on your nearsightedness.
Your vision usually changes as you age, so you may need to use two pairs of glasses at that time: one pair for up-close activities such as reading and the other for distance activities, for example. like watching television.
Some people prefer to use bifocals that allow them to see both near and far objects clearly without needing to change their glasses. You can also use multifocal lenses that help you see close objects and objects at medium and far distances.
3.2. Wear contact lenses (lens)
Contact lenses can also be used to correct vision in the same way as eyeglasses. The advantage of contact lenses is that they are light and almost invisible, so some people will prefer to wear contact lenses over myopia.
There are different types of contact lenses. You can wear it once or reuse it after carefully cleaning it with a specialized solution.
Note when using contact lenses that you should not wear them overnight and always need to keep them clean to avoid causing eye infections.
3.3. Laser eye surgery
Laser eye surgery helps to correct myopia, but not everyone with myopia can have eye surgery.
You should not have laser eye surgery if you are under the age of 21 because at this age your vision may still be developing. Even if you're over 21 years old, laser eye surgery should only be done if you haven't changed your glasses or contact lenses in the last 2 years.
Hope readers have got the answer to the question "Can myopia be reduced?". We cannot reduce myopia but can only slow down the process of increasing myopia and cure myopia by laser surgery. To avoid myopia, you should avoid watching electronic devices for too long, work and study in a well-lit place and eat foods rich in vitamin A that are good for your eyes.
References: Mayoclinic, NHS.uk

https://genk.vn/can-thi-co-giam-do-duoc-khong-cach-lam-cham-qua-trinh-tang-do-can-20211201171410133.chn
.