On April 10, US time, Twitter CEO Parag Agrawal announced that Mr. Musk had decided not to join the board of this social network.
Revealing that he owns 9.2% of Twitter shares just a few days ago, Elon Musk has been offered a seat on the company's board and this will take effect on April 9. But the CEO of Tesla and SpaceX turned down that opportunity, according to Parag Agrawal.
Parag Agarwal shared a lengthy post on Twitter where he gave details of what happened. "Elon has decided not to join our board. Here's what I can say more about the matter," he announced.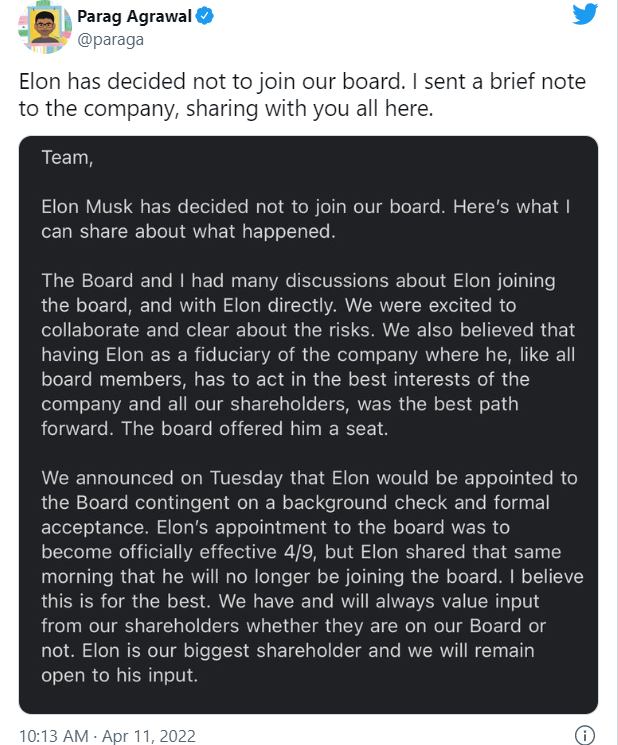 "The Twitter board and I have had many discussions about Elon joining the board, and directly with Elon. We are excited to cooperate and clarify about the risks. We also believe that there is Elon as a trustee of the company where he, like all board members, must act in the best interests of the company and all of our shareholders. best way forward The board of directors offered him a seat.
We have announced that Elon Musk's appointment to the board is subject to a background check and formal acceptance. The appointment of Elon to the board of directors officially took effect on April 9, but Elon also shared that morning that he will no longer be on the board," Twitter CEO said. .
Parag Agarwal added: "I believe this is for the best. We have and will always value input from our shareholders whether they are on the board or not. Elon is the largest shareholder. ours and we will always be open to his input.
There will be distractions ahead, but our goals and priorities remain unchanged. The decisions we make and how we execute are in our hands, no one else's. Let's cut out the noise and focus on the work and what we're building."
Earlier, many Twitter employees expressed frustration on internal newsletters about Elon Musk joining the board, worried that he would destroy the company's culture and make it difficult for them to get their work done.
On April 9, Elon Musk proposed changes to the paid subscription service Twitter Blue, including discounts, banning ads and introducing the option to pay with the dogecoin cryptocurrency.
On April 10, Elon Musk opened a poll asking users to vote whether Twitter's headquarters in San Francisco, California, USA should be converted into a shelter for the homeless because very few employees. staff working there during the pandemic. The poll garnered more than 1.9 million votes in less than a day, with 91.3% agreeing. Even Elon Musk's competitor, Jeff Bezos, endorsed the idea.
Another Elon Musk poll asked whether the "w" should be removed from Twitter's name, leaving two voting options "yes" and "of course". To date, more than 1,805 million votes with 57.4% choosing yes.
While not on the board, Musk is still Twitter's largest shareholder. Some suggested that he refused because he did not want to be limited in the number of shares he could own. If he sat on the Twitter board seat, he would not have held more than 14.9% of the company's stock during this time period. Theoretically, Mr. Elon Musk can increase the existing shares by 9% above the above limit.
Reference: CNBC