Once again, football fans have the opportunity to explode with the National Team at the AFF season. Designated as the official smart TV at the AFF Suzuki Cup 2020, coocaa TV aims to bring many opportunities to interact with millions of football fans across the country.
To fuel the national team's fire on the podium and share memorable moments with fans in the biggest tournament in Southeast Asia, coocaa launches the campaign "Guess the champion, coocaa TV order refund" on 12/12 to stir up the passionate, inspiring atmosphere of the king sport with more fans. By accompanying the AFF Suzuki Cup 2020, coocaa hopes to bring exciting moments to football fans and work together to prepare for this prestigious tournament.
As one of the super products that receive a lot of attention from consumers, S6G Pro Max and S6G Pro Silver are equipped with a large 4K HD screen and hands-free voice control function in Vietnamese. With modern technology features and reasonable prices, coocaa TV's two super products are dubbed "Champion's TV Series".
With coocaa TV exploding the football fever "Guess the champion, coocaa TV refunds the order", consumers will have the opportunity to receive their order refund on 12/12 and fully enjoy the moment. there is "1-0-2" of AFF CUP 2020.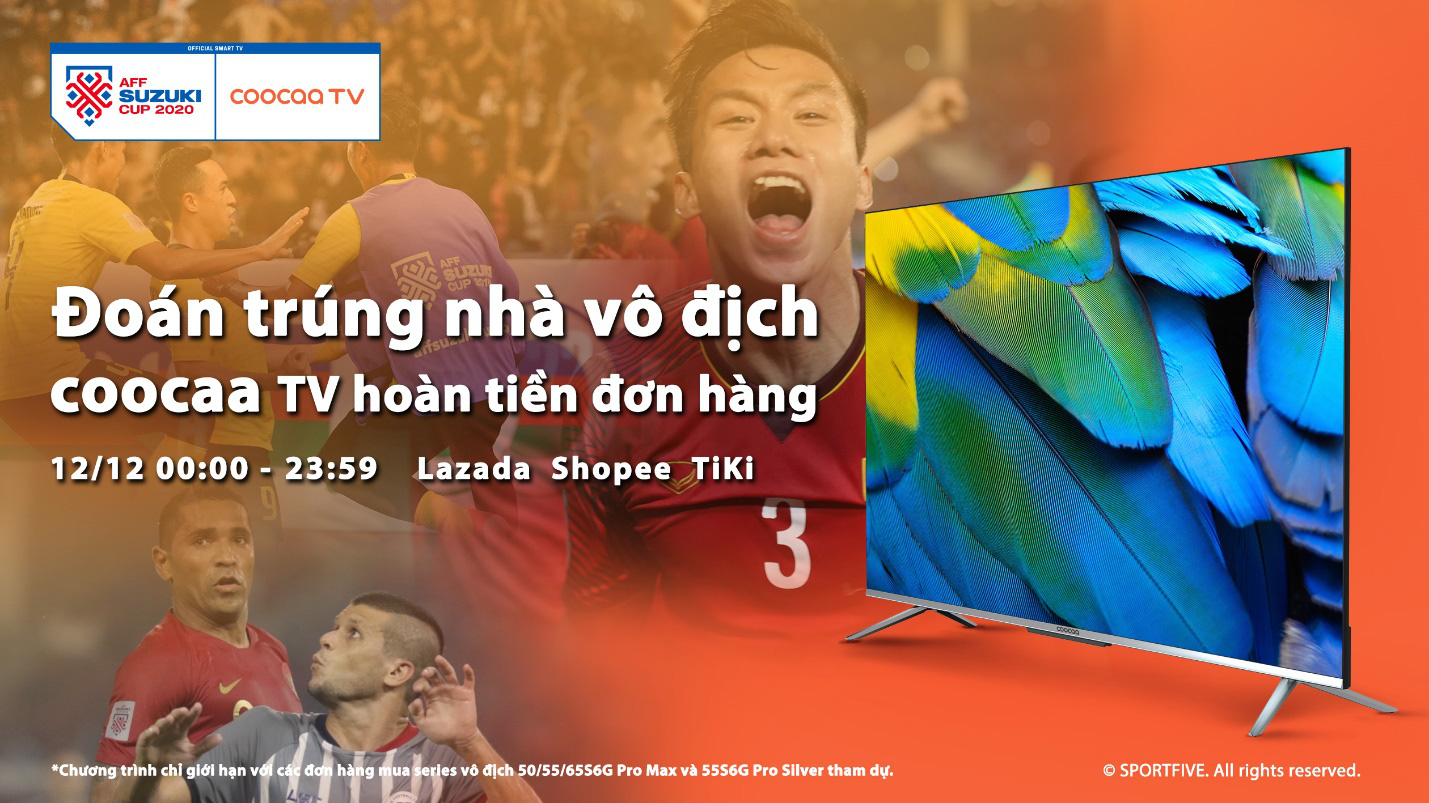 Enjoy the moment of AFF CUP 2020 here: https://bit.ly/3I7qvh4
Football is a king sport with the love of millions of people around the world. Through football, solidarity, teamwork, and smooth coordination among members can be seen. It can be said that few sports have as diverse a number of fans and participants as football. Also because of the same passion, that community is closer together. Understanding the importance of this sport, coocaa offers a lot of exciting activities such as inviting football fans to Cool Bar to watch AFF SUZUKI CUP 2020 together and participate in a series of fun activities. Notably, the famous singer Quan AP also participated in this activity, making the activity more responsive and spreading on the Internet. And yet, coocaa also organized a parade "Coocaa Knights – bring the champion back" on the streets of Vietnam; coocaa also released the video "Vietnam – Road to Glory" to give more strength and cheer for the National Team to win the championship at AFF… All of coocaa's community activities are of great interest. from many artists and communities brought by the attraction, fun, entertainment and contributed to bring intense emotions, sublimation for fans for this king sport.
It must be said that coocaa, as the official smart TV brand of the AFF Suzuki Cup 2020, coocaa TV always listens to customers' opinions to bring high-quality, affordable TV products that meet the needs of customers. needs of Vietnamese consumers, especially the young generation who are discovering a smart lifestyle through technology and the Internet. With outstanding advantages, coocaa TV deserves to be called "the pioneering smart TV for the young generation".
In order for fans to have the best football experience and fuel the AFF CUP 2020, coocaa has launched a lot of offers on 12/12 as a gift for fans of the National Team. Vietnam in particular and the audience love football in general. This year-end super promotion festival is about to start on December 12, so hurry up so you don't miss the opportunity to own this super smart TV product.
Facebook: https://www.facebook.com/coocaa.official/
Instagram: https://www.instagram.com/coocaavietnam/?hl=en
Information about cocoa
coocaa is a leading supplier of smart TVs, R&D systems and content operating systems. The brand always strives to help customers around the world "Discover, experience, create". Founded in 2006, coocaa has operations throughout Europe, India and Southeast Asia. With its mission to promote smart lifestyles through its innovative technology, coocaa is committed to developing smart products and sophisticated designs and to meet the needs of the younger generation.
COOCAA TV – AFF SUZUKI CUP 2020 Official Smart TV
#RivalriesNeverDie #coocaaTV #AFFSukiCup2020OfficialSmartTV
.