Recently, BKAV CEO Nguyen Tu Quang sparked a big controversy in the Vietnamese technology world when publicly criticizing some domestic technology reviewers. The incident started earlier this week, when BKAV opened the sale of AirB and AirB Pro headphones and some reviewers posted reviews on media channels. Most of these reviews say that the AirB has not achieved what BKAV advertises, especially in terms of sound quality and level of perfection.
BKAV CEO said that these reviewers are "not qualified", evaluate products "according to what the manufacturer gives them" and "receive a lot of money, often tend to say well". Quang also announced that his company will stop cooperating with reviewers from this year.
Although criticizing domestic reviewers, however, not everyone knows that BKAV itself is operating a technology review website in Vietnam with the address VNReview.vn. The footer of VNReview clearly states that this website is under the management of Bkav Joint Stock Company, headquartered at Building HH1 Yen Hoa Urban Area, Cau Giay District, Hanoi; is also the "headquarters" of this company. On Bphone phones, VNReview is also one of the websites stored by BKAV in the Bookmarks section of the browser.

Not long ago, VNReview posted a review of the AirB Pro headset produced by the parent company BKAV. Currently, besides BKAV, there are few other manufacturers in the world that operate a product review website, let alone evaluate their own products.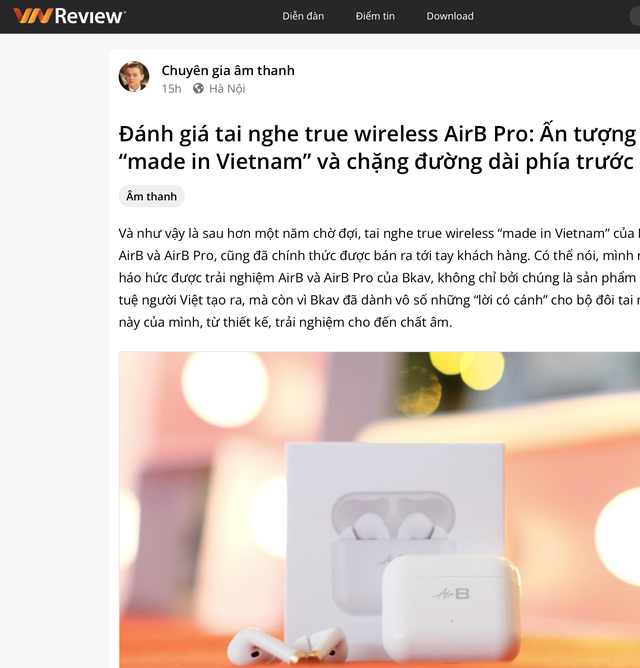 Here, we would like to quote some of the main points from the AirB Pro review entitled "Evaluation of true wireless AirB Pro headphones: Impressive "made in Vietnam" and a long road ahead" by the author "Audio expert" from VnReview. Let's see, what happens when BKAV evaluates its own products?
Design
First of all, I want to talk about a surprise gift inside the box of this headset. It is a thank you card from CEO Nguyen Tu Quang himself for customers who have "grounded" AirB and AirB Pro. Not only contributing to support, "laying the foundation" is also a way for users to show their trust in Bkav, and I think that means a lot to Mr. Quang personally and the development team of AirB and AirB Pro. .
The design of AirB and AirB Pro is identical, only the tail of the AirB Pro headset is gold-plated, and the AirB is silver. Bkav's pair of true wireless headphones have many similarities with Apple's AirPods. It is normal for brands to have similar design products, especially with true wireless headphones because there are only so many form-factors around.
AirB Pro's charging box is made of glossy plastic, light to hold but still firm, the joints are well-finished, with no redundant details. The AirB logo placed on the front of the charging case has changed compared to when these headphones were introduced last year, with the word "Air" written in a softer, stylized way. The corners of the charging box are curved, weighing only 32g, so it will fit in your jeans pocket.
AirB and AirB Pro are the first true wireless headphones to use a hinge made of flexible TPU "80 Shore". Commonly used in professional sports gear, this flexible plastic gives the AirB Pro hinge exceptional durability. Combined with an automatic magnet mechanism, the hinged cover will automatically return to its original position no matter how much twisting or twisting it is.
Durability, I do not dare to confirm because I have only experienced it for more than 5 days, but one thing is for sure that AirB Pro will be more durable than other charging boxes using traditional hinges, they cannot survive if I twist, screw the lid of the charging case like I did with the AirB Pro. If you are still not sure, Bkav claims to provide a 5-year warranty for this hinge.
Active noise cancellation (ANC)
In practical experience, ANC is clearly effective even when the music is not turned on. The sounds such as the conversation between two colleagues in the room, the typing of the keyboard, etc. have been almost eliminated. Turning on the music at 50%-60% of the volume, I was immersed in my own world, not hearing anything around me anymore.
Contrary to ANC, the crosstalk feature is what helps us hear outside sounds even when wearing headphones. AirB Pro does this very well, I can hear my colleagues or boss calling in the room as clearly as if they were calling in front of me.
Sound quality
Treble, in my opinion, is the weakest link of AirB Pro when it is not really airy, partly because of the warm mid-range and dark sky. The soundstage of the AirB Pro is like a narrow one, sometimes creating a feeling of being cramped.
In terms of sound quality, AirB Pro has a balanced overall sound quality in the full range, an orientation that Bkav has made very clear from the beginning. The bass of AirB Pro has power, hits firmly and neatly, the volume is just enough, the bassheads will feel the sub-bass is a bit shallow, but I think Bkav's development engineers have controlled it very well. The youthful, healthy youth in Avicii's The Nights is vividly reproduced through AirB Pro, enough for you to bring yourself to the rhythm of the song.
The mid range of AirB Pro is thick, warm, rich in detail. The powerful voice of Dan Reynolds (Imagine Dragons) in Enemy becomes full of bitterness, so that you can clearly feel the despair of "alone against the world" like the way the main character in the movie Arcane experienced. . But tenors like Bang Kieu, Bui Anh Tuan seem to still be missing something, have not satisfied their expectations.
Conclude
After experiencing AirB Pro, I can say the user's wait is worth it. Noise cancellation and sound quality are the brightest points of AirB Pro, but things like durable plastic hinges or comfortable wearing also show that Bkav really cares about the user experience.
However, AirB Pro still has things that can be improved. Users have not been able to assign functions to touch operations, volume control, equalizer is still small, not for manual adjustment. In terms of sound quality, treble is currently the weakest link of AirB Pro, a more airy soundstage is something Bkav should consider if developing the AirB 2 generation. AirB Pro makes certain impressions, but the road is waiting for Bkav the front is still very long.
Read the full AirB review by VnReview/BKAV here.
.