Nguyen Tu Quang has just announced on his personal page about the launch ceremony of Bphone A40, A50, A60.
Accordingly, BKAV CEO will try his hand at the role of a salesman on livestream for the first time, with the participation of Meritorious Artist Xuan Bac on the evening of December 19.
In addition to the livestream on Bphone's main channels (Facebook, Youtube), the ceremony is also broadcast on channels of VTV24 News Center.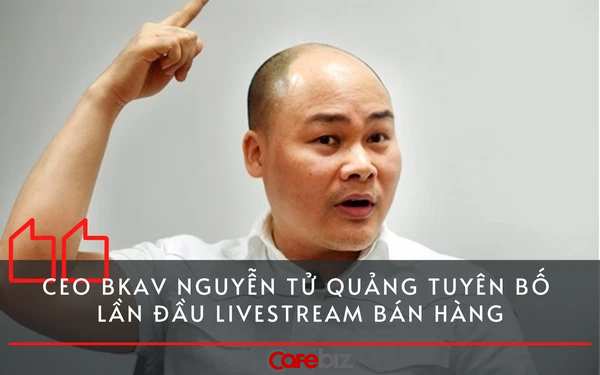 The distribution units that cooperate to broadcast live include Hoang Ha, Viet Mobile, Clickbuy, Bach Long Mobile, The World No. 260, Dai Hoang Gia, NO name of the giant CellphoneS – the unit is entangled around the headset with the headset. BKAV a while ago.
The controversy between BKAV and CellphoneS around the AirB and AirB Pro headphones was thought to be smooth when the name CellphoneS re-appeared in the list of distributors of the aforementioned headphone line. However, conflicts between BKAV and reviewers continued to break out, typically between BKAV CEO Nguyen Tu Quang and reviewer Tan Mot Cu.
After the headset product was criticized by a few reviewers, the CEO of BKAV said that the majority of "reviewers" are not qualified, live on technology manufacturers and directly, or indirectly Get paid to talk about these products.
Bphone A40, A50 and A60 are priced from 4.5 million to 6.5 million dong. Configuration Bphone A40: Chipset Helio G85; Memory 4GB + 64GB; 6.7″ Full HD+ screen; AI Camera – 4 rear, 1 front, Wide angle, Macro; 5000 mAh battery; 18W fast charging; BOS operating system, Anti-theft security, AI computational photography, Full control gesture…
Bphone's unique features such as anti-theft security, photography modes using computer photography, full gesture control, remain the same as in the B series.
Mr. Quang said, BKAV oriented Bphone A series towards a wide range of users, many of which will have never used Bphone. These customers need familiar buttons or 3.5 ports.
.