The digital currency market has been red since last night to this morning of May 6, only about half a day after showing signs of growth again. This drop in price was so strong that even the most potential coins fell with it.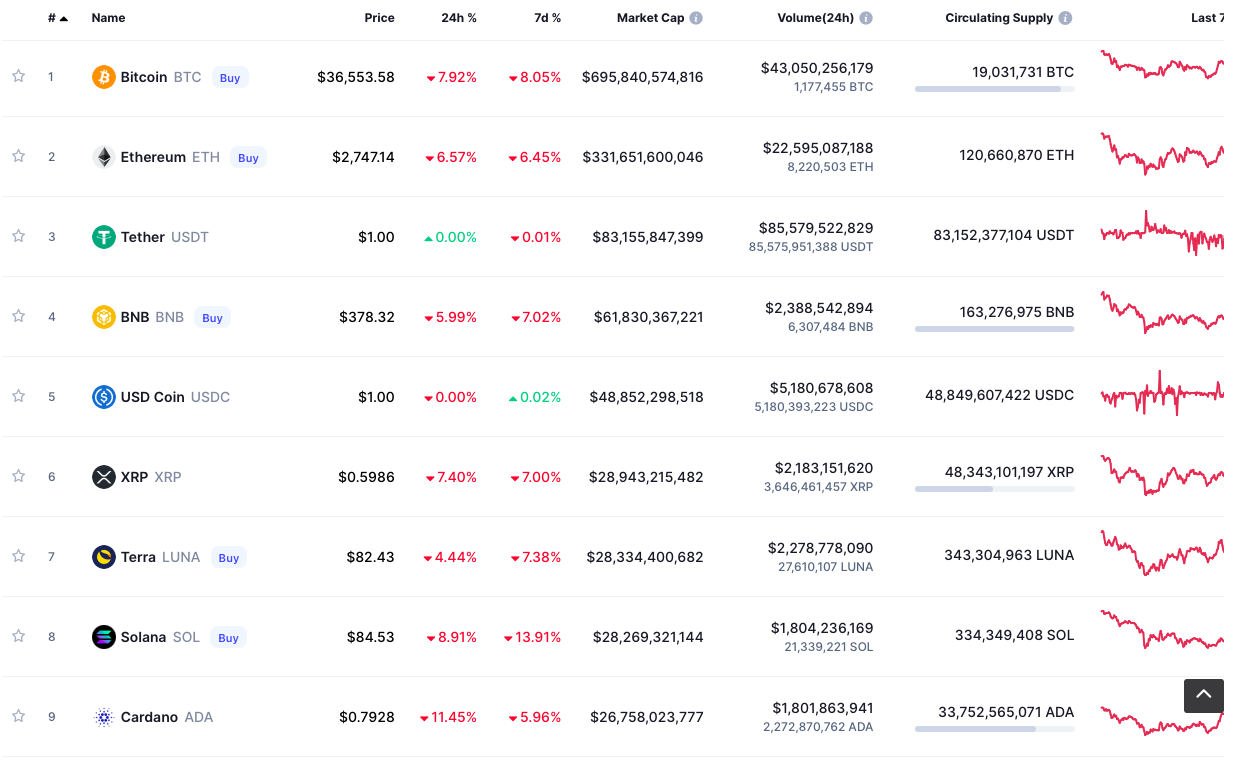 Currently, Bitcoin dropped deeply to $ 36,483, the lowest level in the past 3 months. As for investors who hold BTC as a savings asset, they lost 5.43% of their value in the last 5 days, 14.7% in 30 days, and 36.8% in a year.
Due to the capitalization value of more than 40% of the entire market, the plunge of Bitcoin led to a sharp decline in the entire cryptocurrency market. The total market capitalization of all coins is currently at 1.68 trillion USD, a loss of 127 billion USD compared to yesterday (down 7.07%).
This red wave is more ominous than the declines in the past few months because its impact affects even the most potential coins. GMT, the coin of the StepN project, dropped to $2.7, minus 18.36% in just the last 24 hours – one of the coins with the biggest drop rate. Previously, no matter how volatile the market was, the move to earn digital currency rarely lost the $3 mark.
NEAR coin, belonging to a project that is evaluated with great potential, also depreciated sharply to 11.12 USD. If any investor "bottomed" this dong yesterday, they are currently losing 14.76%, losing 140 USD for every 1,000 USD spent.
Bitcoin falling to the bottom also led to a series of popular digital currencies rushing along. Ethereum fell to $2,741 (down 6.98%). Binance's BNB coin also dropped 6.35% to $377.32.
SOL, the coin of the Solana platform, fell more heavily than both BTC and ETH, to $84.14, a decrease of 9.8%. This is the rare time SOL falls below 85 USD. ADA coin fell even further, 13.4%, to $0.785.
The news that Binance supports billionaire Elon Musk to buy Twitter does not make the coin he supports escape the red of the market. Dogecoin is currently at $0.1279, down 5.78% in a day.
The fact that the entire cryptocurrency market plummeted from last night to this morning was quite surprising, because just a few hours before, the whole market was green due to optimistic news from the US Federal Reserve. Accordingly, the Fed has agreed to raise the interest rate to 0.5 percentage points to limit inflation. This news has a positive impact on both the US stock exchange and the oil price, leading to the growth of the entire cryptocurrency market.
The sharp drop in the cryptocurrency market has many short-term investors worried that a crypto winter is coming, or that the Bitcoin price drop to the $24,000 mark could come true.