VinFast and the model of selling electric cars without batteries
At the recent VinFast Gobal EV Day event, Ms. Le Thi Thu Thuy – General Director of VinFast Global said that VinFast will stop producing petrol cars from the end of 2022 to focus entirely on research, development and development. manufactures pure electric vehicles. This decision shows the great determination of VinFast in the global electric car race. Two electric car models VF8 and VF9 were announced with a selling price of 961 million VND and 1,312 billion VND respectively in Vietnam.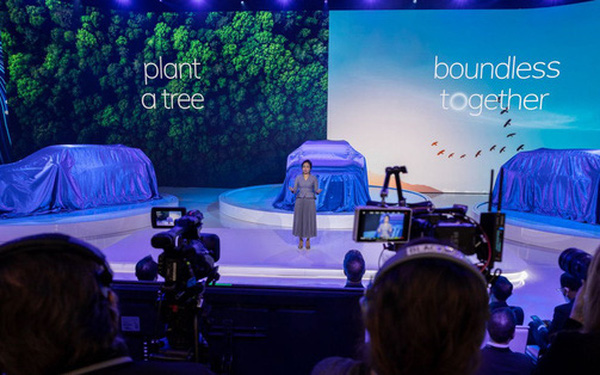 An important point in VinFast's business strategy is the car sales and battery rental model. The Vingroup company offers two battery rental packages to customers, including: flexible (minimum 500 km, additional charge from km 501 onwards) and Permanent (regardless of distance traveled). VinFast commits that the total monthly cost of battery rental is only equivalent to the cost of gasoline in each market (USA, Europe and Vietnam). In addition, VinFast will also pay for the entire cost of battery repair and maintenance and will replace it for free when the battery's charging and discharging capacity is lower than 70%.
In fact, buying or renting batteries is an important question for both electric vehicle manufacturers and consumers.
Battery pricing structure across the entire cost of an electric vehicle (Statista)
According to data from Statista, batteries currently account for 30-40% of the cost of electric vehicles. In the case where manufacturers only sell tires, excluding batteries, the cost of electric vehicles will be significantly reduced and thereby more accessible to users.
In August 2020, NIO, the Chinese electric vehicle manufacturer, first launched a battery rental service that allows customers to buy a car without owning the battery. This service is called "battery as a service – BaaS", through which car owners pay the monthly rental cost to use the battery. The price of a NIO without a battery is 20% lower than a vehicle with a battery.
William Li, CEO of NIO, said he believes that with BaaS, more customers who are using petrol cars will consider using electric cars. At the time of publication, NIO operates 143 battery exchange stations across China and plans to build hundreds of new battery exchange stations in the following years. NIO, listed on the New York Stock Exchange, currently has a market capitalization of nearly $47 billion.
"Gas station" of electric vehicles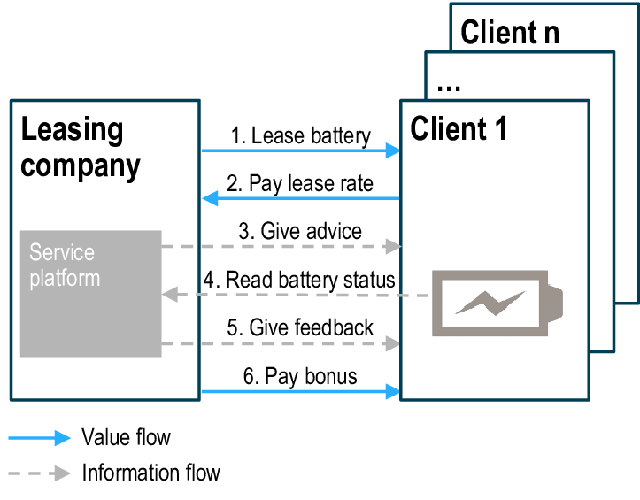 Model of electric vehicle battery rental company
Going back to VinFast, the battery rental model will require a company to take care of customer care and service operations, including: battery rental, receiving payments from customers, reviewing battery status, give advice… In short, this company will play the same role as the current gas station operating companies (the most famous in Vietnam is Petrolimex).
For customers, in addition to low monthly fuel costs, they also need to refuel their vehicles conveniently, at least with current gasoline cars. But in electric cars, customers also have more options to use the charging station, as well as a home battery exchange service…
The battery exchange model has been piloted by VinFast with electric motorbikes. However, to apply to electric car products, the completion level of the charging station and battery exchange system will have to be greatly improved. In the latest update report to investors, VinFast said it has set up 10,000 charging stations across 62/63 provinces. Models of charging stations with different capacities will be located in apartment buildings and parking lots; highway side rest stops; the gas station; shopping centers and large urban areas…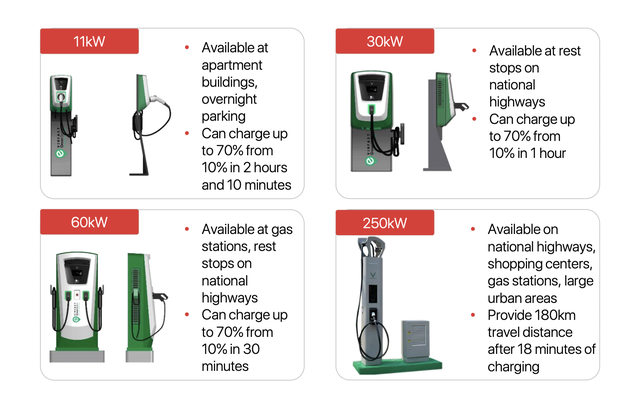 VinFast charging station models
At the end of 2018, Vingroup and Petrolimex signed a comprehensive cooperation, thereby focusing on Petrolimex's system of petrol stations nationwide and the system of urban areas, residential areas, offices, hotels, resorts, commercial center of Vingroup. Although the specific terms are not clear, it may not be surprising if in the future Petrolimex's gas stations integrate both electric charging stations and VinFast's battery exchange system. Petrolimex is operating 5,500 petrol stations nationwide, holding 50% market share of petroleum. As a result, this company will likely be relatively affected by the wave of vehicle electrification. The gradual transformation of the business model is probably inevitable.
.