During the pandemic, Sea Group, a Singaporean super app, has been a resounding victory. Both Shopee's e-commerce business, and Garena's gaming business, have grown on the back of increased demand for digital products. At the end of October 2021, the valuation of Sea on the stock exchange surpassed the 200 billion USD mark, becoming the first Southeast Asian application to enter the group of super-large-cap companies.
Since then, the wind has changed direction, the capitalization of SEA has evaporated nearly 3/4 of its value after only 4 months. Dropping more than 11% in the last session of the week, Sea's current value is only 54 billion USD.
The global tech stock sell-off is only part of the story. Investors also have concerns about the company's own prospects. In January, Tencent, a Chinese internet giant, reduced its ownership in Sea from 21.3% to 18.7%.
Tencent also previously reduced its stake from approximately 40% when Sea first went public in 2017 and gave no further information on the divestment. Whatever the reason, the market is not happy. They may also fear that Tencent's gradual withdrawal from Sea shows the group's doubts about its business prospects.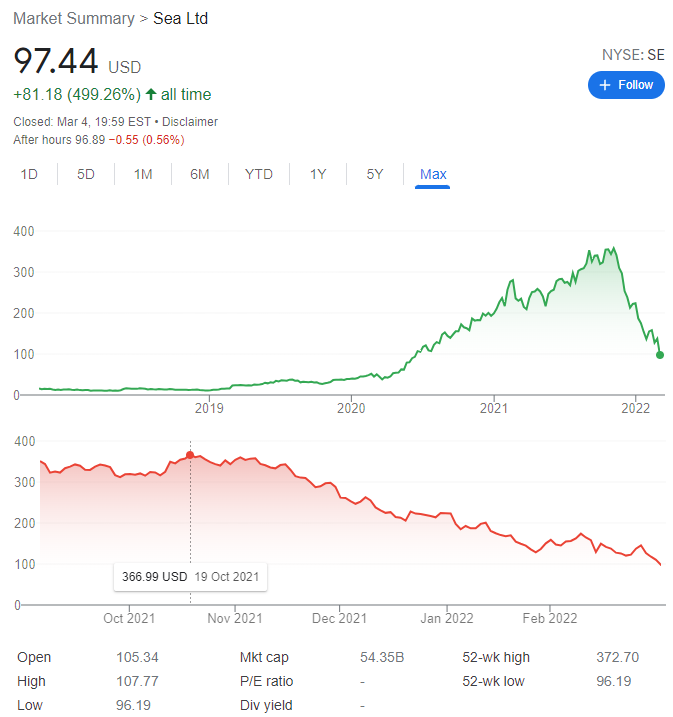 In February, that outlook suffered yet another shock. On February 14, Sea sold off after Garena's flagship mobile game, "Free Fire", was unexpectedly removed by the Indian government from its app platforms. Indian media reports that the Indian government has banned "Free Fire" and about 53 other Chinese apps. Sea's close relationship with Tencent may be partly to blame.
Sea is a Singaporean company, and India has no problems with it. However, India and China do. Tensions between the two nuclear weapons giants have been escalating in recent times. In the past year, troops from both sides have fought in the Himalayan border region. This has prompted the Indian government to issue a ban on hundreds of Chinese apps – and now it's the turn of apps that are believed to be related to the country. Sea said the company will comply with Indian laws and will not transfer Indian user data to China or store it there.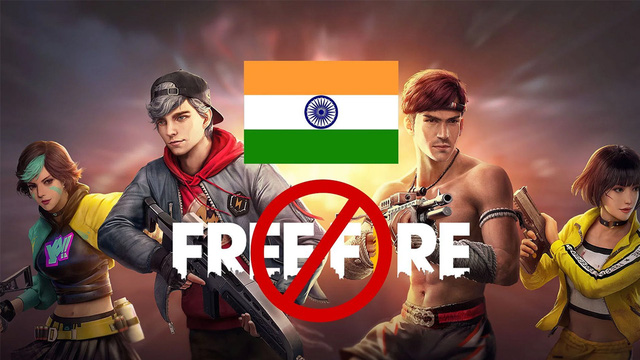 Free Fire officially "flying color" from the Indian app store because SeaGroup is related to Tencent, a Chinese corporation
Many existing users in India can still play Free Fire. But the loss of new players in India is a big blow to Sea. Indians love to play mobile games, and the number of gamers is extremely large. India downloads more gaming apps than any other country, according to data from App Annie, a research agency. In a recent earnings announcement, Sea founder and director Forrest Li is pleased to say that "Free Fire" is the biggest grossing mobile game in India (as well as in Southeast Asia and South America, where the company is located). This company just expanded to). Sea does not disclose Garena revenue by country, but some analysts believe that revenue in India could account for as much as a tenth of Sea's revenue in digital entertainment.
Lost in the Indian Ocean
So India's ban on Free Fire alone is bad enough for Sea. Worse yet, Shopee could be in trouble too. The e-commerce platform's climb to the top as one of the most popular apps in India from a quiet start last year has alarmed the Confederation of Indian Trade (CAIT), a major advocacy group. represent small businesses. CAIT has called for a ban on Shopee as well as "Free Fire" in a letter sent to India's Minister of Industry and Trade. The reason mentioned is that Sea is controlled by Tencent. Whether this accusation is true or not makes no difference to the Indian government, if they consider "Free Fire" as a guiding precedent.
Sea's troubles in India also signal a similar problem for Southeast Asian super apps as they enter the region. Grab and Goto, two big apps, have both received investment from China. Both are currently focusing on the near-home market. But when these markets become saturated, India's 1.4 billion people market will be the next possible target – also because China is locked behind the Great Firewall and the West already has giants. technology in America.
Despite the recent ups and downs, Sea's share price is still three times its pre-pandemic level, outpacing many other tech companies. Singapore's star is still the Southeast Asian listed company with the highest valuation. Unlike many other tech darlings, Sea's businesses are actually making money. In the third quarter of 2021, the electronic entertainment division brought in $715 million in gross profit.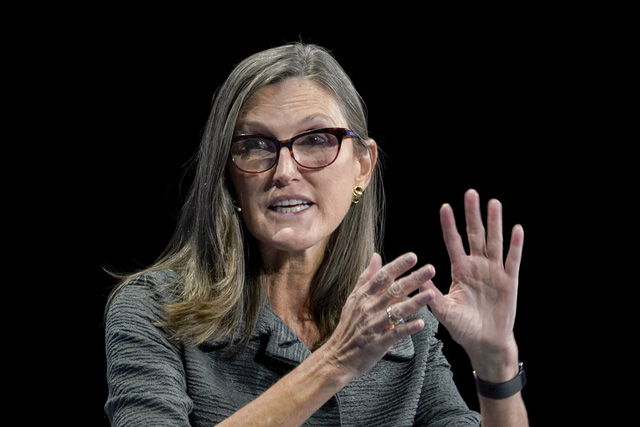 The tycoon Cathie Wood is "stretching" to embrace Sea Group shares despite the ups and downs
That amount of money, plus the access to capital that comes with its size and reputation, gives Sea the ability to fund loss-making businesses like Shopee or SeaMoney, the financial services app founded in 2019. Also in the same quarter 3, Shopee also lost 684 million. In the wake of the stock hit by India's Free Fire ban, the Ark Net Generation Internet fund, an arm of tech magnate Cathie Wood, has bought Sea shares. However, investors will have to have the steel of Mrs. Wood to help Sea overcome this turbulent period.
According to Economist